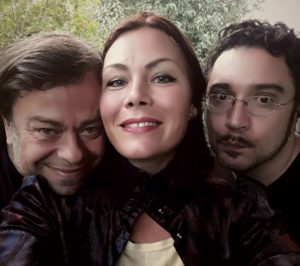 Despite having only three albums in their back catalogue, Sweden's DAYBEHAVIOR have been around since 1996 when they released their debut long player ':Adored'.
The sophomore offering 'Have You Ever Touched A Dream?' came out in 2003.
But DAYBEHAVIOR went into hiatus shortly after until they returned in 2012 with 'Follow That Car!'
, featuring widescreen pop ditties such as 'City Lights', 'Silent Dawn' and 'It's A Game'.
With Paulinda Crescentini, Carl Hammar and Tommy Arell close to completing their fourth opus 'Based on a true story', the trio took a break from recording and kindly chatted to about everything that has been happening in the DAYBEHAVIOR camp.
Before your third album 'Follow That Car!', DAYBEHAVIOR had been away from the music scene for a while, so what was it like for the three of you to come back together?
Carl: We had been working very close and intensely before the break for many years so we knew each other's skills pretty well, and we were very hungry to continue the DAYBEHAVIOR story. But at the same time, we all had grown in different directions during these years, so it was not obvious that it would work getting together after a long break.
Which artists and music styles have been your main influences?
Carl: For me, it's electronic music mainly from the early 80s. KRAFTWERK, YELLOW MAGIC ORCHESTRA, LOGIC SYSTEM, ULTRAVOX and of course the synthpop scene when I was growing up like DEPECHE MODE, THE HUMAN LEAGUE, RATIONAL YOUTH, the list can be very long…
Tommy: Same as Carl mentioned, and adding ENNIO MORRICONE, MASSIVE ATTACK, SAINT ETIENNE, GOLDFRAPP etc etc…
Paulinda: When I grew up, it was MADONNA, DURAN DURAN, DEPECHE MODE and MICHAEL JACKSON mainly. Favorites now are KARIN PARK, SUSANNE SUNDFØR and DUVCHI.
What inspired 'It's A Game'?
Paulinda: It's inspiration from my own life, where I had just been having a secret relationship which was very playful and sexual…
The song was given to a number of artists to remix and MARSHEAUX's version upped the pace quite considerably. What did you think when you first heard it?
Carl: This is great synthpop!
Tommy: It was an absolutely lovable remix they had done…. poppy / clubby / cool… thumbs up!
'Follow That Car!' had a long gestation period. How do you look back on it now, especially compared with your two previous albums?
Tommy: I still think it's a marvellous album. One of my most played CDs ever I believe, haha! But if we released the album today, it would sound a bit different. Time passes by, so do sounds and influences.
You took an interesting approach with your most recent single 'Change' by producing a wonderful Italian version 'Cambiare' as an alternate interpretation?
Tommy: We have made Italian versions of songs before, actually our debut single 'Cinematic' is in Italian. When 'Change'
was finished, we had two different versions we all liked, so we decided to release one in Italian too. The vocals always get a beautiful 'Change' when Paulinda is singing in such a lovely language as Italian.
ELECTRICITYCLUB.CO.UK really likes 'Cambiare'… but have DAYBEHAVIOR ever considered singing in Swedish? 😉
Carl: Oh yes, we've tried once or twice, but it didn't turn out the way we expected. But maybe we'll find the right song and lyrics in the future.
How is the new DAYBEHAVIOR album 'Based on a true story' coming along, can you describe its likely direction and which songs are developing well?
Carl: It has been delayed several times, but at the moment we are finalizing the last songs and doing the last tweaks and mixing.
Tommy: The new album will have many of the classic DAYBEHAVIOR elements, but it will not sound like the previous albums. Some songs are harder to finish than others, but we will only include songs we all are happy with.
Do you feel DAYBEHAVIOR fit in with the current Swedish electronic pop scene?
Tommy: Not really. I think there has never been a Swedish act similar to us, so in that sense we don't fit in anyplace. We like upbeat synthpop tracks like 'Change', but also cinematic songs like 'Godspeed' and melancholic songs like 'The Blue Film' which will be on our new album.
Are there any of the newer Swedish acts you like?
Tommy: KITE and THE KNIFE
Paulinda: KARIN PARK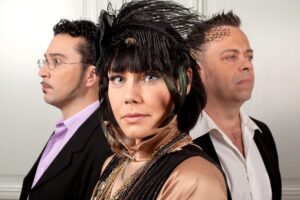 What is next for DAYBEHAVIOR?
Carl: 1) Reach the peak position on the Billboard Charts – 2) Write the next James Bond song – 3) Be bigger than God 🙂
Tommy: Finishing the album this summer and hopefully release it in September-October.
---
'Based on a true story' is due for release by Graplur in Autumn 2019, the previous album 'Follow That Car!'
and single 'Change'
are available via the usual digital retailers
https://www.facebook.com/DayBehavior
https://twitter.com/DaybehaviorBand
https://www.instagram.com/daybehavior_band/
---
Text and Interview by Chi Ming Lai
27th April 2017, updated 26th August 2019