Chapter & Verse – NEW ORDER, JOY DIVISION & Me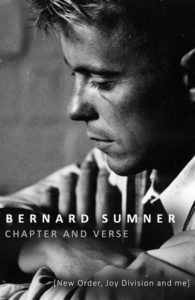 The history of JOY DIVISION and NEW ORDER is so fascinating, it is unsurprising that two films '24 Hour Party People' and 'Control' have been made using elements of those stories.
However, those productions have been focussed around Factory Records impresario Tony Wilson and the short life of JOY DIVISION singer Ian Curtis respectively.
Books about the period meanwhile have been a plenty, starting with the Mark Johnson's 'An Ideal For Living – A History Of Joy Division & New Order', progressing to Mick Middles' 'From Joy Division to New Order – The Factory Story', 'Touching From A Distance' by Ian Curtis' widow Deborah and more recently, 'Unknown Pleasures' by bass player Peter Hook.
But now, Bernard Sumner, a founder member of both iconic bands, has finally opened out to tell his side of the story with the publication of his memoirs entitled 'Chapter & Verse – New Order, Joy Division & Me'. With luminaries present such as Daniel Miller and Arthur Baker, the NEW ORDER front man launched the book at a special event at London's Waterstones book shop in Trafalgar Square with The Guardian's Dave Simpson steering the conversation.
Sumner described it as containing "the stuff that matters" with "answers to questions that have never been asked". While NEW ORDER's hedonistic antics have been widely documented elsewhere, 'Chapter & Verse – New Order, Joy Division & Me' only touches on them. Instead, Sumner's account is more personal and emotional. But it also contains his well-known sharpness and wit.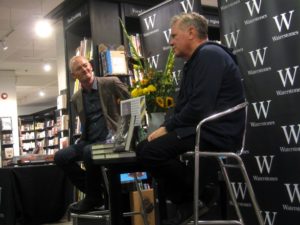 In the ensuing chat, Sumner reflected on his tough but happy childhood in Salford which he suggested had hardened him to overcome the tragic events that were to follow.
This inevitably led to a discussion on the late Ian Curtis; Sumner had attempted hypnotic regression to persuade the enigmatic JOY DIVISION singer to escape his death wish in the weeks before his suicide.
This session was recorded on cassette and has been transcribed as an appendix for the book… it does not make easy reading but it is a intriguing historical document that puts into further context, the mindset of Ian Curtis. "It was my feeble attempt to try and unlock something that might be causing him all the troubles he was having" Sumner added. But Curtis is remembered by his friend as "a good guy" who woke up "from a dream only to find that the dream was actually happening" and that "love was literally tearing him apart".
Interestingly, although having now spent almost 37 years in the business, Sumner confessed he was not into music until his late teens but the change came via the emotive Ennio Morricone soundtracks of the Sergio Leone directed Spaghetti Westerns such as 'The Good, The Bad, & The Ugly', 'For A Few Dollars More' and 'Once A Upon A Time In The West'.
Anyone who has listened closely to 'Elegia', 'Ruined In A Day' or even 'Blue Monday' will recognise how these soundscapes helped shape NEW ORDER's aural template plus of course, the band have been taking to the stage accompanied by the haunting melancholy of 'The Ecstacy Of Gold'. On the profound effect these movies had on him, Sumner pointed out "what had gone before was corny John Wayne films, the Indians were bad and the cowboys were good! Suddenly, you had these weird Italian Western films that were shot in a spectacular way and EVERYONE in the film was bad, no-one was good!"
In the corresponding open Q&A with the attentive and appreciative audience, Sumner hinted as to the direction of the new NEW ORDER album with good news for anyone who may have been disappointed by 'Get Ready' and 'Waiting For The Sirens' Call'; "It's quite electronic in nature" he announced.
On why the more recent NEW ORDER albums had been more guitar focussed, he commented that at the start of the noughties, electronic music had become "a bit too compartmentalised for my tastes… you couldn't just write a good electronic song, it had to be about what genre it was, and that 'you can't play that piano sound, it's not allowed anymore! You can't use that beat'… so when you start applying these kinds of rules to music, it becomes boring".
But he said: "electronic music has become more open and free" and after his break from synthesizers, he had "fallen in love with them again".
There were also clues as to the form the artwork would take with the news that the legendary Peter Saville would be on board as with NEW ORDER's other albums. "Peter's got more and more minimalist… one of the ideas is to put a simple line across the album… but in nice colours!" quipped Sumner to laughter from the audience. But apparently when Sumner met up with Saville a few weeks later to green light the concept, the perfectionist graphic design icon apparently said: "yeah, I've been thinking about getting rid of the line!". Chuckling away, Sumner told everyone: "You should see his business card, you need a magnifying glass to read it!"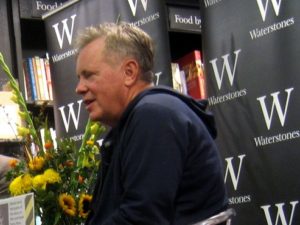 Before the Q&A though, Sumner concluded the main part of the evening with a few words about his estranged former band mate Peter Hook, the departure of whom is discussed in greater detail within the book.
Asked if it was strange to carry on as NEW ORDER without the Bass Viking, Sumner sheepishly replied: "It would have been stranger carrying on with Hooky! We didn't get rid of Hooky, he decided to go. I hope he's happy in what he's doing… even though he called me a c*nt!"
Overall, 'Chapter & Verse – New Order, Joy Division & Me' is a good, informative read with an endearing, self-deprecating sense of humour. Considering that Sumner has had to face the premature passing of close friends such as Ian Curtis, Ruth Polsky, Martin Hannett, Rob Gretton and Tony Wilson, that he has been able to maintain such positivity over the years is a considerable achievement. And with NEW ORDER having signed to Mute Records, the story continues into its next phase. Whatever happens now, it's just 'A Means To An End'. After all, Sumner has already crammed more into his life than most people have twenty times over.
In book's postscript, Sumner notes: "This book is about what it means to be truly alive. It's about operating outside the system and beating it. It's about surviving catastrophe. It's about hanging on to some of the things you once valued as a kid and how, along with that, just having fun can lead to – and in fact is – success. You just have to take a few steps back from life occasionally to see things how they ought to be".
Trivia fact from the evening: The song '1963'
was named so because it rhymed with the word "January"!
---
BERNARD SUMNER 'Chapter & Verse: New Order, Joy Division & Me'
 is published by Bantam Press
https://www.facebook.com/NewOrderOfficial
http://www.neworderonline.com/
---
Text and photos by Chi Ming Lai
3rd October 2014