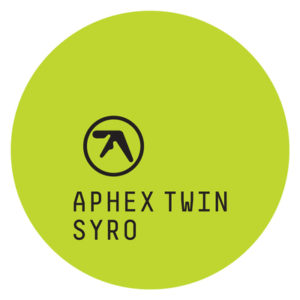 For casual APHEX TWIN fans, it can be hard to separate the visuals from the music in Richard James' two most significant / infamous tracks – 'Come to Daddy' and 'Windowlicker'.
They have accompanying Chris Cunningham promo videos that are indelibly linked and arguably bigger than the tracks that they promoted – featuring James' head superimposed respectively onto a) a set of school kids terrorizing a granny in a tower block and b) a booty-shaking group of buxom / bikinied models, both creating disturbing images that once seen, can't be unseen.
So with no visuals and no real vocals to speak of, approaching the new 12 track release by APHEX TWIN is potentially a daunting one, especially with initially inscrutable titles such as 's950tx16wasr10 [163.97]' [earth portal mix] and '4 bit 9d api+e+6 [126.26]'… however, scratch the surface and for synth geeks / musos, the titles do give up little tit-bits of information relating to both the tempo of the pieces and some of the equipment featured (for example, the former references Akai's S950 sampler). Gear fetishists can also check out the enviable set of hardware used in the radial graphic on the album packaging…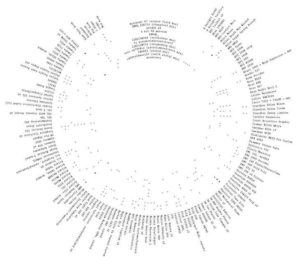 Coming thirteen years after the last APHEX TWIN collection 'Drukqs', the weight of expectation for 'Syro' would be akin for many to the appearance of a new KRAFTWERK album, and as such, the possibility of it living up to the weight of the hype surrounding it was always going to be tough. What is evident from the off is that the overall APHEX TWIN sound has mellowed, those expecting a rush of synthetic abrasive textures will be surprised by some of the almost 70s jazz-funk like textures featured and also the amount of melodic elements used throughout.
There are vocals here, but a la 'Windowlicker' they are heavily manipulated and were sourced from James, his wife and his sons (one of whom coined the album title from a made-up word 'Syrobonkus' that he used to describe the sound of the project during its making).
The opening track (and first single) 'minipops 67 [120.2]' gives a pretty good feel for the overall sound of the album, an ever so slightly dissonant, yet melodic track which breaks down to a beautiful arpeggio synth at 1min 48secs – at a time when so many people use synthesizers, trying to sound unique or different is pretty damn hard, but James is still able to apply a signature sound here, even if it is at times that of several different tracks from a variety of sources being forcibly jammed together! Percussively, 'minipops' is akin to having JEAN MICHEL JARRE, KRAFTWERK and mid-period MASSIVE ATTACK all thrown together in the mix with the musical elements of some old-school acid house thrown over the top – on paper it shouldn't work, but somehow James pulls it off.
'minipops 67 [120.2]'acts as a suitable aperitif for 'XMAS_EVET10 [120][Thanaton3 Mix]', an epic ten minute track which crams in 303 squelches, real piano and disembodied vocoder vocals. The stop-start / timestretched rhythm throughout helps the track from not getting monotonous until around the four-minute mark a YMO-style monosynth melody enters the mix to join a suitably oriental bell motif. Throughout the album, there are little elements of rave culture that subtly creep in, 'produk 29 [101]' features a melodic nod to fellow Warp Records artists LFO's seminal self-titled track.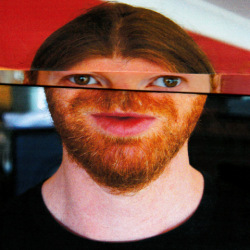 Whilst the DNA of Acid House is present throughout with '4 bit 9d api+e+6 [126.26]'recalling Mute / Rhythm King artist BABY FORD's 'Crashing' and the unmistakable sound of the Roland TB303 is never far from the mix too.
Album closer is the Erik Satie inspired 'aisatsana [102]' which recalls the KANYE WEST sampling 'Avril 14th' from 'Drukqs' – the audio of birds and ambient noise can be heard in the background and it brings 'Syro' to a tranquil conclusion.
The sound of this album is probably not for everyone, it does take a few listens to appreciate the subtleties of its production and the occasional clashing musical harmonics take a bit of getting used to. But give it a few listens and the album slowly reveals its charms…
Despite giving several recent interviews, the whole APHEX TWIN mystique still remains intact to a degree, with speculation as to when many of these tracks were actually recorded.
James himself has admitted that some of the music on 'Syro' is at least six years old and certainly gives weight to the speculation that there is still a huge library of unreleased APHEX TWIN music which (if he wished) could be delved into for his next release.
Ultimately this pinpoints how on the periphery of most contemporary electronic music trends Richard James is, there are no particular nods to any current fads or genres here (you'll find no Trap beats or Dubstep), yet 'Syro' broke the UK Top 10 album chart with ease, at one point battling ALT-J midweek at the number two position before settling at number eight. Richard James may no longer be the enfant terrible of electronic music (he infamously DJ'd with a sandpaper disc once), but 'Syro' still shows there is a huge interest in his work and that it is still possible to make synth-based music which is at the same time a) chart-worthy and b) innovative.
---
'Syro' is released by Warp Records in a range of formats including CD and vinyl
https://www.facebook.com/aphextwinafx
http://warp.net/records/aphex-twin
---
Text by Paul Boddy
6th October 2014