In a career of thirty years, CLAUDIA BRÜCKEN has released just seven full length albums including what turned out to be one-offs with PROPAGANDA, ACT and ONETWO.
Her third solo album 'Where Else…' sees a development of the more conventional musical template showcased on 2012's 'The Lost Are Found'.
Unlike that album though, apart from a single cover, 'Where Else…' comprises of original compositions, her first since ONETWO's 'Instead' which was recorded with OMD's Paul Humphreys.
Her partnership with Humphreys is now over so naturally, there are different approaches and the biggest surprise musically is Ms Brücken's adoption of the guitar. But despite this album's occasional forays into folk, country and blues, her usual evocative sensibilities and electronic references remain, albeit more abstract. As well as this, 'Where Else…' follows the lyrical thread of her 1991 debut solo album 'Love: And A Million Other Things', dealing with the subjects of emotion, beginnings, endings, past life and future hopes.
New collaborators always bring fresh results and in the case of 'Where Else…', the co-writer and producer is John Owen Williams whose past credits have included BLANCMANGE, THE PROCLAIMERS, THE HOUSEMARTINS and more recently Petula Clark. And it would appear 'Where Else…' is a reaction to the synthetic nature of ONETWO.
None more so than with the superb lead single 'Nevermind'. It could be considered a response to 'Stay With Me' from OMD's 'English Electric'. But whereas 'Stay With Me' was a cry for reconciliation, 'Nevermind' accepts the end of the road and optimistically moves on. Musically, while there is a six string dominating, a wonderfully whirring synth solo makes an unexpected appearance.
Of course, Ms Brucken has done the acoustic thing before on 'Another Language' with Andrew Poppy but those cover versions worked on a minimalist principle. While the songs on 'Where Else…' were written to be sung accompanied only by piano or guitar, they are recorded in a much more expansive manner. Proceedings begin with 'I Want You' and its cinematic chanson melody. A lonely melancholic piano leads proceedings alongside some beautiful strings while looming over it lyrically is the spectre of the late Lou Reed. But after this solemn start comes the precise mechanical beat on 'Nothing Good Is Ever Easy'. But a twist is provided with the kind of countrified outlook that was explored by ERASURE on 'Union Street'.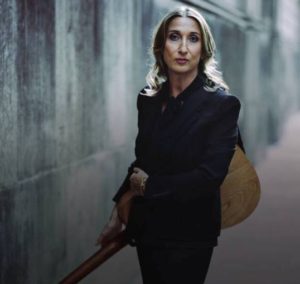 'I Lay All Night' is another departure with its Hammond organ textures and continues the inherent moodiness of the album.
The short Nick Drake cover 'Day Is Done' recalls 'The Road To Happiness' from 'The Lost Are Found'; the latter's writer Stephen Duffy is a big Drake fan so this in a way completes the spiritual connection.
'Walk Right In' brings in a Chamber orchestra and is very English, laced with harpsichord runs and psychedelic overtones plus affectionate mentions of "tea, toast and jam".
Continuing the quintessentially English theme, the excellent 'How Do I Know' rather bizarrely has sonic parallels with Morrissey although Ms Brucken did cover THE SMITHS 'Heaven Knows I'm Miserable Now' with ACT so this isn't entirely a surprise.
Meanwhile, 'Moon Song' comes over like CHINA CRISIS with a pretty hybrid of strumming and atmospheric synths. Slightly more uptempo, 'Letting Go' is the closest it gets to CLAUDIA BRÜCKEN's electro material despite some bluesy guitar while the title says it all. The final two songs are possibly the sparsest songs on 'Where Else…' – 'Time to Make Changes' makes a statement of intent both musically and emotionally while 'Sweet Sound Vision' drifts along to finish in a manner not dissimilar to most of GOLDFRAPP's recent organic material on 'Tales of Us'.
With 'Where Else…', CLAUDIA BRÜCKEN adds another string to her bow and the variation will please her loyal fans. However, for those into her more electronic material, this album may not be so straightforward to appreciate.
But 'Where Else…' is sophisticated and emotive, capturing an important crossroads in CLAUDIA BRÜCKEN's life both musically and personally. "I want to explore different styles" she said recently, "a big reason why the title 'Where Else…' suits me – where else will I go? What will I do next?". Indeed, wherever she goes next, it will have integrity and honesty as it always has done.
---
'Where Else…' is released by Cherry Red Records in CD, vinyl and download formats
http://www.claudiabrucken.co.uk
https://www.facebook.com/ClaudiaBruckenMusic
https://twitter.com/ClaudiaBrucken1
---
Text by Chi Ming Lai
Photos by Anton Corbijn
8th October 2014