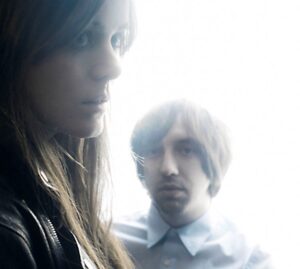 Hailing from Brooklyn, THE HUNDRED IN THE HANDS are Eleanore Everdell and Jason Friedman, a girl-boy duo who combine the electronic and the organic into a sultry new wave fusion.
Following their debut single 'Dressed In Dresden' on Pure Groove in 2009, they signed to the ultra-hip Warp Records and released their first EP 'This Desert'.
Both showcased their sensibility for occasional gothic overtones a la JOY DIVISION and SIOUXSIE & THE BANSHEES.
Their self-titled debut came in late 2010 and on it, the fantastic opener 'Young Aren't Young', produced by Richard X, was a dreamy Italo disco number layered with the type of chordial guitar that would have made Bernard Sumner proud, although on this live version for KEXP, it is rather cranked up to the max!
Also produced by Richard X, 'Commotion' possessed a brilliant dynamic energy which sounded like THE CURE at Studio 54 fronted by THE MOTELS, all very New York while simultaneously London or even Berlin.
Speaking of whom, while she doesn't belt her voice in the way BERLIN's Terri Nunn did in the manner of HEART fronting ULTRAVOX, Everdell's more resigned tone complimented the spikey textures, pulsing sequences and the dance-friendly beats. The first single from the album entitled 'Pigeons' was another Richard X production which continued this enigmatic but accessible pop formation.
For their forthcoming new album 'Red Night', Everdell and Friedman have handled production themselves. From it, 'Keep It Low' is a development of their avant pop style with a steadier groove and heavier loom while 'Faded' is quite sparse, shaped by synth drones and dressed with Friedman's harmonics while Everdell is cocooned in reverb valley.
It appears THE HUNDRED IN THE HANDS are venturing into territory once occupied by Warp label mates BROADCAST who were fronted by the late Trish Keenan. The duo themselves have said 'Red Night' is centred around "all heartbreak and fear of losing something special"
---
'Red Night' is released through Warp Records on 12th June 2012, while 'The Desert' and 'The Hundred In The Hands' are still available via the usual outlets.
http://thehundredinthehands.com
https://www.facebook.com/thehundredinthehands
https://twitter.com/TheHundredInThe
https://www.instagram.com/thehundredinthehands/
---
Text by Chi Ming Lai
3rd June 2012, updated 4th June 2012