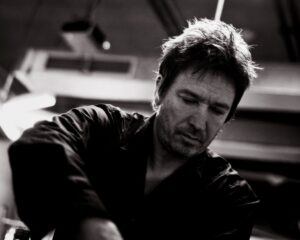 Alan Wilder has been a very busy man lately. 
Following a 52 city world tour to celebrate 25 years of the RECOIL project and an auction of memorabilia from his career including his time with DEPECHE MODE, he got straight into production for his RECOIL concert film 'A Strange Hour In Budapest', released exclusively on the Blu-ray format. Directed by Attila Herkó, it captures the final 2010 show of the Selected Events tour as a full HD production with a DTS-HD 5.1 surround sound and stereo audio soundtrack, mixed by Alan with Paul Kendall.
Intended "to supply the most accurate experience of being at the concert",  'A Strange Hour In Budapest' is a powerfully resonant audio/visual document that presents many highlights from Alan Wilder's career in a concert setting.
Alan Wilder took time out from his schedule preparing the Recoil Blu-ray to chat about his live concert document.
The RECOIL 'A Strange Hour In Bupapest' film is on the way. 
The film project, like most things, really came together more by chance than design.
I never planned to make a concert film but when we arrived for the second show in Budapest, our local promoter had already arranged for Attila and his crew to be there, in order to discuss whether they might be able to film the event. It was something they themselves wanted to do and I saw no reason to object.
I guess it was a mutually beneficial idea – they could try to promote their own production company while I got a film made for RECOIL.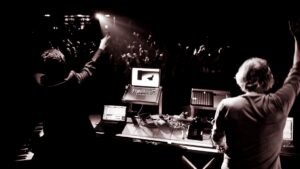 This is being released exclusively on Blu-ray so how will this be different from a standard live DVD?
I only really considered a format for it that would be capable of representing the film in the best possible way – to supply the most accurate experience of being at the concert. If you want a great memory of having seen and heard the show, then anything less would not be doing it justice.
Blu-ray is the nearest one can get to the full experience. I don't want to see the film dumbed down to a (dying) DVD format, and nor do the filmmakers. Also, these days, people expect much higher quality audio/visuals – and so they should.
High resolution audio seems to be very slow in becoming widely available. People want it, and frankly deserve it. We have been accepting 16bit CD technology for too long now (I won't mention MP3!) which really doesn't cut it any more. Many on the cutting edge (the likes of Peter Gabriel. Trent Reznor, Kate Bush etc.) already offer their audio in full 24bit resolution.
For the visuals, same applies to DVD – people are starting to expect higher resolution, with HD TV easily outshining DVD. Technically, bringing it all to a conclusion has been the hardest part for me – and a big learning curve as to how best to prepare for and author a Blu-ray disc. We are still working on that aspect now in fact, although it is 98% complete.
As I write this, I have STILL not seen the whole film in full HD myself! I have also listened to the response from some fans who demand higher end products. And I have therefore adapted the proposed formats to reflect their desire for a standalone soundtrack (as 24bit wav) which will be available on a USB stick.
What are you up to next musically?
Some brand new RECOIL music I hope, rather than more remixes which people keep asking me to do – although the whole idea of making a complete album in this day and age feels a bit like a futile exercise, especially as we witness the demise of the (album) concept, coupled with a general decline in CD sales and the expectation from most that music should be free and largely disposable.
I'm not against high resolution audio downloads as a way forward (as long as combined with desirable tangible objects) but I really wonder about the best way to move now in terms of how to release new music. I want to see a return to real value put on the output of all artists with the work made available in formats which make most sense in the current climate. Besides all this of course, I have a busy life with a new daughter and many personal commitments, which means I have to consider working in a smarter, easier to manage and more lucrative way.
---
ELECTRICITYCLUB.CO.UK gives its grateful thanks to Alan Wilder
'A Strange Hour In Budapest'
is released on Blu-ray by Shunt Production in conjunction with Umatik Entertainment. The first 1000 copies come in a deluxe digipack with 16-page booklet and are individually hand-stamped / numbered. For more details and how to pre-order, please visit: http://store.recoil.co.uk/
https://www.facebook.com/recoilofficial/
https://twitter.com/recoilofficial
---
Text and Interview by Chi Ming Lai
1st June 2012