In 1982, when young Alan Wilder answered an advertisement in Melody Maker; "Keyboard player needed for established band – no timewasters"; it would prove to be a life-changing moment.
The band in question was DEPECHE MODE and Wilder would be stepping into the shoes of founding member Vince Clarke. As a classically-trained musician, Wilder's contribution to DEPECHE MODE's sound would prove to be remarkable.
Whilst he wrote only a few songs for the band, including 'If You Want' from 'Some Great Reward' and frenetic B-side 'In Your Memory', his flair for interpreting and arranging Martin Gore's songs would quickly lead to a winning formula.
Most famously, it was Wilder who transformed Gore's early demo version of 'Enjoy The Silence' from a morose ballad into the upbeat dance track that went on to become a worldwide hit. During the Wilder years, DEPECHE MODE released a string of their classic and best loved albums, culminating in their dark masterpiece 'Songs of Faith and Devotion'. Over the same period they conquered the States with sell-out stadium tours.
However, in spite of helping to steer them to world domination, Wilder felt increasingly frustrated by tensions within the band and his perceived lack of recognition from his bandmates. It was following the well-documented excesses of the Devotional tour, which Q magazine dubbed "the most debauched rock tour ever", that he announced his decision to leave DEPECHE MODE on 1st June 1995.
Wilder could now devote himself full time to RECOIL, the solo project that he had been pursuing as a sideline to DEPECHE MODE. There were two EPs '1' and '2' and 'Hydrology' before RECOIL released a full length album in 1991 called 'Bloodline' which featured vocal contributions from NITZER EBB's Douglas McCarthy and Toni Halliday of CURVE.
Subsequent albums 'Unsound Methods' (1996), 'Liquid' (2000) and 'SubHuman' (2007) were each highly acclaimed. Whilst each album has its own distinct identity, they share Wilder's brooding electronic soundscapes and meticulous production.
Wilder is a perfectionist in the studio and draws on a wide pallet of sounds and styles to craft his recordings. He remains a passionate supporter of the physical format, still choosing to release his albums on vinyl as well as CD. He has been highly critical of MP3 download culture, both for the loss of sound quality and the devaluation of music that it entails.
In 2010, Mute Records released a RECOIL compilation entitled 'Selected', and this was followed by a successful world tour. In February of the same year, Wilder made a surprise appearance onstage with his former bandmates DEPECHE MODE for their Teenage Cancer Trust show at London's Royal Albert Hall, to the unsurpassed delight of the fanbase.
His appearance prompted speculation in some quarters that a full reconciliation was on the cards. These rumours were further fuelled when Wilder reworked 'Sounds Of The Universe' track 'In Chains' for 2011's 'Remixes 2' album. Whatever the future may hold, ALAN Wilder's place in electro royalty is already well established.
In September, fans will be able to bid for their own piece DEPECHE MODE or RECOIL history, when Wilder auctions a large collection of his studio equipment, vinyl and memorabilia. The Alan Wilder / DEPECHE MODE Collection auction will take place in September at the Zion Arts Centre in Manchester. AlanWilder kindly took time out of his busy schedule to talk to ELECTRICITYCLUB.CO.UK about RECOIL, DEPECHE MODE and his forthcoming auction.
You released a RECOIL retrospective 'Selected' last year. Was it difficult to choose a tracklisting that represented the work of RECOIL, yet acted as a cohesive listening experience?
Well – you could say that was the aim (or challenge) from the moment that Mute suggested putting together a collection.
They told me they were planning a series of compiled albums for a number of their artists just to bring people up to speed, and when I realised there weren't any restrictions, the collection idea started to appeal.
I kind of knew it would be possible to create an album with continuity, atmosphere and pacing. My inclination was that it would mainly consist of material from the last three RECOIL albums -so while there is a decent cross section of RECOIL's overall output, the 'Selected' album is more about my own favourites rather than a 'cater to all' concept. It works well I think, and wasn't particularly difficult to put together.
You've toured 'Selected Events' all around the world now to an enthusiastic reception. But what initial apprehensions did you have when conceiving the RECOIL live show and how have you managed to overcome them?
My main worry would have been the perception of live versus playback. The show was always designed as an audio/visual presentation rather than an out-and-out live performance. The music was certainly tailored to work in the live arena, and was constructed specifically with that in mind. It intrinsically links with a synchronised film and I think it is clear from our set-up that we're obviously not playing all the parts, but rather adding live elements and effects (which vary with each venue) to a prepared bedrock.
Perhaps this is a more modern way to present music than the traditional 5-piece, guitar-drums-bass-synth-vocalist, which is something I wanted to avoid. As the tour continued, it became clear which aspects of the presentation worked better than others, and we have therefore adapted it to be a little more crowd-friendly along the way.
There's a Telemark modular synth which you have on stage with you. How are you finding that to use?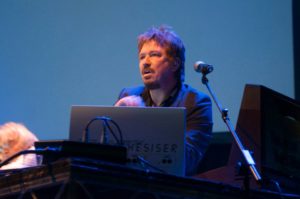 I use any number of synthesisers during the events depending on what I can get a hold of at a given time – as long as it is a modular-type with an external signal input.
This allows me to feed plenty of our sounds directly into the synth in order to affect them using resonance, filtering, attack and so on.
I've only used the Telemark a couple of times and haven't fully explored it.
You've played Back To The Phuture, Short Circuit Presents Mute and are now playing Vintage Festival. Bearing in my mind the battles you've fought in the past with the 'real music' brigade, do you think electronic based music has finally got the recognition it deserves?
I think electronic music has been recognised for a long time, but we do see more and more acts using film and computers within their performances, and in these modern times (with portable applications on smaller and smaller devices, even your phone), this is becoming more acceptable, even to the diehards. The boundaries between what is performed or programmed is much more blurred. Does it matter? Not really. The bottom line is the effect on the listener/viewer and the enjoyment and entertainment imparted.
You recently reworked DEPECHE MODE's 'In Chains' for 'Remixes 2'. Why did you choose that track and what do you think you gave the track that wasn't part of its original vision?
To help me decide which song to work on, I asked Mute to provide stems from several short-listed songs, so that I could listen to component parts and make a more informed decision. In the end I decided that 'In Chains' could maybe benefit the most from my treatment, hopefully expanding the dynamics and overall power. I thought the song and the existing vocal performance was strong, and even though we ended up with two quite different versions I'm happy with the results.
There is to be a sale of memorabilia and equipment from your career in September through Omega Auctions which focuses mainly on the years between 1982 to 1995. How has this come about?
It began as a small sale of studio equipment and grew into something much bigger when I realised that the process of selling multiple items can be quite complicated. It therefore made sense to maximise everything (in one hit so to speak), so we expanded the consignment to include all kinds of memorabilia. As I got deeper into the process, even though complicated, it actually became strangely enjoyable – to go back through all the years worth of collectibles and review what they all meant etc. The end result will be, I hope, a very exciting event in Manchester, to include workshops, a talk, a documentary film, perhaps even a performance and some other interesting things for the fans.
What do you think is the most unusual item on sale and the story behind it?
I think that would have to be the unreleased box set known as 'DMBS 1-4'. Thought of as the Holy Grail, these are 4 extremely rare white labels from a DEPECHE MODE boxset that was never released. The proposed set was recalled for unknown reasons. Who knows why? The 4 test pressings were made and sent to me for approval in 1988.
Among the items for auction are several of your vintage synths. Are there any memories associated with particular ones that you can tell us a few anecdotes about, like for example the Minimoog, the ARP Odyssey or Oberheim OB8?
The Minimoog was my first synthesiser bought around 1977, pre-Mode, when I was a member of DAFNE & THE TENDERSPOTS. It was a big deal for us at the time as it was quite expensive and we couldn't really afford it until we secured our record deal.
It is still probably my all-time favourite synthesiser due to the famous fat 3-oscillator sound, and of course it's an absolute classic. I continued to use it for many years on early Mode recordings such as 'Construction Time Again' and 'Some Great Reward' and even had a MIDI update added during the 80s.
I bought the ARP in the late 70s privately in London and this also featured on quite a few of my pre-Mode recordings with various bands.
I guess I always had a soft spot for the Minimoog but once you accepted that the ARP was never going to sound as fat and realised that it could be used as a completely different kind of tool, then it came into its own. MIDI upgrades were added later when I used the ARP on some of the earlier RECOIL recordings such as 'Hydrology'. I can't pretend I was ever a skilled operator (unlike Daniel Miller for example) but it is certainly a lot of fun to fiddle about with.
To my disappointment, when I powered the OB8 up recently, I couldn't get an actual sound although I'm told that it is just the voices which need attention. I was surprised as it has been looked after well and, cosmetically, it's in superb physical shape. I used this synth during my time with REAL TO REAL and THE HITMEN in the early 80s. It has a fat, warm sound and was my first polyphonic synth. I loved the fact that I could actually store patches for the first time and it introduced me to the Oberheim sound which has a unique quality. I have been a fan of Oberheim ever since.
There's a EDP Wasp in there too. There was an article featuring producer Dave Bascombe which said that you used it on 'Music For The Masses'?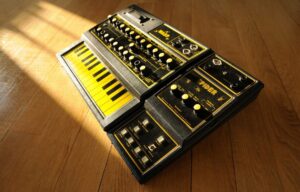 Yes, that's true, it was used to create the famous bass sequencer parts in the Aggro mix of 'Never Let Me Down Again'.
I think we used the Wasp and Spider sequencer and then probably sampled the result, as it isn't MIDI controllable. We may have been able to sequence it using cv/gate – I can't quite remember.
What has been your favourite piece of equipment over the years?
In the studio, I've always loved my 1970's Neve console, Roland space echo, Manley amps and compressor, VCS 3, Minimoog and Oberheim synths… I have plenty of other gear but it's largely redundant. My needs are quite simple these days: Logic Audio, Ableton Live, plenty of plug-ins. I now work on a MacBook Pro so I'm much more portable these days, finally making music on the move (at least sometimes).
If there's a favourite all time DEPECHE MODE track here at ELECTRICITYCLUB.CO.UK, it's 'Halo'. Could you tell us how you and co-producer Flood put together the palette of sounds that comprised the final arrangement?
From memory, the drums were sampled from LED ZEPPELIN's 'When the Levee Breaks' (but secondhand from a rap record). It is one of the most commonly used drum samples – for obvious reasons as it has that very special Bonham sound. The same snare drum sound appears on DM's 'Get Right With Me'. I've also heard that snare on a MASSIVE ATTACK record and many others.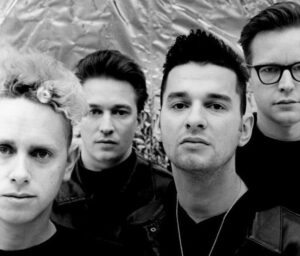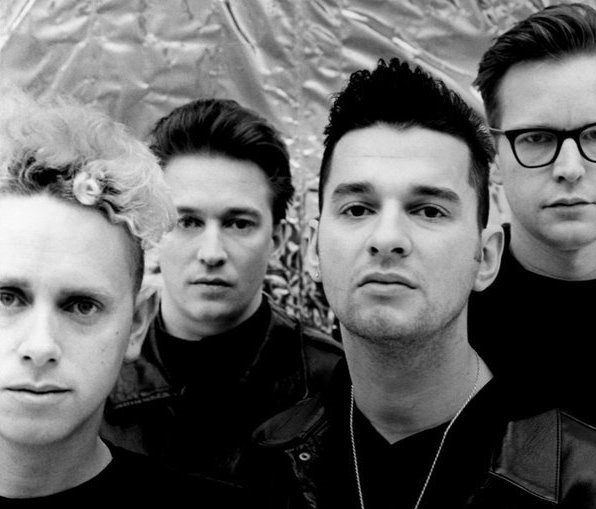 I think 'Violator' was the first album that we used whole performance drum loops to create rhythm tracks, as opposed to programmed single drum sounds, and 'Halo' was one of the first tracks we recorded for 'Violator' in fact. Flood and I were listening to quite a lot of hip hop and rap records at the time – those artists were the forerunners when sampling larger sections of rhythms and grooves.
And the unusual feels that were created on those albums really influenced 'Violator' and 'Songs of Faith and Devotion'. Other sounds on 'Halo', I'm more vague about. But we certainly would have used Flood's ARP 2600 in conjunction with other modular synths to create the bass parts and other sequencer parts.
For the end choruses, there are some string samples which I think were derived from Elgar. One of my techniques is to find sections of classical strings and transpose / stretch these, then add my own samples, in order to formulate new and unusual arrangements. This was a case in point. The DM track 'Clean' utilised classical strings in a similar way.
How did that fabulous sequence on 'Waiting For The Night' come together?
'Waiting For The Night': the main sequencer part here was produced using the ARP 2600 synth and sequencer, because it has many flaws when setting up your 16 note sequence (for example tuning and gate length) – this makes for happy accidents and almost random events.
We would have fiddled around with that sequence for a while, tweaking the filters and envelopes within the ARP until we arrived at that particularly hypnotic end result.
The resulting sequence shape would follow any held note on a keyboard to transpose between the song's basic chord changes as it ran, which we would then record, and that is essentially the spine of the whole thing. All the other sounds in that song act as mere embellishment.
Each song is different though and we would employ a different approach to creating sequencer parts depending on what was appropriate.
Your surprise appearance with your former bandmates at the Teenage Cancer Trust gig in 2010 was a genuinely show-stopping moment. Were you surprised at the sheer scale of the welcome you received from the crowd? Do you have fond memories of the night?
Well, being there on stage felt strangely familiar – which is maybe not surprising considering how much touring we used to do – but it was like I'd never been away. I had forgotten just how it feels though when a large audience is behind you like that. A proud moment for me knowing that most people were so happy about it. It was great to see everyone (band and crew) and to catch up with their news, see how they were all fairing. The fact that is was for a worthy cause was also important of course, and I felt there would be a warm reaction from the people – which there definitely was 🙂
Over the years you have amassed a remarkable back catalogue with DEPECHE MODE and RECOIL. Which songs / albums are you most proud of?
'Songs of Faith and Devotion' is my favourite album, and the tracks 'In Your Room', 'Walking In My Shoes' and 'Never Let Me Down Again' amongst others. No particular RECOIL favourites. Anything from 'Unsound Methods' onward, really.
You commented on MP3 culture and the decline of the music industry to Side-Line Magazine in early 2008. Three years on, what do you think of the situation now and how it affects you as an artist?
Since then, there have been some marketing re-thinks for the better – a more tactile approach perhaps. We are seeing a return to higher quality formats, collectable editions, vinyl and so on. Mute have embraced the idea of limited editions where everyone can benefit – the consumer who gets total choice ranging from a simple download right through to the most luxury items, the artist who can indulge all his creative whims, and the record company who can charge the appropriate price for each product in order to make some profit (as long as they do not over produce and get lumbered with expensive stock).
The music business is of course one of the fastest mutating industries and one has to try to understand why things adapt in the way they do. If the consumer isn't particularly passionate and wants free music (which now seems inevitable amongst most listeners) then I'm not against the Spotify-type concept for example where, in effect, the artist receives his payment via advertisers.
Are there any acts from the new generation who you particularly admire?
Unfortunately, due to a complicated life (which seems to get more so by the day), I never find I have enough time to research and discover much new music but I enjoy trawling through my catalogue, built up since I was a teenager – and occasionally something new comes along to excite.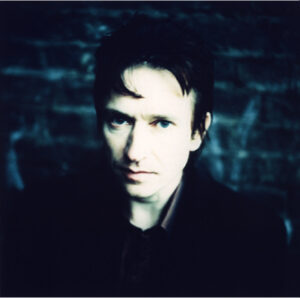 RECOIL's sound is on the organic side of electronic with use of samples and influenced by trip hop, blues, and jazz. How do you see RECOIL developing in the future?
I have never undertaken a RECOIL project with a particular idea in mind, usually just a very vague notion. My approach is always both experimental and methodical so I just start throwing different sounds and loops together until I get a spark.
I may say to myself that I'd like to work more with live musicians or perhaps not include too much spoken-word but these loose rules are never set in stone. I prefer to allow the music to flow completely naturally. Time will tell…
---
ELECTRICITYCLUB.CO.UK gives its sincerest thanks to Alan Wilder
RECOIL open the Vintage Festival Electronic Revue at the Royal Festival Hall on Friday 29th July 2011. Please note that the performance will start promptly at 6.30pm. Also on the bill are HEAVEN 17, ONETWO, MIRRORS and MOTOR.
The AlanWilder / DEPECHE MODE Collection Auction will take place at the Zion Art Centre, 335 Stretford Rd, Hulme, Manchester M15 5ZA. Viewing will take place between 10.00am to 8.00pm on Friday 2nd September 2011 while the auction will be from 10.00am to 4.00pm on Saturday 3rd September 2011.
All sale items will include a signed letter of authentication from Alan Wilder with details of use and each winning bidder will also receive a free DVD of 'ALAN WILDER – Collected'.
http://omegaauctions.co.uk/alanwildercollected.php
https://twitter.com/Recoilboss
---
Interview by Chi Ming Lai and Steve Gray
Additional Text by Steve Gray
27th July 2011, updated 19th March 2017