Dites-Moi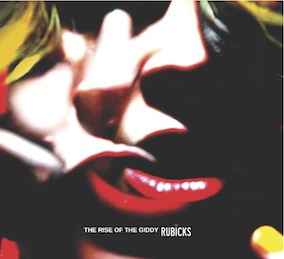 RUBICKS return with their second album 'The Rise Of The Giddy' which develops further their new wave electronic flavoured sound as showcased on 2006's 'In Miniature' album and 2009's 'Idiot Time' EP.
At times coming over like a wilder LADYTRON fronted by a mezzo Siouxsie Sioux or a cynical Clare Grogan, Vanessa Anne Redd (vocals and guitar), Marc Makarov (bass), Anthony Johns (drums) and Vee Vimolmal (synthesizers) have combined post-punk attitude with some classic Synth Britannia accessibility.
Produced by Robert Harder who has worked previously with BRIAN ENO and DAVID BYRNE, 'The Rise Of The Giddy' has an air of kooky experimentation while confining it within a song format. After all, who will investigate if your potential listeners are scared off by it? Five years in the making, Redd and Makarov contribute some wily songwriting to proceedings with the end result sounding not unlike BJORK and POLLY SCATTERGOOD meeting THE PIXIES and GOLDFRAPP!
The 2010 single 'Is This Love?' opens with its chugging Henry Mancini inspired riff. It's aggressively wispy BLONDIE that comes over very Dirty Harry while 'Giddy Up', as used in a recent monochromatic campaign by the Italian fashion house Valentino, follows and is coloured by detuned swirling synths. But the best of the singles 'Worship' is superbly danceable synthpop with a tremendously creepy electronic edge. "You can't take it with you when you're dead and gone" indeed!
The adventurous mix of alt-pop, new wave and electronics makes for an unusual listen. The short 'Black and Blue' is starkly driven by some distorted pizzicato samples and gated tremolo guitar as Redd sexily coos away but things take a more conventional rockier turn with tracks such as 'Surrender'. However, 'Glory of the Fall' is almost angelic with its choir girl voices and layers of strings.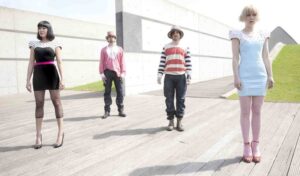 Throughout the body of work, unsettling rhythms and electronic throbs combine with attractively innocent tunes and catchy choruses. 'Where You At?' is a good example, with its wobbly synth portmento engine room accompanying Redd's air of emotional frustration while 'Jungle of You' is a 6/8 glam stomp. The album mechanically climaxes with the brilliant bleep and squelch fest that is 'Wonderland', probably the collection's stand-out.
In all, 'The Rise Of The Giddy' is a great crossover record that doesn't get watered down despite having its feet in several genre camps. It's fun, furious and best of all, alluringly quirky.
---
With thanks to Steve Malins at Random PR
'The Rise Of The Giddy'
is released by Sharp Attack Records on 8th August 2011
https://www.facebook.com/rubicksmusic/
---
Text by Chi Ming Lai
30th July 2011