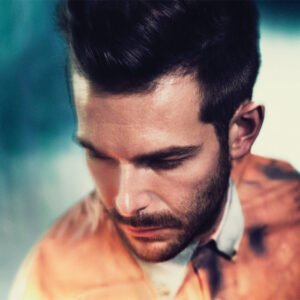 BRIGHT LIGHT BRIGHT LIGHT is Welsh songwriter/producer Rod Thomas who adopted his 'Gremlins' referencing moniker to prevent being mistaken for an acoustic act which he clearly now is not, despite his folkie roots.
First spotted by ELECTRICITYCLUB.CO.UK supporting fellow synth friendly duo THE SOUND OF ARROWS in 2010, more recently he has opened for ELLIE GOULDING and AUSTRA.
But his highest profile spot to date has been with ERASURE who have been one of Thomas' biggest influences.
With emotive electronically based pop being given a recent reawkening by HURTS, this album (which has been a long time in the making) has made a timely entrance, especially with acts such as EKKOES and MODOVAR waiting in the queue to join the neon lit party.
As the album opener, 'Immature' is a great start as it rhythmically percolates in the manner of THE POSTAL SERVICE before a terrific synth section unexpectedly lifts the whole piece several notches. 'A New Word To Say' touches on melodic electronic soul with hints of ABC and YAZOO while the brilliant debut single 'Love Part II' gives NEW ORDER's disco for football hooligans a New Man makeover.
Continuing the uptempo vibrancy, 'Moves' and 'Disco Moment' both pulse in a club friendly manner but with the beats never overbearing in the way they had been on say MARINA & THE DIAMONDS' 'Electra Heart'. The pretty duet 'Cry at Films' with SCISSOR SISTERS' Del Marquis adds a sensitive point of reflection but best of all is 'How To Make A Heart', a superbly optimistic love song that sounds like a dance enhanced HURTS. It all ends with a dramatic synth and strings laden drum 'n' ballad 'Grace' which could be Robbie Williams produced by Stuart Price… hang on, that's sort of happened!
Classic PET SHOP BOYS synth string pads  permeate throughout the album but the most important aspect of Rod Thomas' songs are his emotive toplines and rousing chorus. Collaborating with Boom Bip, one half of NEON NEON who released an excellent under rated long player 'Stainless Style' in 2008, and Andy Chatterley who has worked with KYLIE MINOGUE, the whole of 'Make Me Believe In Hope' has a pleasantly widescreen sound that connects with the ears, feet and heart.
Free of the deliberate distortion that marred LADYHAWKE's 'Anxiety', this is a promising debut which despite the melancholy is, as the title suggests, full of hope for the future. And in this time of adversity, everyone needs it. Rod Thomas speaks more about what it's really like for real people than many a so-called indie poet…
---
'Make Me Believe In Hope' is released by The Blue Team / Aztec Records
www.facebook.com/brightlightx2
https://twitter.com/brightlightx2
---
Text by Chi Ming Lai
16th June 2012