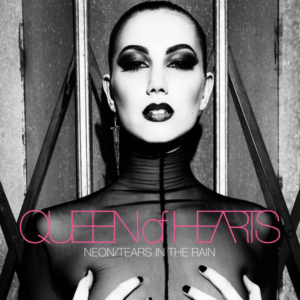 Following her Arrival in 2011, QUEEN OF HEARTS graces the music world with a glitzy slice of electro schaffel appropriately entitled 'Neon'.
On first hearing this live, ELECTRICITYCLUB.CO.UK gleefully pronounced that this managed to "out Goldfrapp GOLDFRAPP". While this has the obvious hallmarks of Lady Alison's glam stomp, Queenie adds her own cooing poptastic flavour, recalling RACHEL STEVENS' under rated lost album 'Come & Get It'.
The video for 'Neon' is directed by fashion gurus Between Man & Beast and comes with a healthy slice of gothic vampishness.
Meanwhile, the flipside is 'Tears In The Rain' produced by Stefan Storm of THE SOUND OF ARROWS who co-contributed the brilliant 'Shoot The Bullet' on her debut 'The Arrival' EP. 'Tears In The Rain' is a gorgeously atmospheric piece, crisply Nordic and simply spine tingling.
Also doing the rounds is the magnificently epic MARK REEDER Electrically Excited Remix plus its Electrically Charged Radio counterpart. His portfolio consists of PET SHOP BOYS, DEPECHE MODE, JOHN FOXX and MARSHEAUX courtesy of his 'Five Point One' collection and of his crafted restyle, QUEEN OF HEARTS herself says: "This one is just a little bit special…♥" And she's right!
Other remixes are available by LIGHTWAVES and GOLD BEACH. All this and there's the excellent Stuart Price produced 'Feel' still to come…
---
'Neon' b/w 'Tears In The Rain' is unleashed as a vinyl and download by All Things Go Records on 14th May 2012. The download features bonus tracks Forgive Me and No More while the 7″ is available to pre-order now at http://shop.atgrecords.com/product/neon-tears-in-the-rain-7
https://www.facebook.com/QOHofficial
https://twitter.com/iamqueenofheart
http://soundcloud.com/queen-of-hearts/sets/queen-of-hearts-neon-tears-in
---
Text by Chi Ming Lai
9th May 2012