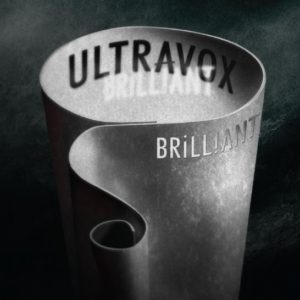 No tomorrow, just today… 
In 2009, the impossible happened and the classic line-up of ULTRAVOX reunited for the 'Return To Eden' tour. Things went well enough for a new album to be recorded and writing took place at Ure's retreat in Canada.
One of the main talking points about ULTRAVOX's new single 'Brilliant' has been Midge Ure's voice.
As one of British music's most respected elder statesman, his almost whispered tones now possess a fragility and honesty that can only come from battle-hardened life experience.
Ironically, ULTRAVOX never reached No 1 themselves in the UK or Germany and while 'Brilliant' is unlikely to reach such heights, the song contains all the ULTRAVOX hallmarks of Billy Currie's Eurocentric piano and synth embellishments, Chris Cross' motorik bass arrangement, Warren Cann's rhythmical syncopation and of course Midge Ure's layering guitar for a classic track that choruses a cautious optimism.
"No Tomorrow, just today…" Ure sings. Let's face it; none of us are getting any younger. The message of 'Brilliant' could be interpreted as: 'life is precious…embrace it!' but Ure says the song is actually "a bittersweet comment on pop culture".
Continuing ULTRAVOX's optimistic message of intent, album opener 'Live' is 'Dancing With Tears In My Eyes' without the imminent nuclear holocaust. The instrumental breakdown, which drops to a magnificent pulsing sequence, piano and lone bass drum before the climax, is pure LA DÜSSELDORF and really is something to be savoured.
Meanwhile, 'Satellite' could potentially be sitting up there with the electronic rock of 'I Remember (Death In The Afternoon)' and 'We Stand Alone' from 'Rage In Eden', while the precolating sequences and rhythmic snap of 'Rise' could be a 21st Century answer to 'Western Promise'.
For those youngsters who love MUSE or HURTS, 'One' and 'Remembering' will respectively inform their aural palettes as to where all that chromatic romanticism originally came from, but quite what long standing fans will make of the soaring stadium pandering to the landfill masses on 'Flow' can only be guessed at.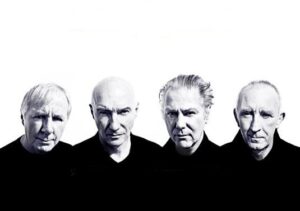 Thankfully, this minor blip is countered by the whirring ARP Odyssey lines on 'Change'. This also features some majestic widescreen inflections glossed with beautiful ivory runs as the machine led percussive pattern builds, coloured by incessant synth bass and shuffling schlagzeug.
At times, it even sounds like a more sedate second cousin to MUSE's 'Undisclosed Desires' but considering how many times the Teignmouth trio have borrowed 'Vienna', maybe it's now time to take some back!
---
The album 'Brilliant' is released by EMI Records on 28th May 2012
ULTRAVOX tour the UK in Autumn 2012. Dates include:
Bristol Colston Hall (21st September), Oxford New Theatre (22nd September), Portsmouth Guildhall (23rd September), Nottingham Royal Concert Hall (25th September), Birmingham Symphony Hall (26th September), London Hammersmith Apollo (27th September), Guildford G-Live (29th September), Manchester Palace Theatre (30th September), Southend Cliffs Pavillion (2nd October), Ipswich Regent (3rd October), Sheffield City Hall (4th October), Blackpool Opera House (6th October), Glasgow Clyde Audiotorium (7th October), Gateshead The Sage (8th October)
https://www.facebook.com/UltravoxUK/
---
Text and Photo by Chi Ming Lai
15th May 2012