We're In The Building Where They Make Us Grow…
When Gary Numan broke through in 1979 as the world's first ever synthesizer pop star, it was not only musically that he made an impressive impact.
The unsmiling, pale faced 'Machman' cast a striking visual figure.
In the age of post-punk paranoia, he unwittingly represented the fears of an alienated youth facing minimal prospects and unemployment under the spectre of 'Mutually Assured Destruction' while the government gave out booklets on how to 'Protect & Survive!
Now a newly released DVD entitled 'Machine Music: The Best of Gary Numan' captures the one-time Mr Webb throughout his career from his early innovative promo videos right up to the present day, plus the added bonus of TV appearances and live highlights which have helped shaped the myth and occasional ridicule of Gary Numan.
Numan's first promo 'Cars' is still truly iconic. Having phased out the band moniker TUBEWAY ARMY, he was out on his own but the video featured close-ups of the Polymoog and his 1979 backing band RRussell Bell, Billy Currie, Paul Gardiner, Chris Payne and Cedric Sharpley.
All dressed in uniform black suits but subtly wearing their own unique colour of tie, the significantly importance of this video was it conjured a communal tribal mentality… the message was "do you want to be in my gang?"
In fact, many people did as 'Cars' went to No1 and his magnificent 'Touring Principle' became the hottest ticket in town. The accompanying video of that show beat BLONDIE's 'Eat To The Beat' into the shops as the first album length video costing around £40 in 1980!
The 'Complex' promo featured the band again but this time, sans Currie who was now back with ULTRAVOX but this video hasn't aged as well, all Dr Who fuzzy effects and Thames TV lighting. These early productions were directed by the pioneering husband and wife team of Derek and Kate Burbidge.
Considering how today's technology allows pop promos to be made on an iPhone, they did very well with the equipment available which at the time was prohibitively expensive. But this was a forward thinking period where you learnt as you went along. So everything got back on track with 'We Are Glass' featuring another iconic image, this time the 'Telekon' jump suit. Numan felt the wrath of the all important Children's TV shows though due to producers considering his smashing up of television sets with a silver truncheon just too violent for the kiddies!
'I Die: You Die' featured Numan's beloved Corvette Stingray but after that, the promos became a bit more ham as poor Gary tried to be James Cagney. The Julien Temple directed 'She's Got Claws' from 1981 is a case in point, while the gangster storyline of 'Music For Chameleons' is unintentionally comedic.
The rare 'Love Needs No Disguise video' with his now solo band going under the name of DRAMATIS gets away with this St Valentine's Day Massacre look by being a live performance piece but by this time, Numan was starting to struggle musically. His hobby of flying inevitably started creeping in his videos such as 'Warriors' and 'I Can't Stop' (absent from this collection) as he lost interest in his music.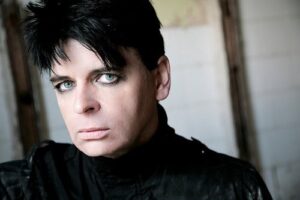 This coincided with a downturn in his financial fortunes so there simply wasn't the budget for promo videos anymore, hence a huge gap in the time frame of this compendium. But with critical reappraisal in the 21st Century and the huge advances in technology, promo videos such as 'Dominion Day' and 'Rip' have been forthcoming with 'The Fall' in particular being a fine filmic representation of the music with equal measures of unsettlement and paranoid gothic metal atmosphere.
'The Fall' brings the Numan visual story up-to-date, but the best thing about 'Machine Music' is the collection of treasures to be found on the second DVD of rare and live TV appearances from around the world.
That memorable performance of Are 'Friends' Electric? with the young Numan swathed in white light on Top Of The Pops is all present and correct, while there is also the influential 'Saturday Night Live' appearance (featuring then new band member Denis Haines "bricking it") which sold electronic music to America …everyone from Trent Reznor to Afrika Bambaataa was watching that night and thus industrial rock and electro hip-hop genres were effectively born.
Of course, the music of Gary Numan was often best experienced live so the 1980 'Teletour' has been captured on this set with 'This Wreckage' and 'Remind Me To Smile', while the even bigger Wembley show as captured on 'Micromusic' is represented by 'Down In The Park', complete with sinister robot car!
The special ITV clip of 'Metal' is the prize of 'Machine Music'. A brilliant promo video in its own right with Numan's sneering dystopia appropriately set in an electricity sub-station, 'Metal' is indeed the great Numan track that really should have been a single.
The version of 'I Die: You Die' from The Kenny Everett video show in 1980 is the one David Bowie controversially had removed from the original 1979 Christmas edition, so threatened The Dame felt about the rising young upstart from Wraysbury. It was shameful diva-ish behaviour which Bowie has since nominally retracted by saying "Gary Numan has written some of the finest things in British pop" in Q Magazine some years later.
'Machine Music' is a wonderful visual document which to his credit, Numan has allowed to be an almost warts and all visual assessment of his career. The Top Of The Pops specials of 'We Take Mystery' and 'White Boys & Heroes' filmed in New York and Los Angeles respectively are a bit cringey to watch now, while Numan's own views about 'The Man Who Lost It All In Monte Carlo' red bow tie look in 'Your Fascination' and 'Call Out The Dogs' are well documented.
But this is what Numanoids love about their hero and why they've stuck with him through all his highs and lows. Now, if only more artists were able to be as frank and honest…
---
'Machine Music: The Best of Gary Numan' DVD set is released as a limited edition of 3000 and will be available during his forthcoming UK concert tour. Any remaining copies will be on sale via the Official Gary Numan online shop at Townsend Records.
DVD Tracklisting:
Disc 1 – PROMO VIDEOS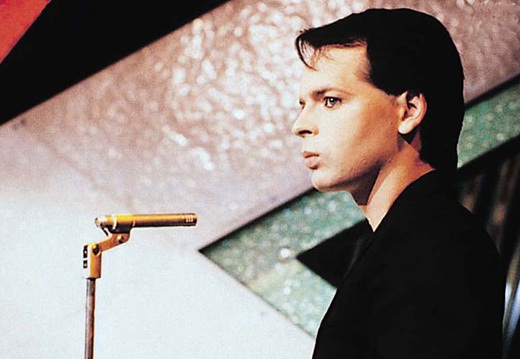 1 Cars
2 Complex
3 We Are Glass
4 I Die: You Die
5 This Wreckage
6 She's Got Claws
7 Love Needs No Disguise (with DRAMATIS)
8 Music For Chameleons
9 We Take Mystery
10 Warriors
11 Berserker
12 Your Fascination

13 Call Out The Dogs
14 Dominion Day
15 Cars (with FEAR FACTORY)
16 Rip
17 Crazier (with RICO)
18 In A Dark Place
19 Healing (with ADE FENTON)
20 The Fall
21 My Machines (with BATTLES)
Disc 2 – TV, LIVE AND RARITIES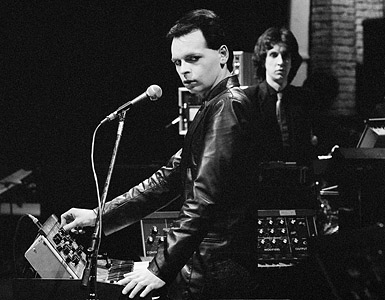 1 Down In The Park (Micromusic)
2 Are 'Friends' Electric (Top Of The Pops, 1979)
3 Cars (Saturday Night Live, 1980)
4 Praying To The Aliens (Saturday Night Live, 1980)
5 Metal (ITV, 1979)
6 I Die: You Die (Kenny Everett, 1980)
7 Remind Me To Smile (Live Teletour 1980)
8 We Take Mystery (Top Of The Pops promo film, 1982)
9 White Boys And Heroes (Top Of The Pops promo film, 1982)
GARY NUMAN plays his first ever singles tour featuring everything from the punk debut 'That's Too Bad' to his first electronic release 'Down In The Park' and the hits including 'Are 'Friends' Electric?', 'Cars', 'Complex', 'We Are Glass', 'I Die: You Die', 'This Wreckage' and 'Berserker' plus later Top 30 successes 'Rip' and 'Crazier'.
The 'Machine Music' Tour includes:
Leicester O2 Academy (22nd May), Glasgow O2 ABC (23rd May), Newcastle O2 Academy (24th May), Sheffield O2 Academy (25th May), Dublin Button Factory (26th May) Bournemouth O2 Academy (28th May), Bristol O2 Academy (29th May), Cambridge Junction (30th May), Birmingham HMV Institute (31st May), London HMV Forum (2nd June), Cardiff Coal Exchange (2nd June), Brighton Dome (3rd June)
For more details on the DVD and tour, please visit the official website at www.numan.co.uk
---
Text by Chi Ming Lai
15th May 2012