What do John Foxx, Midge Ure, Tony Fennell and Sam Blue all have in common? They have all, at some point, been the lead singer of ULTRAVOX.
While Fennell and Blue are now largely forgotten, having only recorded one album each in 'Revelation' and 'Ingenuity' respectively, there are endless debates about whether the John Foxx or Midge Ure fronted ULTRAVOX is the valid and definitive one.
Like with the Peter Gabriel or Phil Collins led versions of GENESIS, both have their own sound and different audiences, while there are some who even like both. But whatever, the four piece ULTRAVOX comprising of Warren Cann, Chris Cross, Billy Currie and Midge Ure was undoubtedly the most commercially successful, scoring thirteen Top 30 hit singles in the UK over a period of four and a half years, as well as five Top 10 albums including a greatest hits collection.
How John Foxx departed the ULTRAVOX fold and Midge Ure came to join at the encouragement of Rusty Egan, following the first VISAGE sessions at Genetic Studios that included Billy Currie, is now more than well documented. The new quartet soon embarked on a US club tour in 1979 to test the water with their new material.
The thread between the two line-ups was German producer and engineer Conny Plank; he had offered to finance an album himself, such was his faith in the band. When interest came from Chrysalis Records and an offer of two days free studio time to make demos, ULTRAVOX opted to use their opportunity to complete a fully recorded version of 'Sleepwalk'. It saw the new line-up of the band beef up their Motorik inclinations with lots of "fun-fun-fun on the autobahn" and Chrysalis duly offered a deal to the quartet.
ULTRAVOX were despatched to RAK Studios in London to record an album which was to be given the title of 'Torque Point' before the band and label settled on 'Vienna'. With Ure's background in power pop with SLIK and THE RICH KIDS, dynamic catchy choruses were to become a new trademark to go with a greater use of synthesizers, while there was a conscious move to utilise more of Billy Currie's classical music training via his piano, violin and viola playing.
Released in Summer 1980, one of the key tracks on the 'Vienna'
album was the robotic spy story of 'Mr X' which was voiced by Warren Cann and clearly influenced by KRAFTWERK. With its tight Compurhythm backbone, it was an idea that dated back to the John Foxx-era as its hook was very similar to his 'Touch & Go' on 'Metamatic' released in early 1980. But 'Touch & Go' had been premiered live by ULTRAVOX before Foxx departed.
Another standout was the lengthy instrumental 'Astradyne', a glorious statement of intent that was the perfect opener. Under the spell of German acts like LA DÜSSELDORF and RIECHMANN with a fantastic interplay between the band and a final celebratory section coming from an unexpected lift.
Billy Currie told ELECTRICITYCLUB.CO.UK in 2012 that "Midge came up with that final section lift taking it out of the long ARP solo. I double it! It is a very good strong keyboard part. I used to say at the time: 'Only a guitarist could come up with that!', I meant that as a good thing!"
There were more guitar driven songs too with Ure adopting the chunky flanged sound that had been showcased by his predecessor Robin Simon which blended well with the Minimoog, ARP Odyssey, Oberheim OBX and Yamaha SS30 that were in the ULTRAVOX keyboard armoury. 'Passing Strangers' was the hit single that never was while 'New Europeans' featured a lyric written by Warren Cann which hit the zeitgeist with a narrative about a young man whose "modern world revolves around the synthesizer's song".
Meanwhile 'All Stood Still' was verging on heavy metal in the vein of THIN LIZZY, perhaps unsurprising given Ure's time as a stand-in-guitarist for Phil Lynott's combo when Gary Moore went AWOL before their US tour with JOURNEY; it was this link that led to THIN LIZZY's managers Chris O'Donnell and Chris Morrison looking after the business interests of ULTRAVOX. Complete with thundering Moog bass, powerhouse drums and Jimi Hendrix impressions using an ARP Odyssey, 'All Stood Still' rocked so much that many listeners were unaware it was a tune about a nuclear holocaust…
Sandwiched between 'New Europeans' and 'Passing Strangers', 'Private Lives' was like a less frantic amalgam of the two but if the 'Vienna' album had an under rated track, then it was 'Western Promise'. Relevant today in light of questions about the British Empire's past role in colonisation, slavery and genocide, the mighty tune used the Far East as its location with a distorted Ure ranting "Oh mystical East, you've lost your way, your rising sun shall rise again. My Western world gives out her hand, a victor's help to your fallen land" like some totalitarian dictator…
But the tune which the wider public remembered most was the title track. When Conny Plank heard the demo of 'Vienna', he imagined an old man at a piano in a desolate theatre who had been playing the same tune for forty years. And when Billy Currie came to record his ivory parts, that was exactly the feel which Plank had engineered for the now iconic track. As for the Roland CR78 Compurythm intro, Warren Cann told ELECTRICITYCLUB.CO.UK that it was perhaps his proudest moment when he presented his idea to the rest of the band and went "How about this?".
With the 'Vienna' reaching No2 as a single and No3 as an album in the UK charts, ULTRAVOX were getting the success they deserved. But for the follow-up 'Rage In Eden', they adopted a completely different approach. Whereas lyrically, a fair portion of the lyrics had been written by Cann, this now shifted primarily to Ure.
Although the 'Vienna' album had been written and played live before recording, the band decided to decamp to Conny Plank's residential countryside studio with no material pre-prepared. Living in each other's pockets for three months, the sessions were tense and that impression came across in the music.
Released in Autumn 1981, 'Rage In Eden'
began with the optimistic spark of 'The Voice' and possessed the Motorik thrust of NEU! while maintaining some marvellous symphonic pomp. Creative tensions that had now emerged between Ure and Cross on one side, and Currie on the other who responded with his magnificent middle eight ARP Odyssey solo and a very proud ivory run.
But aside from that, 'Rage In Eden' was a paranoia ridden affair. However, many of its tracks were mighty. Chris Cross' trademark triggered Minimoog bass synth came to the fore on tracks like 'We Stand Alone' and 'I Remember (Death In The Afternoon)' with Billy Currie working more with the Oberheim OBX for his soloing, although neither was a particularly cheerful affair. In between, there was the tape experimentation of the title track which used the chorus of 'I Remember' played backwards to give an eerie Arabic toned "noonretfa eht ni htaed… rebmemer i ho" vocal effect.
Also making a prominent appearance was the Linn LM-1 Drum Computer, a machine that used digital samples for its sounds which Warren Cann acquired, fascinated with furthering the possibilities of programmed percussion that had been opened up. Speaking to ELECTRICITYCLUB.CO.UK in 2010, he surmised that "Drum machines lent a new dimension to music on two fronts; one, the hypnotic element given by perfect unwavering tempo, and two, the ability to endlessly layer, edit, and re-edit rhythm tracks."
'The Thin Wall' dramatically merged synthesizers, guitar, piano, violin and Linn Drum for a formidable yet under rated hit single, but then the album entered a dense phase of indulgence with the deeply rhythmic but overlong 'Stranger Within' and the meandering 'Ascent On Youth'. The melancholic interlude 'The Ascent' provided some relief despite its intensity before the haunting conclusion with the sparse mental breakdown of 'Your Name (Has Slipped My Mind Again)'.
Not as accessible as 'Vienna', only two singles were lifted from 'Rage In Eden' whereas its predecessor had four; 'Rage In Eden' was ambitious and loosely conceptual but it may have been too much for some, including the band.
So for 1982's 'Quartet'
album, ULTRAVOX worked with George Martin, most notable for his work with THE BEATLES. The sound was brighter, more structured and stripped of the density that had characterised the albums with Conny Plank, perhaps coinciding with the use of more digital hardware like the PPG Wave 2.2 and Emulator.
The catchy 'Reap The Wild Wind' opened proceedings with an immediacy that was less angular and experimental that anything on 'Vienna' or 'Rage In Eden' although this poppier approach may have alienated any John Foxx-era fans that had stuck it out into the Ure-era.
However, the quasi-religious pomp of 'Hymn' had the anthemic thrust of the previous two albums and in 'Visions in Blue', 'Quartet' had its own 'Vienna' but aside from those, 'Mine For Life' and 'Serenade', overall it was something of a disappointment. While the mighty motorik attack of 'The Song (We Go)' offered some percussive edge, the middle second side trio of 'When The Scream Subsides', 'We Came To Dance' and 'Cut & Run' proved lacking in the delivery of their verses despite strong choruses.
'Quartet' had been a big budget effort with recording in George Martin's Air Studios in London and Monserrat plus a tour with a huge grey gothic stage set to support it, as documented in the 'Monument'
concert film and soundtrack.
By this time, ULTRAVOX took out a huge amount of equipment live which caused many logistical headaches. There were nearly thirty keyboards and electronic gadgets on stage including ARP Odysseys, Minimoogs, PPGs, Emulators, Oberheims and assorted Yamaha keyboards including the CP70 electric grand piano which could take up to three hours to tune in soundcheck!
Then there was Warren Cann's infamous percussion console 'The Iron Lung' which had the Simmons SDSIII, SDSV and SDSVII drum synthesizers, Roland TR77 and CR78 drum machines, a Linn LM-1, a LinnDrum and various effects processors like the Roland Space-Echo.
So things became more simplified by ULTRAVOX's standards for the next album 'Lament'
released in Spring 1984, with the recording sessions taking place in home studios and self-produced. Largely gone were Billy Currie's trademark synth solos with the ARP Odyssey although its replacement, the OSCar made a fleeting appearance in that style on the closing song 'A Friend I Call Desire'. Meanwhile Warren Cann had acquired the MIDI compatible Sequential Drumtraks and there were more obviously programmed rhythm tracks than on previous ULTRAVOX albums while the band seemed quite pleased with their new Yamaha DX7.
But one new keyboard acquisition proved to be a major disappointment in Sequential's giant Prophet T8. "I got it thinking it would be a competitor to the Yamaha CS80 but the action was always far too heavy" remembered Currie, "It was the only other synth that had a totally polyphonic touch-sensitive keyboard. It was about £4000… a bargain!"
The album contained many varying different styles as the band battled for a clear direction. 'One Small Day' was a decisively hands-in-the-air rockist statement in the vein of U2 and SIMPLE MINDS.
Meanwhile the brilliant 'White China' was a full fat sequencer number about the eventual 1997 handover of British ruled Hong Kong to Red China that developed on NEW ORDER's 'Blue Monday'.
Using Far Eastern ethnic influences with a nod towards JAPAN's 'Tin Drum', the title song was an exquisite but obviously mournful ballad. But the album's highlight was the magnificent 'Man Of Two Worlds', an electro Celtic melodrama featuring a haunting female Gaelic vocal from Mae McKenna with doomed romantic novel imagery capturing a feeling of solitude in an unusual mix of synths, programmed Motorik rhythms and manual funk syncopation.
Notably a re-configuring of 'Sonnenrad' by NEU! guitarist Michael Rother from his 'Sterntaler' album which Conny Plank had produced and given a copy to Billy Currie, 'Dancing With Tears In My Eyes' was yet another song about a nuclear holocaust. While it might have been a depressing subject to revive, there was the spectre of 'Protect & Survive' when Mutually Assured Destruction lingered in the minds of the population. Released as a single, 'Dancing With Tears In My Eyes' reached No3 in the UK singles charts, ULTRAVOX's biggest hit since 'Vienna'.
ULTRAVOX had been a consistent singles band but after eleven successive Top30 hits, it seemed as good a time as any to release a greatest hits for the 1984 Christmas market.
At the time of release, 'The Collection'
was novel. Not only did it feature all thirteen Midge Ure-fronted era singles to date, but in 'Love's Great Adventure', it also included a brand new one too.
It was a perfect package that could be played from start to finish, from 'Dancing With Tears in My Eyes' to 'Lament' via 'The Thin Wall', 'Vienna', 'Sleepwalk', 'Reap The Wild Wind' and 'All Stood Still'.
After four albums in five years, it was time for Cann, Cross, Currie and Ure to take a break, but instead, the ULTRAVOX frontman took a busman's holiday. There was Band Aid and then a solo career which yielded a UK No1 in 1985 with 'If I Was', a song Ure had co-written with Danny Mitchell from the band MESSENGERS who had played support and augmented the live  ULTRAVOX set-up on the previous two tours.
After an appearance at Live Aid, when ULTRAVOX reconvened in 1986 for the making of their next album, the quartet imploded with Warren Cann unceremoniously fired from the band due to musical differences. By now, Cann had more or less given up the notion of live drums while the other three favoured a back-to-basics approach with more live instrumentation.
Despite Conny Plank returning to produce, the resultant 'U-Vox'
was poor. The title said it all, a band with something missing. The album saw ill-advised excursions into funk, brass and folk with the latter being a rather sombre collaboration with THE CHIEFTAINS about the threat of a nuclear holocaust called 'All Fall Down'.
Meanwhile most of the other tracks on 'U-Vox' were uninspired pieces of rock, with the lame 'Moon Madness' being a particular low point. Despite this, there was a genuine highlight in 'All In One Day', a magnificent song about 'Live Aid' which featured an orchestral arrangement by George Martin. However, after an underwhelming arena tour, ULTRAVOX split. Midge Ure continued his solo career to varying degrees of success while Chris Cross left music to become a psychotherapist amd Warren Cann moved to Los Angeles.
Meanwhile, Billy Currie made three attempts at reviving the ULTRAVOX name. However, the first one featuring Marcus O'Higgins as singer and a returning Robin Simon on guitar was blocked; when the recordings from these 1989 sessions were finally released as 'Sinews Of The Soul' under the name HUMANIA in 2006, the booklet notes saw Billy Currie launch into an almighty tirade against Midge Ure and Chris Morrison who had taken on the role of sole ULTRAVOX manager after Chris O'Donnell moved on. An interview that Currie gave to Beatmag that year was no less frank.
There was now a lot of bad feeling, so any possible future activity involving the four members of the classic ULTRAVOX line-up was now unlikely… or so it seemed. In 2003, Ure was playing a significant amount of ULTRAVOX material on his 'Sampled Looped & Trigger Happy' tour.
Then in 2009, the impossible happened and the classic line-up of ULTRAVOX reunited for the 'Return To Eden'
tour following an offer from Live Nation, who their former manager Chris O'Donnell was now working for. The show went on two triumphant European stints and things went well enough for a new album to be recorded, with writing taking place at Midge Ure's log cabin retreat near Montreal in Canada.
Co-produced by Stephen J Lipson, the 'Brilliant'
album's title song chorused a cautious optimism in a bittersweet comment on pop culture. Meanwhile as the album opener, 'Live' came as message of intent like 'Dancing With Tears In My Eyes' but without the imminent nuclear holocaust as its superb instrumental breakdown dropped to a magnificent pulsing sequence, piano and lone bass drum reminiscent of LA DÜSSELDORF.
One of the main talking points about the 'Brilliant' album was Ure's voice which now possessed a fragility and honesty only could have come from battle-hardened life experience. But fans were polarised about his use of the Melodyne, an audio pitch modification tool not dissimilar to Auto-Tune.
In his defence, Midge Ure told ELECTRICITYCLUB.CO.UK in 2015 about how "it's a tool and no different from any of the plug-ins that I use when I make music. It's a bit like saying 'why do you use reverb on your voice?'… well, it's because it suits the song and makes it more interesting."
The excellent 'Satellite' recalled former glories and even recycled the violin solo from the album version of 'The Thin Wall' while the percolating sequences and rhythmic snap of 'Rise' emulated Giorgio Moroder for a 21st Century update of 'Western Promise'.
'One' and 'Remembering' captured the chromatic romanticism of Europe with its classical influences although the soaring stadium rock pandering of 'Flow' was not to everyone's taste. However, this blip was countered by the whirring ARP Odyssey lines on 'Change' which featured some majestic widescreen inflections glossed with beautiful ivory runs bouncing off a shuffling percussive pattern.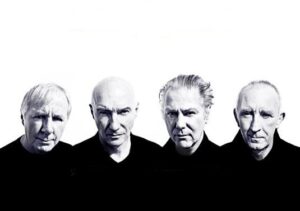 Closing with the resignation of 'Contact', a sensitive statement about the emotional detachment caused by modern technology, 'Brilliant' was a better album than many expected and righted the wrongs of 'U-Vox'. There was another successful European tour and it looked as though the old wounds between the four had healed. Then came a surprise run of dates opening for SIMPLE MINDS on the arena leg of their 'Greatest Hits+' UK tour at the end of 2013 but after that, it all went quiet.
Speaking to ELECTRICITYCLUB.CO.UK, Midge Ure said that "We always said we were never getting back together to take over the world as a band and pretend we were a bunch of teenagers, we all have other things that we do. And we said that if and when something interesting pops up, we would get-together and do it". But in 2017, Billy Currie made a statement on his website that his tenure with ULTRAVOX was over and even sold his beloved ARP Odyssey MkII on eBay!
Despite this, the legacy of this particular incarnation of ULTRAVOX lives on, with Ure going out on the road in 2019 with his solo band to play the 'Vienna' album in its entirety on 'The '1980 Tour' as a testament to its artistic longevity. And now there is a 40th Anniversary boxed set complete with a new 5.1 surround sound mix by Steven Wilson.
ULTRAVOX also brought the sound of the NEU! axis to a mainstream British audience and even re-exported back to Germany – in acknowledgement, Ure had the music of Michael Rother played before the shows of 'The 1980 Tour'.
Meanwhile, there has also been a substantial and diverse ULTRAVOX legacy within modern popular culture. The Manchester pop duo HURTS effectively played on being TAKE THAT dressed as ULTRAVOX, especially with their single 'Stay' and its accompanying promo video. Meanwhile for their quintet reunion album 'Progress', TAKE THAT themselves interpolated 'Vienna' for a song called 'Eight Letters' which resulted in the rather unusual credit "written by Barlow / Donald / Orange / Owen / Williams / Ure / Cross / Cann / Currie"!
But the biggest ULTRAVOX legacy can be found in the stadiums of the world via the Teignmouth rock trio MUSE. It is not difficult to imagine Midge Ure singing 'Starlight' while 'Vienna' has been borrowed not once but twice, first on 'Apocalypse Please' where the middle eight bass synth section was more or less lifted note-for-note while the second time was more obviously with the drum intro to 'Guiding Light'.
ULTRAVOX were indeed a jigsaw sequence, but no-one could see the end.
---
'Vienna'
is released as a 5CD+DVD and 4LP clear vinyl boxed set by Chrysalis Records on 9th October 2020
https://www.facebook.com/UltravoxUK
https://twitter.com/UltravoxUK
https://www.instagram.com/ultravoxuk/
---
Text by Chi Ming Lai
12th September 2020