Metall Maschinen Musik veterans DIE KRUPPS are to play two dates in the UK this August as part of the second leg of their European tour focussing on Scandinavia and festivals in Germany.
Formed in 1980, original members Jürgen Engler and Ralf Dörper plus newish recruit Marcel Zürcher have taken back some of what they have given to the Industrial scene with their 2013 album 'The Machinists of Joy'.
Dressed in a Lou Reed 'Metal Machine Music' tribute sleeve, it reached No1 on the Deutsche Alternative Charts.
With acclaim by NME in 1981 for both the album 'Stahlwerksinfonie' and single 'Wahre Arbeit Wahrer Lohn', DIE KRUPPS laid the foundation for Electronic Body Music; FRONT 242 and NITZER EBB called them their inspiration while DIE KRUPPS' blend of hard electronics and danceable beats can also be heard in music as diverse as DEPECHE MODE and Detroit Techno.
Although Dörper had already left DIE KRUPPS in 1982 to form PROPAGANDA, he initiated a rework of 'Wahre Arbeit Wahrer Lohn' in collaboration with NITZER EBB, retitled 'The Machineries Of Joy'.
Produced by Dörper and Engler, it reached the Top 10 of the Billboard Dance Charts in 1989 and resulted in the pair reconvening as DIE KRUPPS for the album 'I'.
The 25th anniversary of DIE KRUPPS in 2005 saw Dörper and Engler play festivals across Europe, leading to where they are today with 'The Machinists of Joy', seemingly never having lost ground in their Teutonic battle of the senses. Ralf Dörper kindly spoke to ELECTRICITYCLUB.CO.UK as they prepared for the next leg of their aural assault…
DIE KRUPPS toured Germany and Russia quite extensively earlier in the year. How has the material from 'The Machinists Of Joy' gone down live?
It has in fact been the first time (since '97) that we played not just a best-of-set. Now it's around half / half. And the new material went down really well not just in Germany but in Eastern and Middle Europe as well. It is always impressive when people, for example in Russia, already know the German lyrics. We seem to have some hardcore fans in Russia. They even put out a record: a 'Russian Industrial Tribute To Die Krupps'. Now, in the summer, we will try to fill the gaps we have left on the European map – so there will be concerts in the UK and in Scandinavia.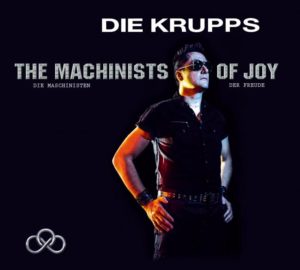 'Risikofaktor' signalled the stronger re-emphasis on electronics with this album. What inspired heading down this route again?
There have been some signals earlier on, as we constantly added some new material since we were asked to tour again by our fans. I refer to 'Der Amboss' or '5 Millionen' or the release of 'Volle Kraft 08' in which only electronic bands participated. And we even played a harsh interpretation of 'Dr. Mabuse' from time to time… but we have not become purists – there are still some guitars.
'Nazis Auf Speed' is based by a true story?
Well – I took the title from a book which describes how the global war-machinery has used – and is still using – drugs: mainly to enhance stamina of the troops etc. But first I'd like to tell how this song came into existence. I have to admit that I quite like RAMMSTEIN, who I think are incredibly funny and very poetic as well. So a couple of years ago, I attended a RAMMSTEIN show (the tour which was supported by COMBICHRIST) and afterwards, I felt inclined to do a Lindemann-like lyric and put down the first two verses and a chorus: "Rammt sie!" (which means: bump into them) in just ten minutes. I thought the result was hilarious and I sent it to Jürgen as a joke. I guess that was back in 2010.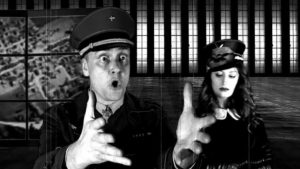 Quite recently when we had already started work on new material, I happened to watch a documentary channel in which they not only had a feature on Pervitin – the German Wehrmacht's wonderdrug but also about the so-called: "Rammstoss-unit". These were pilots who had metal-enhanced Messerschmitts – and their task was to fly into the enemy´s (sorry) Spitfire armada and to bring them down with a "rammstoss".
So here we have the chorus: "rammt sie"), nothing personal, just historical. By the way, they were not Kamikaze, there have been quite a few survivors who appeared in that documentary. Jürgen was able to watch that programme as well – via internet in Texas. And the track was born.
And yes, it's very tongue in cheek – we just couldn't avoid those Ramm-style riffs. The song only appeared on a limited edition of  'The Machinists of Joy', but due to high demand in the clubs, we decided to do a video.
Visually DIE KRUPPS play with a lot of Second World War imagery?
I beg your pardon? Not at all – and I think it's quite irresponsible to do so (when you are German). We better leave that to Lemmy. Please don't get the wrong impression from that video for 'Nazis Auf Speed'. We actually tried to refer to movies such as 'The Great Dictator'. 'To Be Or Not To Be' (the Mel Brooks version) and 'Those Magnificent Men In Their Flying Machines'…
Our video for 'Risikofaktor' was a bit like 'The Walking Dead' albeit without any walking dead … and there will be one for 'Robo Sapien' which is likely to be a sort of trashy 'Tetsuo' meets 'Robocop'.
How do you keep your Metall Maschinen Musik fresh? Were there any unusual influences in the creation of 'The Machinists Of Joy'?
I assume that he might not admit it, but during the production process, Jürgen has been on filmsets in Austin. He actually might appear in 'Sin City 2'. I think that had an influence on the creation. In fact, it delayed it 🙂
And we sort of went back in time and tried to create the album that could have been released in 1989, ie just after 'The Machineries of Joy' which we did with NITZER EBB. That also means no plug-ins but back to analogue equipment. Jürgen has refilled his studio with hardware – and I have chosen to bring a Korg back on stage. It's more fun to fiddle about.
You once performed your metallic cover of VISAGE's 'Der Amboss' with SARAH BLACKWOOD in 2008. How did that come about and do you intend to do it again?
When I first heard 'The Anvil' ('Der Amboss') by VISAGE, I thought: "what a perfect song for DIE KRUPPS" – it just needed more sweat, more steel. But unfortunately, I was not a member of DIE KRUPPS anymore (in 1982) but in fact, I was already working with Andreas Thein on what were to become the first PROPAGANDA tracks.
And it was not before 2005 when DIE KRUPPS were asked to play a few 25-year anniversary shows that I remembered 'Der Amboss' and we chose to record it for a limited give-away single during the tour. And as I was a big CLIENT fan at that time, I thought it would be a good opportunity to ask Fräulein B for assistance in the vocal department. And last time we played London, Sarah was so kind as to share the stage with us. A great experience we definitely would like to repeat if she is around and up for it.
Which bands do you currently rate at the moment, industrial or otherwise?
Always tricky these questions… I think I better stick to the family and recommend VIGILANTE and CHANT who are both bands who supported us in the spring. There's FANTOME which is a project our guitar player Marcel has with Hanin Elias who is ex-ATR. And I always look forward to hear new tracks from CLAUDIA BRÜCKEN or SARAH BLACKWOOD.
What's next for DIE KRUPPS?
There will be further live activity in North and possibly South America. And later this year, there will be a live DVD. Most of it was filmed during our headliner show at this year s E-tropolis festival by Virus Films, the team who did the 'Nazis On Speed' video.
---
ELECTRICITYCLUB.CO.UK gives its grateful thanks to Ralf Dörper
'The Machinists of Joy' is released as a CD, 2CD, boxed set and download via Synthetic Symphony
DIE KRUPPS 2014 tour includes: Amphi Festival (27th July), Southampton Talking Heads (1st August), London Garage (2nd August), M'era Luna Festival (10th August)
Please visit http://www.diekrupps.de/ for information on other dates
https://www.facebook.com/diekruppsofficial
---
Text and interview by Chi Ming Lai
25th June 2014