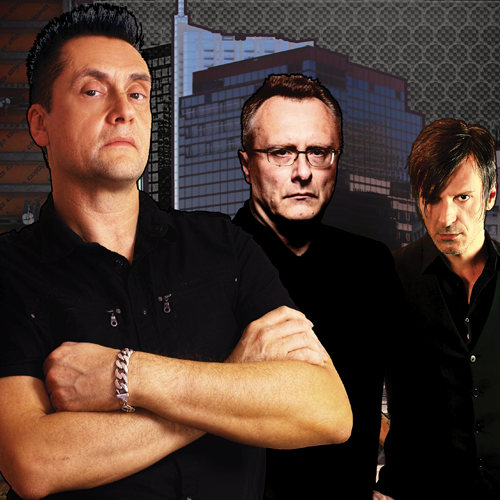 Metall Maschinen Musik veterans DIE KRUPPS have just unveiled a controversial new video for 'Nazis Auf Speed', a track from their latest album 'The Machinists Of Joy'.
Formed in 1980, original members Jürgen Engler and PROPAGANDA's Ralf Dörper plus new recruit Marcel Zürcher have taken back some of what they have given to the Industrial scene over the last three decades with this Teutonic sub-RAMMSTEIN battle of the senses. The lyrics reflect on how The Third Reich aspired to victory at all costs and gave out drugs to their troops including speed in the form of Pervitin.
However, despite its provocative title, DIE KRUPPS point out that they "condemn fascism and drug abuse!" The monochromatic film directed by Philipp Virus depicts the darker, vicious side of Mittel Europa and sees DIE KRUPPS in a heroic and ironic dogfight AGAINST fascism and drug abuse… as if to point out the irony, the trio board Spitfires!
While the stark imagery does play on the usual Second World War clichés, it is powerful stuff while on a purely shallow and aesthetic level, who cannot resist the allure of a beautiful woman in a military uniform, no matter whose side she is on!
Meanwhile, the parent album 'The Machinists Of Joy' reached No1 on the Deutsche Alternative Charts on its release in the Autumn. Previous singles 'Schmutzfabrik', 'Risikofaktor' and 'Industrie-Mädchen' showcased a much greater focus on electronic sounds rather than guitars as in DIE KRUPPS previous work, but the essential sweaty body core still prevails in this 21st Century incarnation of the band.
---
'The Machinists Of Joy' is released as a CD, limited edition 2CD and download via Synthetic Symphony
DIE KRUPPS 2014 tour dates include:
Dresden Eventwerk (14th February), Prag Meet Factory (15th February), Budapest Duerer Kert (16th February), Wien Szene (18th February), München Backstage Werk (19th February), Nürnberg Rockfabrik (20th February), Pratteln Z7 (21st February), Oberhausen Turbinehall (22nd February), Hamburg Markthalle (23rd February), Berlin C-Club (25th February) , Frankfurt AM Batschkapp (26th February), Hannover Musikzentrum (27th February), Moskau Plan B (1st March), St Petersburg Zal Ojidanija (2nd March), Amphi Festival (27th July), M'era Luna Festival (10th August)
https://www.facebook.com/diekruppsofficial
---
Text by Chi Ming Lai
29th December 2013