'Individuellos' was the third and final official album from the project fronted by the late Klaus Dinger of NEU!
As with the first two albums 'La Düsseldorf' and 'Viva', the self-produced 'Individuellos' released on TELDEC developed on the proto-punk first showcased on the second side of 'Neu! 75'.
But for this 1980 release, there was a greater presence of keyboards from Dinger under his pseudonym of Nikolaus Van Rhein and as usual, he contributed his trademark gibberish that passed for vocals.
Variations on a theme have long been a staple of German Kosmichemusik so the first half of 'Individuellos' was dominated by 'Menschen', a grand statement with layers of synths that were simultaneously melodic, mad and magnificent. Those who liked their Motorik beats were not disappointed as percussionists Thomas Dinger and Hans Lampe effectively played the telephone directory with their Apache drums.
This first movement was segued into the title track which was a close cousin with its shifting bass octaves and pounding keys before returning to 'Menschen2'.
An interlude ensued with 'Sentimental', an abstract tape collage that sounded like a church service in reverse before hitting with 'Lieber Honig 1981', effectively a live version of 'Menschen' that basically forms the blueprint for Phil Lynott's 'Yellow Pearl'… Attack! Attack! Attack! Attack!
The second half opened with the neo Volksmusik of 'Dampfriemen' and its pretty anthemic synth motif before the Dinger brothers joined in sounding like they've had a few too many Tizers at Oktoberfest, with of all things, a kazoo section kicking in!
'Tintarella Di' followed with an opening section similar to the keyboard intro of SIMPLE MINDS' 'Life In A Day'. With the canter of horses hooves helping to continue the Volks theme, this pair of tracks may have confused those who loved their proto punk but it was obvious Dinger and Co were having a lot of fun with their reinterpretations of traditional German culture.
In another aural sculpture, 'Flashback' featured a boat rowing in an echoing cavern before the church organ from 'Sentimental' made a reappearance.
The beautiful piano laden 'Das Yvönnchen' was the closer; played by guest musician Andreas Schell (who sadly passed away during the album recording), it was melodically more in line with Michael Rother, Dinger's former partner in NEU! It underlined the ethereal qualities Dinger was capable of when he put his space cadet mind to it.
Thus 'Individuellos' was an album of two distinct halves like many great albums of the period such as Bowie's 'Low' and 'Heroes',  Eno's 'Before & After Science', and JOY DIVISION's 'Closer'. It was 1983 before the final LA DÜSSELDORF release, a maxi-single featuring 'Ich Liebe Dich' and 'Köksnödel'.  The former possessed a brooding gothic drama like 'Organisation'-era OMD while the latter was the most crisply electronic track LA DÜSSELDORF ever recorded. The Japanese reissue CD of 'Individuellos' on Captain Trip from 1997 featured these two songs as bonuses, while the recent German reissue on Warners omitted them.
However, the  LA DÜSSELDORF story quite didn't end there as a fourth album was recorded but due to legal reasons, it was released in 1985 as 'Néondain' by KLAUS DINGER & RHEINITA BELLA DÜSSELDORF with the subtitle of 'La Düsseldorf 4'. Given a limited reissue in 2006 as LA DÜSSELDORF.DE 'Mon Amour', this included both tracks from the 1983 maxi-single as extras and although patchy, the collection also featured worthy highlights such as the tremendous 'Mon Amour' title track and the abridged Linn Drum assisted reworking of 'Cha Cha 2000'.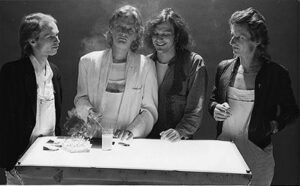 There was a NEU! reunion in 1986 during which tensions between Dinger and Rother came to a head. The recordings remained unreleased until 1997 when Dinger issued the album as 'Neu! 4' on Captain Trip without Rother's consent. This strained relations further and although a further reconciliation with Rother was attempted in 2000 as part of the NEU! CD reissue campaign on Grönland Records, this came to nought.
Klaus Dinger continued recording and touring as LA! NEU? particularly in Japan where he had a huge cult following but sadly passed away in 2008. As a final tribute to the madman known as 'KD', that final NEU! album was reworked by Rother and finally officially released as 'Neu! 86' in 2010. He leaves a charming and simultaneously erratic musical legacy.
---
'Individuellos' is available as part of the LA DÜSSELDORF 3CD boxed set 'The Triple Album Collection'
released by Warner Music
https://www.facebook.com/La-Düsseldorf-42715353276
---
Text by Chi Ming Lai
29th February 2012, updated 5th July 2020