In The Pleasure Groove: Love, Death & Duran Duran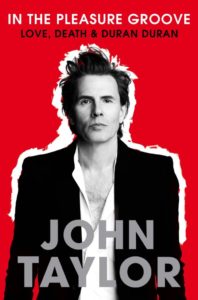 Some have questioned ELECTRICITYCLUB.CO.UK's endorsement of DURAN DURAN but the bottom line of their appeal is simply great timeless pop songs.
While that essential element has been crucial to their massive worldwide appeal, it has also been their fusion of influences such as ROXY MUSIC, DAVID BOWIE, KRAFTWERK, CHIC, SEX PISTOLS, GIORGIO MORODER, JAPAN and THE HUMAN LEAGUE that have made them more appealing than the average boy band and allowed them to cross over into the hearts of synth aficionados.
DURAN DURAN particularly took the arty poise of JAPAN, who had been wooing teenage girls in Japan itself, and toned down their androgynous outré to make it more accessible.
Keyboardist Nick Rhodes was essentially a David Sylvian clone and within his role, it was the burgeoning movement in post-punk Britain involving affordable synthesizers that was to prove crucial to the development of the band he founded with bassist John Taylor.
In his new autobiography 'In The Pleasure Groove: Love, Death and Duran Duran', John Taylor remembers: "Seeing THE HUMAN LEAGUE for the first time was a turning point. Nick and I saw them supporting SIOUXSIE & THE BANSHEES at the Mayfair Ballroom in the Bullring shopping centre and watched in amazed silence. They had no drummer. No guitars. They had three synthesisers and a drum machine instead. So Nick's mum, Sylvia, made a £200 investment: the first Wasp synthesizer to arrive in Birmingham…"
Of course, this synthfluence went the full hog on their 'Red Carpet Massacre' tour in 2007-2008 with a mid-show electronic interlude.  Performed in the style of KRAFTWERK, the set included covers of 'Warm Leatherette' and 'Showroom Dummies' as well as a Klingklang rework of their own 'Last Chance On The Stairway' and their most RFWK inspired number 'All She Wants Is'. When ELECTRICITYCLUB.CO.UK asked John Taylor about this and commented it was a refreshing change from acoustic sets, his swift reply was: "Yes, exactly… fun wasn't it. Nick and I really hate those 'oh so sensitive' acoustic sets!"
The David Beckham of the New Romantic movement launched his book at London's Leicester Square Theatre with a sold-out book reading and signing, where he was met by applause and cheers from ladies of a particular demographic who were quite clearly dumbstruck at being face-to-face with someone who had adorned their bedroom walls in their teens. There was excitement and anticipation, but it was quite apparent that these ladies were also into the music, something that is not always obvious with female fans of some bands.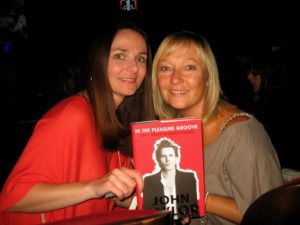 But of course, it was this adulation that ultimately sent JT off the rails into a well documented misadventure of sex, drugs and rock'n'roll!
The book gives him a chance to tell his side of the story and to be honest, as outrageous and debauched some of these anecdotes are, it would have been difficult for most red-blooded men, thrust into the position he was at the age of 21, to have acted any differently…
John Taylor was a lanky bespectacled music geek called Nigel when he formed DURAN DURAN in 1978. He changed his name to the cooler John, while his pal Nicholas Bates felt the surname Rhodes (after the fashion designer Zandra and THE CLASH's manager Bernie) would be slightly more aesthetically pleasing… after all, it's not very nice to be called "Master Bates".
Anyhow, they loved ROXY MUSIC, whose lavish aspirational demeanour was key to their appeal… the message being that an ordinary man, like son of a miner Bryan Ferry, really could attain and get to date Kari-Ann, the glamorous model who was the first ROXY MUSIC cover girl. JT also joked to the audience about Roxy's peacock synthesist Brian Eno: "They had this keyboard player who just turned knobs… how the hell does that work??"
Despite Nick's Wasp and latterly accquired Crumar Performer, a number of line-ups featuring clarinets and various lead singers proved fruitless although one girl who auditioned, Elayne Griffiths, suggested JT should wear contact lenses after he took off his glasses for a video shoot.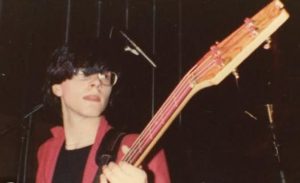 Luckily, the owners of the legendary Birmingham club The Rum Runner, the Berrow brothers believed in their potential. Michael Berrow even sold his flat to finance the band, such was his commitment. Drummer Roger Taylor had joined, but the turning point was the recruitment of guitarist Andy Taylor who was to become JT's party partner–in-crime and drama student drop-out Simon Le Bon as vocalist.
Le Bon may not have had the greatest voice in the world but he had swagger and he had lyrics. He gave the fledgling band focus and the rest would become history. The albums 'Duran Duran' and 'Rio' would become big sellers with singles such as 'Planet Earth', 'Girls On Film', 'Hungry Like The Wolf' and 'Save A Prayer' while crucially, the band toured like there was no tomorrow, unlike their arch rivals SPANDAU BALLET.
The other advantage they had over them was their songwriting prowess. In fact, ELECTRICITYCLUB.CO.UK asked JT what was the particular moment when he realised DURAN DURAN were going to blow away the Islington quintet; he gleefully answered: "To Cut A Long Story Short!"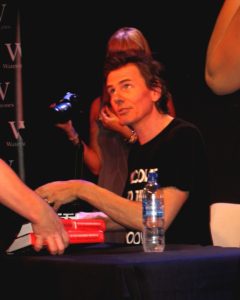 A bit like in that scene at the start of 'The Inbetweeners Movie', when ELECTRICITYCLUB.CO.UK left school, the Deputy Headmaster warned everyone to "beware of slow horses and fast women"… JT most definitely ignored the latter and reaped all that was on offer; he was like a kid in a sweet shop.
In one of the evening's book reading segments, JT told everyone over their smirks of laughter: "I had been a nerd at school, never had a regular girlfriend. Now, I had only to wink in a girl's direction in a hotel lobby, backstage or at a record company party, and have company until the morning." Over time though, enjoying The Hokey Cokey, fast cars and even faster women took priority over the music… the book includes a recollection of JT having a hissy fit when asked to redo a bass part in Sydney for 'Seven & The Ragged Tiger', their multi-million selling but disappointing follow-up to 'Rio'.
Is it any wonder that the quality of a band's output diminishes once they find the trappings of success? Incidentally, the 'Seven' of the album's title was the five band members plus the Berrow brothers (in case you thought they couldn't count!) while 'The Ragged Tiger' was fame!
DURAN DURAN fragmented in 1986 following THE POWER STATION and ARCADIA side projects… there was even a JT solo single 'I Do What I Do'! Eventually despite a 1993 renaissance, the band was left with just Le Bon and Rhodes and no Taylors when JT himself departed in early 1997.
But in 2000 following the disastrous 'Pop Trash' album, a social meet-up in LA with the three of them at JT's pad led to the definitive line-up reuniting for a triumphant world tour in 2004. When you've got it, you might lose your way but if you can re-focus and get your demons conquered, you can get it back.
However, the below expectations comeback albums 'Astronaut' and 'Red Carpet Massacre' followed and although they lost Andy Taylor again and a record deal with Sony on the way, their persistent efforts bore artistic fruit with the superb 2011 album 'All You Need Is Now' released on Nick Rhodes' Tape Modern imprint. JT admitted it took three albums to get it right and was gracious in his regret that Andy Taylor was not still in the band to make his distinct contribution.
Observing JT on stage without his bass and his bandmates was strange at first. But reading from a lectern in the style of a presidential address, he was articulate and came over as charming, humourous, and humble. He was also thankful he was still around to tell the tale. He talked about the passing of his parents and how the book had been inspired by the enormous family archive he had found when clearing up his childhood home.
He gamely accepted questions from the evening's compere, book co-writer Tom Sykes and also the audience, some of whom endearingly could not contain themselves when actually speaking to their hero!
Entertaining and witty, this thoroughly enjoyable and well organised event was carried off with charisma and fun.
Meanwhile, the book itself is a very good, easy read. With a more than generous selection of archive photos, it provokes laughter, sadness, affection and raised eyebrows in equal measure. One of the ingredients to a male popstar's success is to make female fans fall in love with them and make male fans want to be them.
While some observers may complain about how some bands fail to get recognition over others they consider less deserving, a lot of it can be pinned down to lack of engagement on the band's part… consider the fact that a number of the bands from that New Romantic / Synth Britannia era did not really tour much back in the day, if at all.
John Taylor may have been excessive in his pursuit of the fringe benefits that came with success but he, like the rest of DURAN DURAN, pursued their dreams and made some very good records on the way.
As Simon Le Bon once remarked on the 'Top Ten New Romantics' documentary back in 1999: "Decadent DURAN DURAN? We weren't, we were just hard working!"
---
JOHN TAYLOR 'In The Pleasure Groove: Love, Death and Duran Duran'
is published by Sphere
DURAN DURAN 'A Diamond In The Mind'
Live DVD is released by Eagle Rock
https://www.facebook.com/duranduran/
https://twitter.com/thisistherealJT
---
Text by Chi Ming Lai
Event photos by Chi Ming Lai
16th September 2012