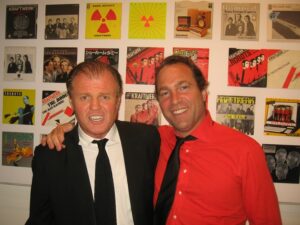 ELECTRICITYCLUB.CO.UK were kindly invited by The Mott Collection to the launch party viewing of KRAFTWERK 45RPM, a new exhibition at The Vinyl Factory in the leafy London suburb of Chelsea.
Among those present were Back To The Phuture's Mark Jones and SEX PISTOLS' Paul Cook. Comprised of 45 iconic 7 inch KRAFTWERK single covers from all around the world, the exhibition showcased the band's "analogue past dreaming of today's digital present".
Indeed on 1981's 'Computer World', they predicted the world we live in today… home computers, internet dating, Big Brother surveillance and mobile devices that can add up, play tunes, compose songs AND control your day.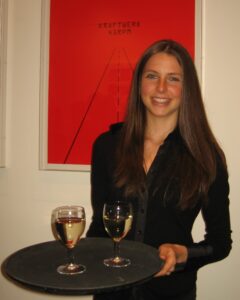 The Blitz Club's legendary DJ Rusty Egan spun the appropriately themed gallery soundtrack featuring KRAFTWERK plus a variety of classic and new acts influenced by the Düsseldorf quartet such as ULTRAVOX and SIN COS TAN.
Amusingly, there was even room for SEÑOR COCONUT whose Latin-tinged covers of 'Showroom Dummies' and 'The Robots' have to be heard to be believed!
Onlookers mingled and viewed the sleeves which were slightly scuffed and showed their age. But their impressions of yesterday's tomorrow still possessed a thoughtful Walter Gropius chic and a Gilbert & George art school demeanour, from 'Autobahn' to 'The Telephone Call'.
As The Vinyl Factory themselves said: "Kraftwerk acknowledged that urban life was alienating yet celebrated the joys of modern technology. Their wistful melodies of contemporary reality were ironic but also a prediction of times to come."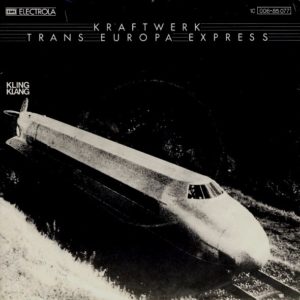 Everybody has their own particular memory with a slice of KRAFTWERK vinyl. With ELECTRICITYCLUB.CO.UK, it involved the 12 inch luminous pressing of 'Neon Lights'. You held it up next to a lamp with your hand hovering just over the vinyl's surface. One minute later, you would switch the lights off to play the disc and watch a ghostly hand spin round at 45RPM while the turntable now glowed in the dark!
And this is without even mentioning the all encompassing music which also marvellously featured 'The Model' AND 'Trans-Europe Express' on the B-side!
And speaking of 'Trans-Europe Express', one of the lesser known but no less iconic images on display at KRAFTWERK 45RPM was the Schienenzeppelin experimental propeller driven railcar which adorned the Belgian 'Trans-Europa Express' single sleeve and also appeared in the video. Despite being designed in 1929 by Franz Kruckenberg, its aesthetic is still vintage yet uniquely futuristic…rather like KRAFTWERK's own retro-modernism.
For an act who were associated with being robotic, KRAFTWERK were strangely human, especially in their imperial classic line-up of Ralf Hütter, Florian Schneider, Wolfgang Flür and Karl Bartos. One case in point was 'Ohm Sweet Ohm' from 1975's 'Radio-Activity'.
Despite its vocodered intro, as the track steadily sped up, the white noise percussion actually fluctuated while the romantic Odyssey missed a cue and the Orchestron shrilled. The track built to its crescendo over the pulsing Minimoog bass and improvised virtuoso section to perhaps be one of the most beautiful pieces of music to have been recorded…ever!
KRAFTWERK's simplicity was at their heart and in the process, their distinctly minimal European approach even influenced a whole bunch of urban youngsters across the Atlantic as the Klingklang sound mutated into electro, hip-hop, techno and house.
Every act that has ever used a synthesizer for a melody or a snap of electronic noise for a drum beat owes a debt of gratitude to them.
As Herr Hütter has even remarked: "…electro is everywhere!"
---
ELECTRICITYCLUB.CO.UK gives its grateful thanks to Toby Mott and Rusty Egan
KRAFTWERK 45 RPM is at The Vinyl Factory, 91 Walton Street, London SW3 2HP until 5th October 2012. Opening hours are 10.30am to 6.00pm. Tel: (0) 207 589 0588
The commemorative book KRAFTWERK 45RPM by The Vinyl Factory is now available in a limited edition of 300 copies.
This catalogue documents the 45 singles from The Mott Collection. It also includes an essay by Toby Mott and an exclusive 7 inch single of a rare interview.
---
Text and photos by Chi Ming Lai
14th September 2012