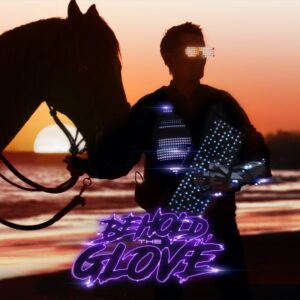 MUSE's use of glowing artwork by Kyle Lambert of 'Stranger Things' fame on their eighth album 'Simulation Theory' in 2018 sent sections of the Synthwave community into meltdown.
There were cries that they had "stolen the aesthetics and concept" and how "it's not relevant to their sound"! But WHAM! had Peter Saville designed sleeves and never sounded like NEW ORDER or OMD. However, their touch paper is likely to be lit even further with the video to 'Behold, The Glove'
, an enjoyable solo synth instrumental by front man Matt Bellamy in the vein of Vangelis and Jean-Michel Jarre.
The video directed by Lance Drake is part of MUSE's lavish 'Simulation Theory' film which "follows a team of scientists as they investigate the source of a paranormal anomaly appearing around the world. Blurring the lines between narrative and concert film, virtual and reality".
Reminiscent of the closing scene from the 1968 film 'Planet Of The Apes' directed by Franklin J Schaffner, Bellamy is seen crawling around a desolate landscape when he finds what looks like a Nintendo power glove in the sand. Upon wearing it, it allows him to master the rather obscure and expensive Schmidt 8 Voice Polyphonic synth, a snip at 20,000 Euros!
One could be mistaken for thinking this is from 'Live at the Necropolis: Lords of Synth', the affectionate synth duel parody of Vangelis, Giorgio Moroder and Wendy Carlos. While MUSE are known for their pomp-laden stadium rock, there has always been a synthesizer enthusiast within Bellamy's psyche.
While a Roland Juno 60 has been there since the band's first album 'Showbiz', a Buchla 200e modular synthesizer was part of the armoury for the 2006 album 'Black Holes & Revelations' which featured 'Map Of The Problematique', a song quite clearly influenced by DEPECHE MODE's 'Enjoy The Silence'. More recently,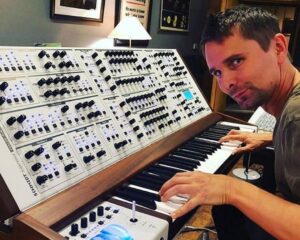 ERASURE's lawyers were probably knocking on the door of their tour bus for the similarities between 'Something Human' and 'A Little Respect'. But the synth-friendly combo who have been most key to the sound of MUSE has been ULTRAVOX. It's not difficult to imagine Midge Ure singing 'Starlight' while 'Vienna' has been borrowed not once but twice, first on 'Apocalypse Please' where the middle eight bass synth section was more or less lifted note-for-note and the second time was more obviously with the drum intro to 'Guiding Light'.
---
'Behold, The Glove'
is available now on the usual digital platforms
The 'Simulation Theory' film is available digitally from http://muse.mu/film
https://twitter.com/MattBellamy
---
Text by Chi Ming Lai with thanks to Peter Fitzpatrick
4th September 2020