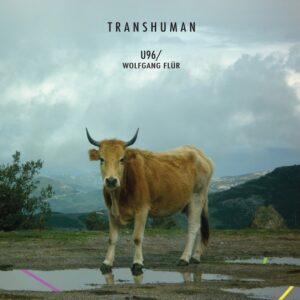 Former KRAFTWERK percussionist Wolfgang Flür needs no introduction.
But the German music project U96 is still best known in the UK for a 1991 techno rework of the theme to the Second World War film epic 'Das Boot' composed by Klaus Doldinger.
Formed by DJ Alex Christensen, U96 also included a production team named MATIZ comprising Ingo Hauss, Helmut Hoinkis, and Hayo Lewerentz. U96 were to go on to have a number of Europop oriented hits including 'Love See No Colour' featuring Ingo Hauss on lead vocals.
After that, the story got confusing with Alex Christensen returning as U96 in 2006 without MATIZ. Then after a stint reviving BOYTRONIC with James Knights for the 'Jewel' album in 2017, Ingo Hauss and Hayo Lewerentz did a 2018 'Reboot' of U96 without Christensen and Hoinkis.
One track featuring on the corresponding long player was 'Zukunftsmusik' (translated as "future music") featuring guest vocals by Wolfgang Flür. Stark and Teutonic with robotic vocoder aesthetics and Flür's distinctive vocal, the union was equal to 'Activity Of Sound', Flür's collaboration with iEUROPEAN from 2014.
This ultimately planted the seed for this 'Transhuman'
collaborative double album and 'Zukunftsmusik' reappears in an altered 'Radiophonique' edit which luckily is not that drastically different from the original version.
A three way musical partnership with a number of melodies created using computer algorithms, the album's theme is the transformation of people through technology and its interference on Planet Earth. The opening title salvo 'Transhuman' is a marvellous slice of technopop with self-referencing namechecks, rich in klassische elektronische Musik that will forever be associated with Kling Klang.
More metronomic, 'Hamburg – Düsseldorf' is a trancier club excursion with the title phrase repeated using various vocal source techniques. 'Specimen' though is less impressive in its quest for atmospheric techno, but 'Clone' is more energetic and threatening although this really could be any instrumental European dance track from the last 30 years.
'To The Limit' recalls the Bernard Sumner / Johnny Marr side project ELECTRONIC and the hypnotic bassline from the track 'Freefall' and then partly morphs into some of the 'Electronica' adventures of Jean-Michel Jarre within the more dance DJ end of the spectrum and BOYZ NOISE's 'The Time Machine' in particular.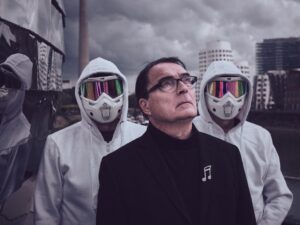 'Zufallswelt' meaning "random world" takes a less frantic approach which adopts some Far Eastern flavours. Flür returns on lead vocals for 'Planet In Fever' and although cut from a similar cloth to 'Zukunftsmusik', it is perhaps not as fully realised although the overall sound design is an aural pleasure.
Speaking of which, 'Shifted Reality' is very pretty with the sparking ambience of its arpeggios while 'Kreiselkompass' is a pleasing second cousin, although again less fulfilled.
Meanwhile 'Data Landscape' provides a satisfying percussive tempo to the KOMPUTER pop proceedings and 'Transhumanist' is moodier with its sampled grunt but still melodic, glistening away within its crispy backdrop.
'Sexersizer' attempts to get saucy with a synthetic female voice asking the listener to "just call my number – you have the choice" over a hard throbbing house bassline, but it doesn't really get to the point. Similarly 'Maschinenraum' utilises a sombre-paced sequencer engine room but the end result is more incidental.
Closing 'Transhuman', Ingo Hauss takes the lead vocals on 'Let Yourself Go' and it is the Europop U96 of old and anyone who ever danced to 'Love See No Colour' in a Hanover disco back in 1993 will adore this one. And if once wasn't enough, a modern EDM remix by BEATSOLE of 'Let Yourself Go' complete with drops comes as an enjoyable bonus, although it sticks out like a sore thumb.
At sixteen tracks, this is a long record and when 'Transhuman' excels, it does it very well. But it is stylistically a mixed bag. But does this matter in these days of playlists, when a rather good eight track album can be knocked up with a running order of one's own choosing?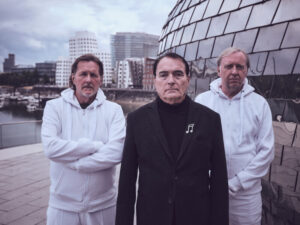 This is a welcome collaboration between two generations of electronic music but in an attempt to appeal to two quite different audiences, despite the spiritual connection, listeners may find themselves needing to take sides.
Covering a wide variety of niches, KRAFTWERK and U96 fans will find their favourite moments but some careful curation and fewer tracks may have made this collection a more rounded experience.
---
'Transhuman'
is released on 4th September 2020 by Radikal Records / UNLTD Recordings as a double red vinyl LP, CD and download
https://www.facebook.com/U96reboot
https://www.facebook.com/musiksoldat
---
Text by Chi Ming Lai
Photos by Markus Luigs
2nd September 2020