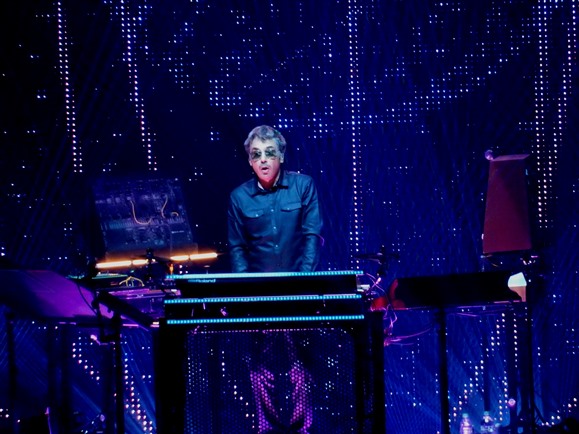 "Electronic music has a family, a legacy and a future…" said JEAN-MICHEL JARRE in the sleeve notes for the first instalment of his ambitious 'Electronica' project.
The French Maestro "had this idea of merging DNA with musicians and artists of different generations, linked, directly or indirectly, to electronic music in a kind of sharing process in a world where we're more isolated than ever by our smartphones and the Internet".
So many of the artists he approached to work with said "yes" that a second volume of 'Electronica' came out earlier this year. But with so many collaborators involved in the 'Electronica' project ranging from YELLO, LAURIE ANDERSON, PET SHOP BOYS and PEACHES to GARY NUMAN, JOHN CARPENTER, MOBY and THE ORB, how was Jarre going to present this all within a concert setting?
Jarre solved this conundrum by effectively making the show an 'Electronica' remix project of its own and carefully chose tracks that would work best as a solo driven experience. Coupled to a high octane visual spectacular conceived by Jvan Morandi and a superb sound system that was not only loud but clear, it would be the largely mature audience's first experience of something not far from a full-on rave!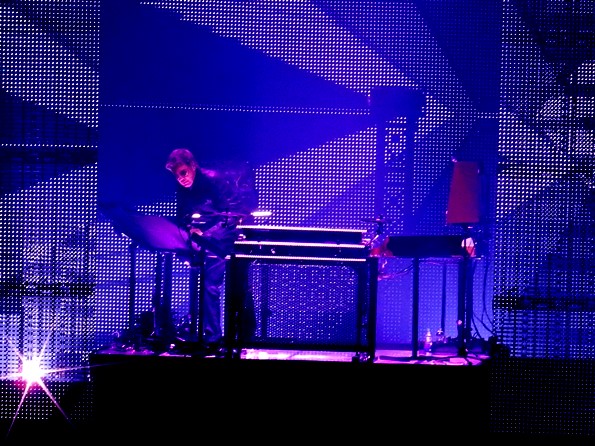 Using a new Roland System 8 with a System 500 attached and a Grp A4, Jarre also had his Moog Sub37, AKS, Buchla and ARP2600 at his disposal. Assisted by Claude Samard and Stephane Gervais, both on drums and electronics, 'The Heart of Noise' gave the evening a synthesized Spaghetti Western styled introduction with the impressionistic aesthetic of ENNIO MORRICONE. It segued into the uptempo section of 'Automatic', the VINCE CLARKE contribution to 'Electronica 1: The Time Machine', accompanied by a speedy backdrop of geometric shapes in yellow.
'Oxygène 2' was the first of only five classic oldies to be played during the evening, but 40 years on, it was still as enticing and hypnotic as it was back on record then; the noise sweep into its second section still brought with it that spine tingling sensation.
GARY NUMAN said JEAN-MICHEL JARRE was "one of the nicest people I've ever met in my entire life" and the Frenchman certainly exuded charm as he addressed the O2 audience… this is a man who can count Charlotte Rampling, Anne Parillaud and Isabelle Adjani as previous wives / girlfriends don't forget. He even took time to joke about Brexit and comment on his love of cricket!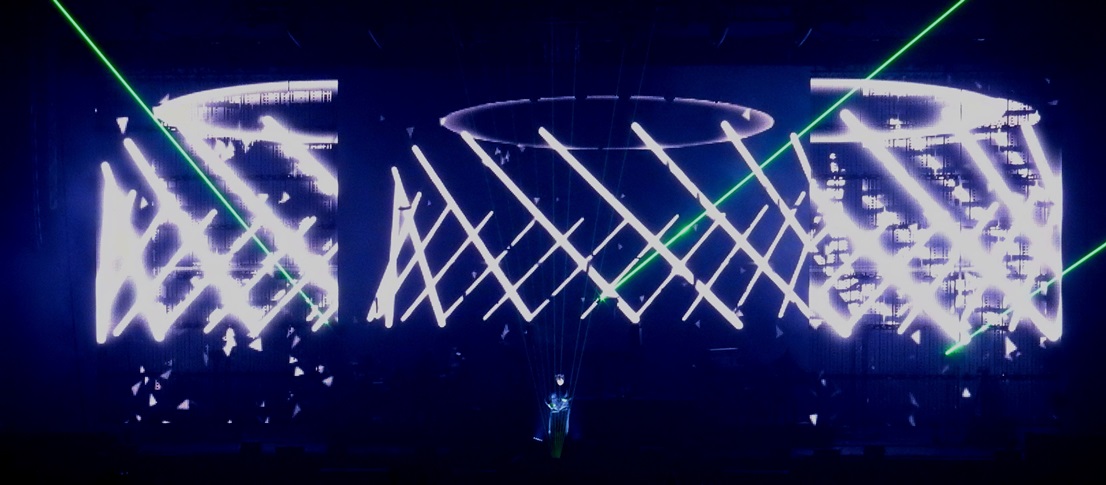 The dance pop of 'Circus' and its robotic voices kept the pacey momentum going and there was the surprise inclusion of a new composition 'Web Spinner', proving that unlike KRAFTWERK, JEAN-MICHEL JARRE is as interested in moving forward as he is in celebrating past glories. The frantic stop / start of 'Exit' with an on-screen monologue from National Security Agency whistleblower Edward Snowden gave proceedings a political slant, highlighting Jarre's continuing concerns about the effects of technology on personal liberty.
Despite a new heavier beat for 2016, the dreamy 'Équinoxe 7' was another glorious reminder that it was actually JEAN-MICHEL JARRE rather than KRAFTWERK who took electronic music to the masses; indeed his romantic melodic approach appealed to female music fans and this was highlighted tonight by the gender balance within the O2 complex.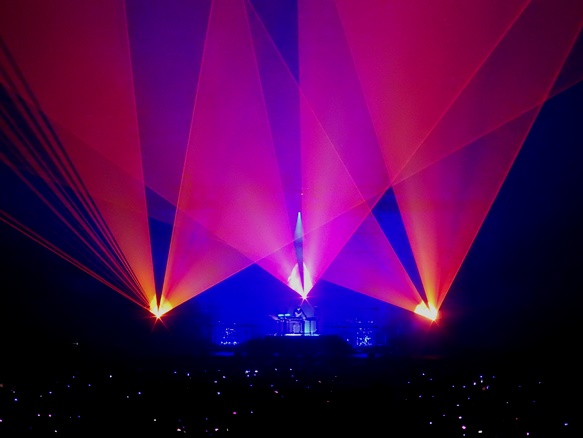 On 'Conquistador', Jarre even strapped on a guitar for its ending while there was the treat of a toughened up rework of 'Oxygène 8' based on the Sunday Club mix.
In a tribute to the late Edgar Froese of TANGERINE DREAM, there was a performance of 'Zero Gravity', albeit in ABOVE & BEYOND remix form.
As cones of lasers brilliantly shot into the sky, it was as if Jarre was saying "hi" to the German electronic pioneer.
With PET SHOP BOYS not actually on stage for 'Brick England', Jarre got round this by substituting an absent Neil Tenant with a vocoder. A superb song that could have fitted onto the 'Super' or 'Electric' albums, Tennant and Lowe were represented visually as digital line drawings while layers of bending lead synths provided an anthemic celebratory feel.
The melancholic 'Souvenir Of China' provided a welcome comedown before more techno oriented offerings came via 'Immortals' and 'The Architect'. An updated 'Oxygène 4' inevitably drew the biggest cheer of the evening while a percussive take on 'Équinoxe 4' emerged as Michel Granger's iconic artwork spun into the projections.

Within the latter, an added tribal chant was worked in from 'Glory', Jarre's co-write with fellow Gallic musician M83. While it had been a disappointing trailer to the 'Electronica' project back in 2015, 'Glory' was transformed live with Anthony Gonzalez's vocal now removed and the end result sounded more like a Jarre original thanks to a 6/8 schaffel.
The main part of the show had a fitting climax with 'The Time Machine'; out popped Jarre's Laser Harp and as the tension rose , the track got faster and the light storms grew more in intensity.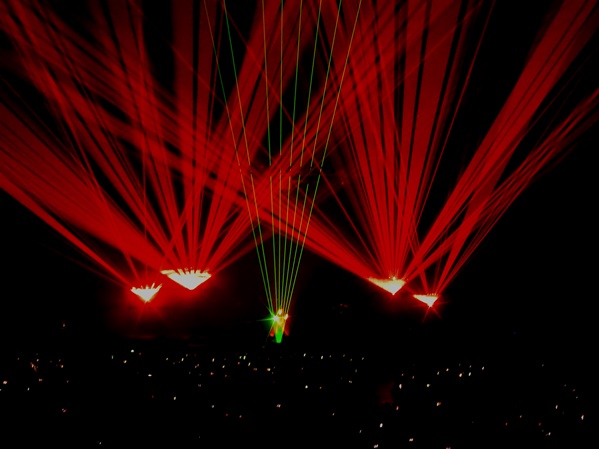 If this mind blowing segment was to have a "contains flashing images" warning, it was already too late!
At the age of 68, Jarre showed he was certainly not resting on his laurels.
For the encore, he premiered 'Oxygène 17' from the third volume of his legendary opus, out later in December to celebrate the 40th Anniversary of the original Disques Dreyfus release.
Ending with the tuneful trance of 'Stardust', it affirmed what many had suspected earlier… Jarre had in fact beamed his audience into the infamous Gatecrasher club. With it being the evening's final number, some of the audience even got up to dance in the blue sea of effects.
If KRAFTWERK are the Godfathers of Techno, then JEAN-MICHEL JARRE must be the Godfather of Trance. Yet, Jarre is not given that same kudos by the dance obsessed electronic music press, despite the Ralf Hütter-led brand doing very little as far as new material is concerned. Yes, it's cooler to name drop KRAFTWERK in order to intellectually justify the more retarded elements of EDM.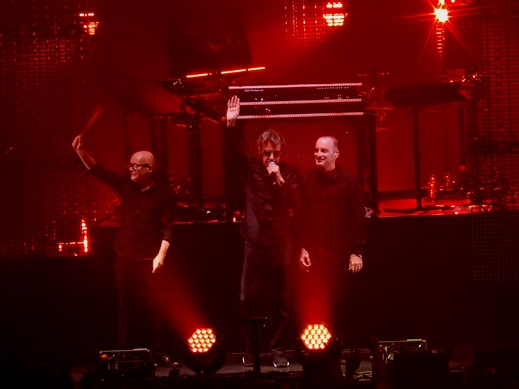 But to the general public, JEAN-MICHEL JARRE means much more. And while Kraftheads around the UK were busy fighting over themselves online for a chance to see a KRAFTWERK show that has basically stayed the same since 2009, they were missing out on a live presentation that really pushed itself artistically including 3D effects without the need for 3D glasses!
It's a funny old world! More lasers please 😉
---
'Electronica 1: The Time Machine'
and 'Electronica 2: The Heart Of Noise'
are released by Columbia / Sony Music.
The third installment of the 'Oxygène' trilogy is released on 2nd December 2016
https://www.facebook.com/jeanmicheljarre
http://aerojarre.blogspot.co.uk/
https://twitter.com/jeanmicheljarre
---
Text and photos by Chi Ming Lai
9th October 2016