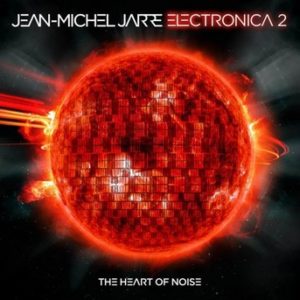 Released last October, 'Electronica 1: The Time Machine' was JEAN-MICHEL JARRE's first album since 2007's 'Téo & Téa'.
It was a worldwide collaborative adventure where the French Maestro "had this idea of merging DNA with musicians and artists of different generations, linked, directly or indirectly, to electronic music in a kind of sharing process in a world where we're more isolated than ever by our smartphones and the Internet".
During its five year mission, the 'Electronica' sessions produced an excess of tracks, thanks to the number of willing contributors who embraced Jarre's ethic to write in the same room, as opposed to remote working via the web.
"Electronic music is all about connections" he said, both practically and figuratively. 'Electronica 1: The Time Machine'
featured AIR, TANGERINE DREAM, MOBY, VINCE CLARKE, JOHN CARPENTER, LITTLE BOOTS and LAURIE ANDERSON; so for those who were unaware of any electronic music before AVICII, it came as something of an education.
The second instalment 'Electronica 2: The Heart Of Noise'
 has no less impressive a cast, with PET SHOP BOYS, GARY NUMAN, HANS ZIMMER, THE ORB, PEACHES, YELLO and SEBASTIEN TELLIER all willing conspirators in one of the ambitious music projects ever undertaken.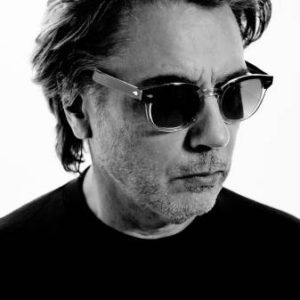 'The Heart of Noise, Pt. 1' featuring French techno kid RONE begins with an almost Morricone aesthetic, as if the Italian composer had used synths.
After a marvellous impressionistic start with an enticing filmic ambience, the more uptempo second part sees Jarre taking classic trance melodies along for the ride, utilising steady beats and percussive mantras without being obtrusive.
'Brick England' with PET SHOP BOYS is classic mid-tempo Euro disco, with Tennant and Lowe not breaking ranks with a rockabilly tune or anything. But Jarre's ribbon controlled lead synth does sound as though it might break into 'The Final Countdown'!
Following on, 'These Creatures' with experimental singer / songwriter JULIA HOLTE takes things downtempo with a gentle blippy soundscape. Holter provides some wonderfully angelic vocals and voice samples, as the dreamy build swims along seductively.
PRIMAL SCREAM are a surprise inclusion although their flirtation with harder electronic forms on 'Autobahn 66' and their cover of 'Some Velvet Morning' justifies their presence. However the basis of 'As One' is a speeded up take on 'Come Together' from 'Screamadelica' and sees pitch shifted voices alongside vocoder processed tones that could easily be mistaken for GRIMES going happy hardcore.
The unlikely friendship between GARY NUMAN and JEAN-MICHEL JARRE has resulted in 'Here For You', possibly the most purely electronic work Numan for many years. Significant in its absence of crunching guitars, Jarre himself amusingly described this stomper as "Oscar Wilde Techno". Whatever, it is certainly the darkest thing Jarre has ever recorded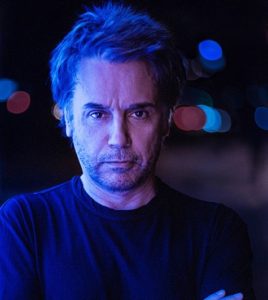 'Electrees' sees an eagerly awaited collaboration with award winning soundtrack composer HANS ZIMMER epic. Jarre's father Maurice of course won Oscars for his work on 'Lawrence of Arabia', 'Dr Zhivago' and 'Passage To India'. Zimmer has a varied CV including BUGGLES, HELDEN and even producing a single for THE DAMNED, but first worked on fusing the traditional orchestral arrangements and electronic instruments in 1980 with English composer Stanley Myers who wrote 'Cavatina', the theme to 'The Deer Hunter'.
With a cinematic sheen, 'Electrees' harks back to Zimmer's synth roots with choral samples and synthesized strings, recalling MOBY's 'God Moving Over The Face Of The Waters'.
A non-musician collaboration comes in the form of 'Exit with National Security Agency whistleblower EDWARD SNOWDEN. Frantic and tense with a stop / start structure, it slows for a monologue by Snowden. The track's political slant is thematically closer to 1988's 'Revolutions' with a chip tune influence that soundtracks a spy chase and "finding a way out".
On the other side of the coin, the brilliant 'Gisele' with SÉBASTIEN TELLIER is very melodic and unsurprisingly Gallic, the gathering of two French talents sounding not unlike Serge Gainsbourg gone electro. THE ORB's distinctly spacey textures make their presence felt during 'Switch On Leon'. They actually first worked with Jarre on a remix of 'Oxygène 8' in 1997, but it was said at the time that he was unhappy with the results so the track was subsequently issued as 'Toxygene' by THE ORB themselves. Whatever the story, water must have passed under the bridge for the two parties to reunite.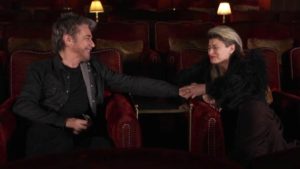 'What You Want' has the unmistakeable snarl of PEACHES over an electro hip-hop backbeat. With her characteristic diva humour coupled with some asexual madness, it's a diversion from Jarre's usual template that will horrify fans of 'Oxygene' with its dubstep and rap elements.
Meanwhile, 'Circus' with German producer SIRIUSMO is very dance pop with DAFT PUNK robot voices in abundance; while good fun, it begs the question as to what a collaboration with Guy-Manuel de Homem-Christo and Thomas Bangalter would sound like. No questions as to how a YELLO versus JEAN-MICHEL JARRE co-write would turn out like as 'Why This, Why That and Why' delivers the expected; Dieter Meier gives his distinct droll while Boris Blank and Jarre provide an airy blend of soothing atmospheric backdrops.
'The Architect' with house trailblazer JEFF MILLS is hypnotic, orchestrated Detroit techno that provides an accessible entry point to the genre. But more appealing to a handbag filled dancefloor is 'Swipe To The Right'. Possibly another politically coded piece or the use of Tinder, the brilliant song partners Jarre with CYNDI LAUPER. No stranger to electronic forms, particularly with her under rated 'Bring Ya To The Brink'
album of 2007, there are big bass riffs galore for a great poptastic exploration that is both catchy and danceable. A sample from the Minipops rhythm box that appeared on 'Oxygene' even drops in for possibly the standout track on this collection.
To close, the album finishes with two solo compositions 'Falling Down' and 'The Heart of Noise (The Origin)'; the former floats a vocodered vocal over a distinctly harder-edged mechanical pulse, while the latter is a third variation on the title track. It would be fair to say with 'Electronica 2: The Heart Of Noise'
, the results cannot help but be mixed.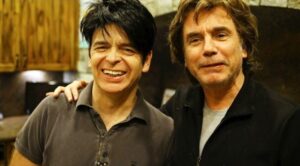 ELECTRICITYCLUB.CO.UK was told by GARY NUMAN that JEAN-MICHEL JARRE "is one of the nicest people I've ever met in my entire life" – so obviously he didn't want to upset anyone and decided to release everything!
However, such is the method of modern music consumption, the listener can be more brutal and from the two volumes, a great 16 track 'Best Of Electronica' playlist can easily be constructed. While Electronica 2: The Heart Of Noise' is not as consistent as the first instalment, there is something for anyone remotely interested in electronic music. The choice is yours.
---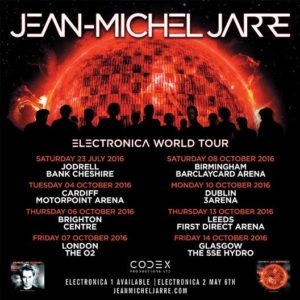 'Electronica 2: The Heart Of Noise'
is released by Columbia / Sony Music
The 'Electronica' World Tour runs from July to December 2016, please check JEAN-MICHEL JARRE's website for more details
https://www.facebook.com/jeanmicheljarre
https://twitter.com/jeanmicheljarre
http://aerojarre.blogspot.co.uk/
---
Text by Chi Ming Lai
8th May 2016