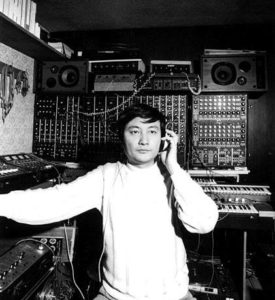 I still can't exactly remember when, where or why I picked up a copy of ISAO TOMITA's second album 'Snowflakes Are Dancing'; in all probability as a teen synth nerd what undoubtedly would have influenced the purchase was the black and white image on the rear sleeve.
In stark contrast to the brightly coloured blue front cover with its mysterious-looking character, the back contrastingly featured a candid shot of TOMITA with a large Moog modular synthesizer in the background and an exhaustive equipment list which detailed every single module and effects unit used in the production of the album.
Released in 1974, the album gave Japanese synthesist TOMITA exposure for his electronic interpretations of romantic composer Claude Debussy's tone poem compositions. The public's willingness to accept electronic versions of classical music had already been piqued three years earlier with the WENDY CARLOS soundtrack to 'A Clockwork Orange'. But listening to TOMITA's work, it became apparent that there was a whole new depth, sensitivity and dynamic present which was somehow lacking in Carlos' more rigid classical re-works.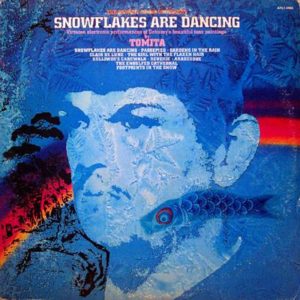 Even listening to the 1974 album now, it remains astonishing how incredible the album sounds on many levels, the synthesizer programming still has the power to make you think "how on EARTH did he create sounds of such depth here?"
For a start, there are string sounds present which you would frankly think were impossible to create with an analogue monophonic modular and even now sound like they were generated on a high-end workstation keyboard from the 21st Century.
In the early 70s when artists were slowly starting to get to grips with the new electronic equipment which was available, the recording and production values of electronic work were often variable and 'Snowflakes Are Dancing'
certainly bucked that trend.
To give context to the outstanding production values of 'Snowflakes Are Dancing', if you put it in a head-to-head against KRAFTWERK's 'Autobahn' released in the same year, the latter album (regardless of its undeniable significance in the history of electronic music) sounds like a lo-fi demo recording in comparison.
The other factor to bear in mind when listening to 'Snowflakes Are Dancing'
is that the modular system that was used was monophonic and any part that was chord related would have had to have been played one single and painstaking note at a time. What is also striking is the way dynamics are used, from the use of volume through to elements speeding up and slowing down, TOMITA's work was so far removed from the machine-like elements of KRAFTWERK and other electronic acts that it takes on a far more human and emotional aesthetic.
Initially TOMITA started his career as a composer for Nippon Columbia including creating music for theatre, film and television. As well as his interpretations of Debussy's works, he also released albums of Stravinsky's 'Firebird' and Holst's 'The Planets', the latter proving controversial with Holst's daughter blocking the release of the album in the UK, having objected to the rearrangements of her father's compositions.
In 1984, 22 years before DAFT PUNK did something very similar, TOMITA presented live shows from inside a glass pyramid suspended above his audience with many concerts utilising quadraphonic / immersive sound. He also gained international recognition as the first Japanese artist to be nominated for a Grammy Award in the USA and only recently released the albums 'Symphony Ihatov' featuring virtual Vocaloid singer Hatsune Miku and 'Space Fantasy'.
To emphasise the personal significance of TOMITA's passing, his death (along with that of TANGERINE DREAM's Edgar Froese) has affected me far more than that of DAVID BOWIE or PRINCE's, such was his talent for creating synthetic music with a heart and a soul which even now, 42 years later still has the power to get those hairs standing up on the back of your neck.
What makes ISAO TOMITA's death all the more poignant is that he had recently released some new material and was in the process of preparing the performance of his new work 'Dr Coppelius', which was planned for November of this year. Even now, for reasons unknown, TOMITA has remained in the shadow of other synthesists, whether it is WENDY CARLOS, JEAN MICHEL-JARRE or TANGERINE DREAM.
The best way to conclude is with a quote from the man himself, interviewed in 2013 by Tokyo Weekender magazine. When asked to name his favourite synth or piano, TOMITA responded: "I believe feelings, hearts and emotions are important to creating music. Not the instruments, or the equipment."
---
Text by Paul Boddy
10th May 2016