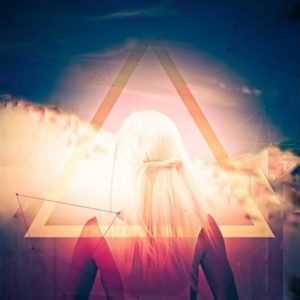 The 1980 Winter Olympics took place in beautifully picturesque setting of Lake Placid, a small village amidst Adirondack Mountains in New York State.
It is fitting that an ice maiden Julie Kathryn, who was born and bred in the very place, would call herself I AM SNOW ANGEL and would start experimenting with chilling auras of electronica as her preferred genre of choice. Having relocated to the Big Apple's Brooklyn, she released her first self-titled EP, which heralded a change of direction for the previously folk interested artist.
The electronica experiment worked to such an extent, that Kathryn became "basically addicted to writing and producing music in this genre". As the transition was purely organic, with I AM SNOW ANGEL starting to become a self-sufficient artist: writing, producing and engineering her own records, she also embarked on co-founding FEMALE FREQUENCY, a musical collective dedicated to empowering female musicians.
Her first long player 'Crocodile' was fantasy inspired, centring around the "predator and prey", bearing gentle resemblance to Kathryn's heroes, THE POSTAL SERVICE and paying homage to the classic Americana artist BRUCE SPRINGSTEEN amongst other influences. Sometimes described as appealing to the fans of ENYA, IMOGEN HEAP or KATE BUSH, I AM SNOW ANGEL has developed her own sound, using her personal electronic template of icy landscapes and cold melancholy.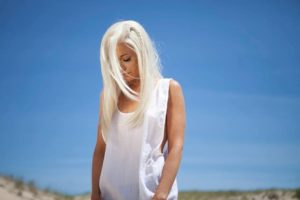 'Desert' is her newest EP, where Kathryn is "continuing to explore the subtle complexities of desire, passion and longing".
The announcement of warmer things to come heralds itself in the title track opening the sequence, an inspired atmospheric rendition with enhanced vocals, which I AM SNOW ANGEL describes as "part of the aesthetic" of synth music.
'Fever' certainly isn't evocative of the snowy mountains of upstate New York, which itself announces a departure from the gloom of the cold and icy in favour of breezy and fresh, as if released from the chains of winter. "Body's on fire but she shivers with the heat" nods to vintage ERASURE in the slightest of fashions, being über modern and sophisticated.
'Keep You Out' opens with a country-esque guitar sequel, giving homage to Kathryn's roots. A slower paced, eerie number at first, bursts into a club ending, before 'Dirty Love'; a SOUL II SOUL meets SNEAKER PIMPS style shines through this varied track.
The EP closes with 'Losing Face', which is a BJORK sounding story of desire, culminating in sensual sexual encounters, designed to prove "something I can believe in", and instead leaving one empty and guilty.
The eclectic nature of the music of I AM SNOW ANGEL is staggering. She owns the writing, production and engineering process, much like GRIMES, and is a pioneer when it comes to helping women make their own tunes, whatever genre they may be.
The progression into synthscapes was something that happened naturally and Kathryn's fans are truly grateful that the experiment wasn't just a one-off. She was, after all, made to give life to the melancholy of electro. The style of electronica infused with country roots, creates an amalgamation difficult to resist and whether it's the snowy Adirondack Mountains, or the heat of the "Desert", I AM SNOW ANGEL shows off her brilliance and delivers.
---
The 'Desert' EP
is available as a download from 20th May 2016 via the usual digital outlets
https://www.facebook.com/iamsnowangel
https://soundcloud.com/iamsnowangel
http://www.femalefrequency.com/
---
Text by Monika Izabela Goss
Photo by Carl Timpone
12th May 2016