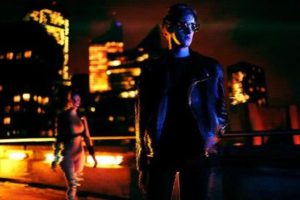 Whether it's John Foxx's continuing fascination with Ballardian concepts or THE NORMAL's early proto-synth track 'Warm Leatherette', dystopian themes have always fitted hand in glove with the darker side of electronic music.
The Synthwave genre has its own selective take on this subject matter, although wrapping it up in a more melodic and warmer production style.
It also takes influence from a range of classic cyberpunk movies 'Akira', 'The Terminator' and 'Blade Runner and the horror genre likes of 'Hallowe'en' and 'Suspiria'. The genre broke the mainstream with the use of music by KAVINSKY and ELECTRIC YOUTH in the 'Drive' movie; although musically, many of the artists within it verge on the generic, scratch the surface of the scene and there are some genuinely high quality electronic pieces of work to be uncovered.
PERTURBATOR is a one-man operation, comprising French musician James Kent. Kent was originally a Black Metal guitarist and this connection is maintained by releasing his material on the Blood Music label, which is home to a roster of primarily experimental Metal artists. Although this link may seem nonsensical at first, a few listens to PERTURBATOR's work reveals elements which although 99% synthetic, have a DNA that seems to have struck a chord with fans of both guitar music and electronica…
'The Uncanny Valley'
is Kent's fourth long player and for a relatively underground artist, has clocked up some pretty serious online plays with his previous works. A lot of this can be attributed to having music in the 'Hotline Miami' computer games, something which has helped generate a fanbase of gamers as well as Synthheads and Metalheads – that's a pretty diverse demographic!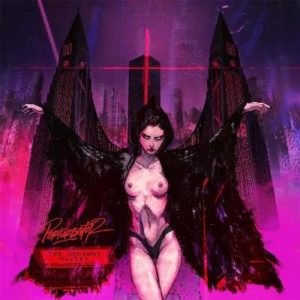 The gloriously lurid (and recently banned on Facebook) album cover by long time graphic artist collaborator Ariel ZB, with its deliberately overexposed colours, perfectly compliments the music inside, evoking the use of old Kodak film stock much beloved by directors such as Dario Argento to give a hyped and over-vivid look to its scenes of Giallo horror. At least half of the album follows the Synthwave formula of 150 BPM+ arpeggiated synths with frantic moving bass and retro drum machine programming with titles such as 'Death Squad', 'Diabolus Ex Machina' and 'Assault' all giving a pretty good idea of what to expect.
Of the faster paced tracks, the ironically titled 'Disco Inferno' is one of the highlights here, even featuring some funky wah-wah guitar to just about help justify its title. It effortlessly flits between time signatures and ends with a short synth solo, descending sync bass and digital "doot doot" vocal hits.
There are a few collaborations here and they prove the most musically satisfying, 'Femme Fatale' featuring HIGHWAY SUPERSTAR is a 'Blade Runner'-esque electronic / jazz soundscape with skittering sequencers, a swept resonant synth bass and the kind of sax last heard on TEARS FOR FEARS' 'The Working Hour'.
'Venger' featuring GRETA LINK skirts more electropop territory, its floating vocals ghosting effortlessly over the track's pulsing beat. Arpeggiators lift the first chorus in a track that MARSHEAUX could quite happily cover. 'The Uncanny Valley' closes proceedings with an epic seven minute electronic journey recalling JARRE's 'Rendez-Vous' album with more ideas crammed into it than some third division UK synth acts manage in their whole albums.
The work's soundtrack roots become far more apparent when the listener wanders around listening to it on headphones – by being primarily instrumental in nature means that depending upon your location, it can have the rather wonderful effect of placing the listener into their own JOHN CARPENTER movie, although this isn't quite so effective when walking around rural Ash Vale in Hampshire…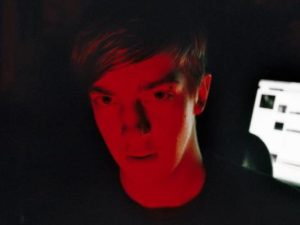 At its best, 'The Uncanny Valley' sounds like a hi-octane mid-period JEAN-MICHEL JARRE on steroids and the production values throughout remain impeccably high. The appeal to Metalheads can probably be explained by Kent's musicianship, there are some pretty high level synth skills on show here and the bombastic nature of some of the tracks have meant that PERTURBATOR have been embraced by a demographic which is normally strictly guitar-oriented.
It could also be argued that electronic music has lost much of its musicality and artists like this are bringing back the notion that it can be cool to be able to actually play a synth again by demonstrating flair and virtuosity in the mould of BILLY CURRIE, VANGELIS, JEAN-MICHEL JARRE and JAN HAMMER – players who didn't just rely on computer sequencers.
For this reason there is much to enjoy here and although much of the music does wash over you in a soundtrack fashion, this is undoubtedly intentional and doesn't diminish the appeal of the album one iota.
So even if you're one of those people that have dismissed Synthwave as a bit of a one trick cyberpony, 'The Uncanny Valley' is definitely worth a visit and who knows could even become the soundtrack to your own personal movie…
---
'The Uncanny Valley'
is released by Blood Music and available in a variety of physical and digital formats, please visit http://www.blood-music.com/ for more details
https://www.facebook.com/Perturbator/
https://twitter.com/The_Perturbator
---
Text by Paul Boddy
Photos by David Fitt and Johan Barbera
13th May 2016