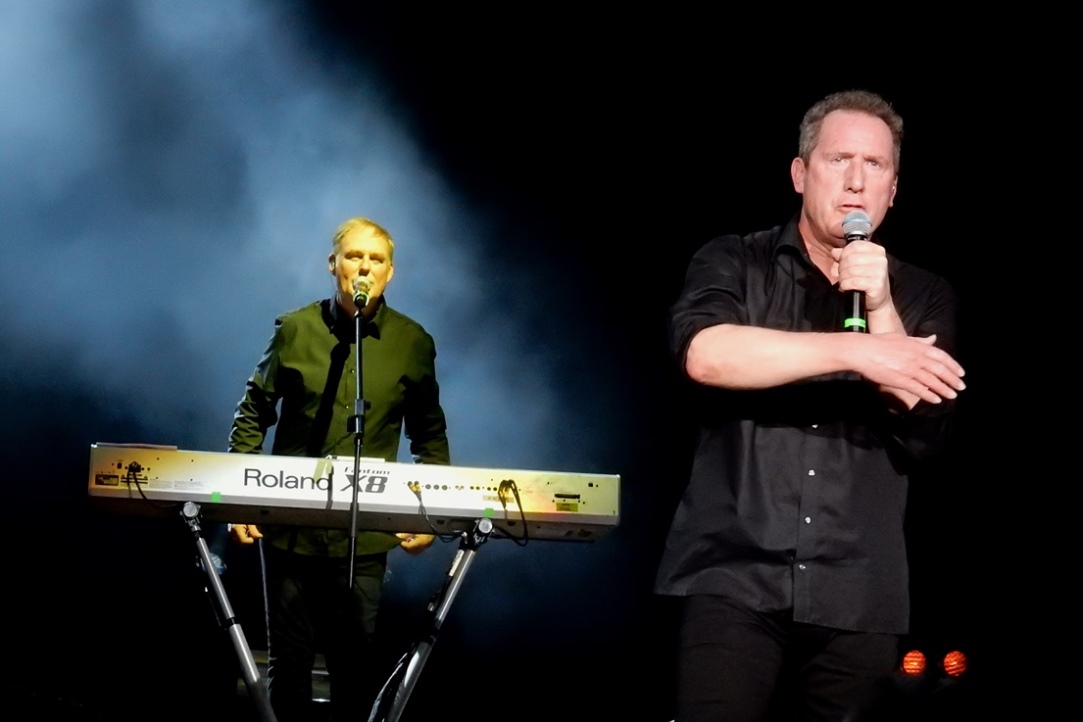 OMD's series of dates celebrating the legacy of 'Architecture & Morality' and 'Dazzle Ships' were the culmination of a rebuilt reputation after a critical mauling back in the day…
This journey began in 2007 when the classic line-up of Andy McCluskey, Paul Humphreys, Malcolm Holmes and Martin Cooper regrouped to perform 'Architecture & Morality' in full, on what eventually became an extensive European tour.
But back in the day following the melodic platitudes of their hit singles 'Souvenir' and 'Maid Of Orleans', OMD returned to the experimental ethos of their VCL XI days, as a reaction to the success of 'Architecture & Morality'
. Thus the follow-up album 'Dazzle Ships' was also notable for a number of shorter, conceptual pieces inspired by KRAFTWERK's 'Radio-Activity'
long player.
Although 'Dazzle Ships'
was savaged by critics on its release in April 1983 and ultimately reset OMD into a more directly commercial direction towards Hollywood, this fractured nautical adventure has now been reassessed by cultural observers such as The Quietus as a lost work of genius, almost along the same lines as 'Kid A' by RADIOHEAD.
While confusing audiences at the time, the speaking clock collage 'Time Zones' was an enlightening snapshot of the world over 118 seconds. Each of the announcers from France, Germany, Britain, Japan and North America were all carefully synchronised for an artistic simulcast that would have been impossible to appreciate under conventional circumstances. Its inclusion was naïve and while 'Time Zones' may have outstayed its welcome by 30 seconds, the intentions were imaginative and authentic.
Germany is OMD's spiritual home and this evening at Frankfurt's mighty Alte Oper was like a celebratory monument of remembrance to a bygone era; outside the city in Friedberg was a base for the US Army's 3rd Armored Division and Elvis Presley was famously stationed there during his National Service.
At the rather unusual start time of 7.00pm, 'Dazzle Ships (Parts II, III & VII)' opened proceedings and provided a concrète reminder of those past Cold War tensions. Meanwhile through a megaphone, Andy McCluskey playfully reprised the enemy ident for 'Radio Prague'.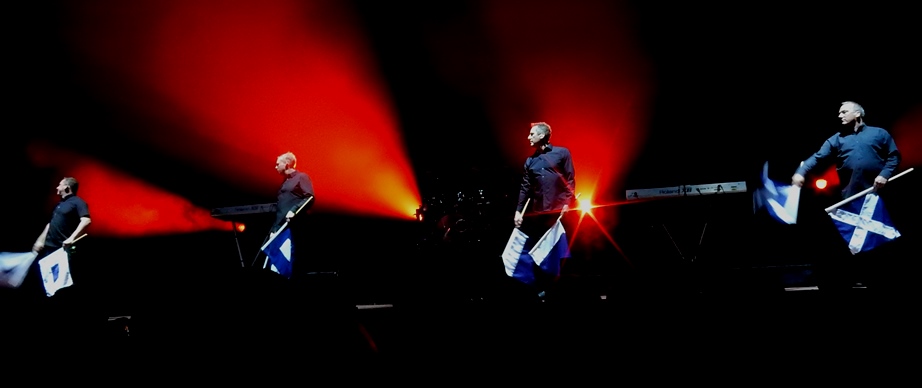 The four piece synchronised performance art flag waving of 'ABC Auto-Industry' brought back memories of the aghast audience reaction when OMD gave the piece a TV debut on 'The Tube'; this time however, it was greeted as a welcome catch-phrase.
The live presentation began proper with a selection of recent media broadcasts appended onto the still shocking news report about "the former Somoza guards" on the start of 'International'. Like 'Maid Of Orleans', 'International' was influenced by ENO's 'Back In Judy's Jungle' and the original McCluskey anger justly came over as his emotions set in. Sadly, the harrowing waltz's observations on economic corruption, political hypocrisy and torture in captivity still resonate today.
The solemn but beautiful 'Silent Running' followed and provided a perfect metaphor for the current state of the nation. Echoing JOY DIVISION's 'Atmosphere, the song had not been played live since OMD's 1983 shows when it was one of the encores.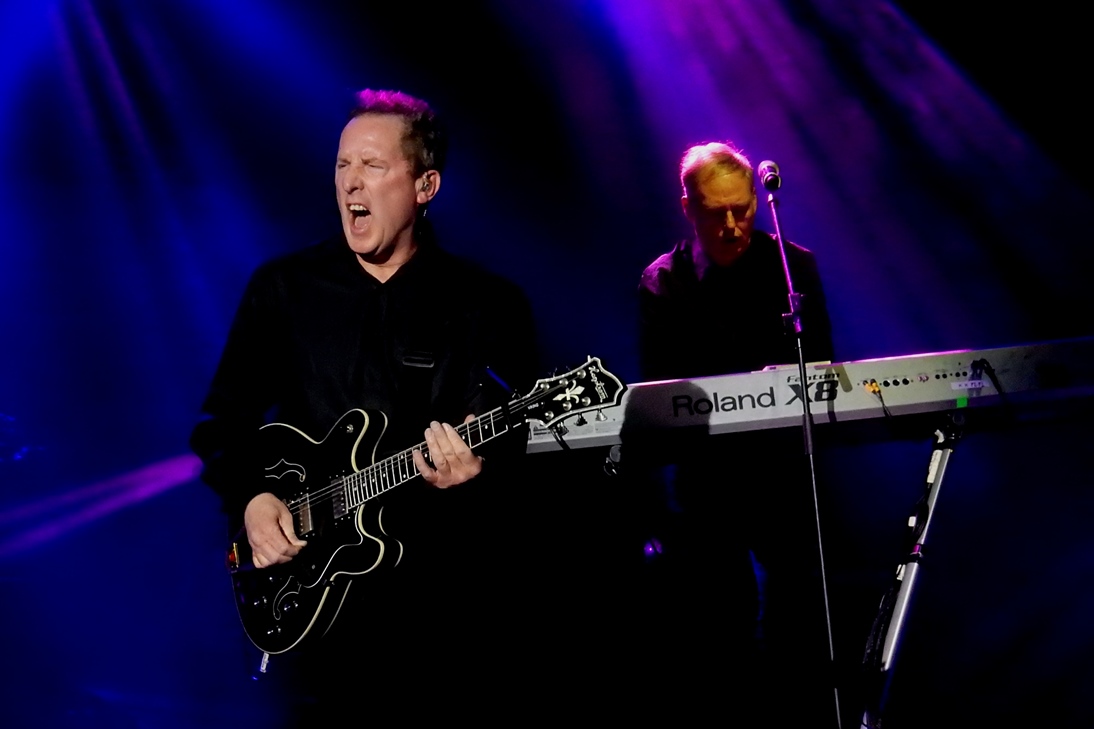 Upping the pace, 'This Is Helena' saw McCluskey bring a guitar out to set the scene for 'Genetic Engineering', the fistful of coarse energy that took its lead from 'China My China', another track by ENO.
One of the most unusual chart singles ever, has there been another song about this subject? Well, apart from 'Utopia' by GOLDFRAPP, then probably not; McCluskey continued the momentum with the precise pop structure of 'Telegraph'.
A coded attack on right-wing religious evangelism, taken in today's context, the lyrics of 'Telegraph' could easily be applied to the campaign antics of a certain Donald Trump. Following on, accompanied by massed dancing in the aisles, the Motorik exuberance of 'Radio Waves' blasted through. Like with the recent domestic period drama 'Deutschland 83', it was a reminder that despite the spectre of The Bomb, there was time for escapism and even fun.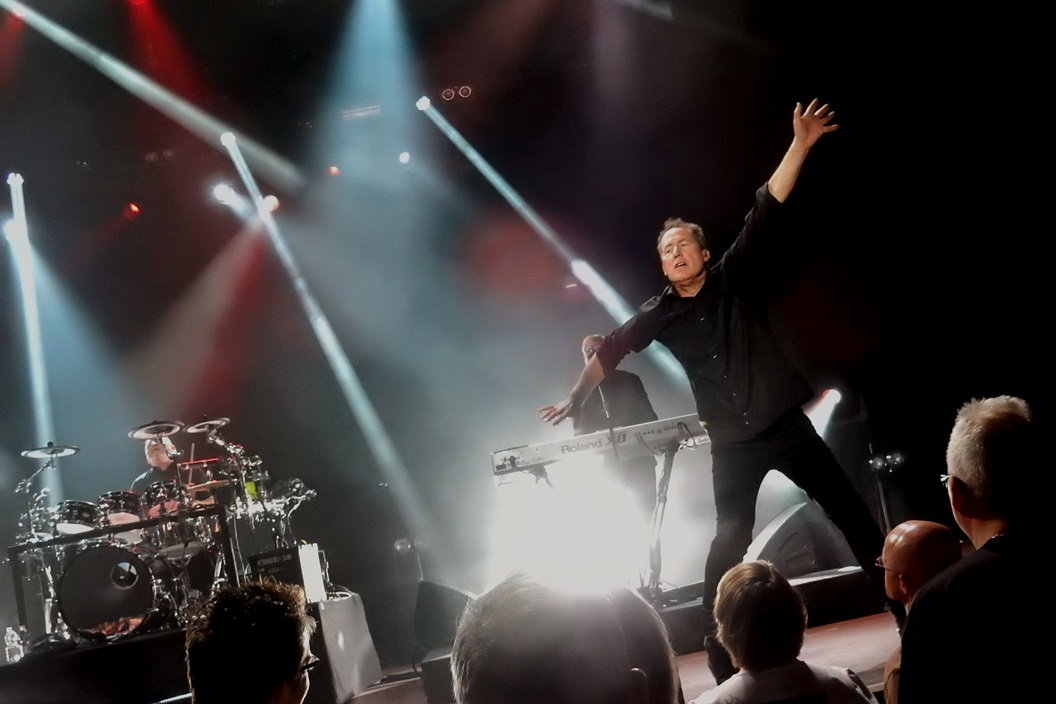 Sitting in for the popular sticksman Malcolm Holmes, Stuart Kershaw acquitted himself well on the drum stool, keeping the pulse ticking while adding his own groove and punch. Meanwhile, Paul Humphreys and Martin Cooper kept things melodically tight, but loose enough to prove on occasions that things were very definitely live, with all the original sounds reproduced supremely to cut through to the heart.
The live outing of 'Time Zones' was made easier to absorb for mass consumption by being reworked as a mash-up that threw in the Synthanorma sequence from 'The Right Side?' alongside speech bites from the various conceptual pieces of 'English Electric', the glorious 2013 opus which can now be seen as a direct descendent of 'Dazzle Ships'.
With the most difficult track from the 'Dazzle Ships' opus now out of the way, all four band members headed to the front of the stage for an endearing, stripped down performance of 'Of All The Things We've Made' with Kershaw on a single snare, while Humphreys and Cooper stood holding tiny remote keyboards. Its single chord strum from McCluskey provided a wonderfully wistful moment for the occasion. Originally recorded as the last OMD song, it actually came from the 1981 'Architecture & Morality' recording sessions.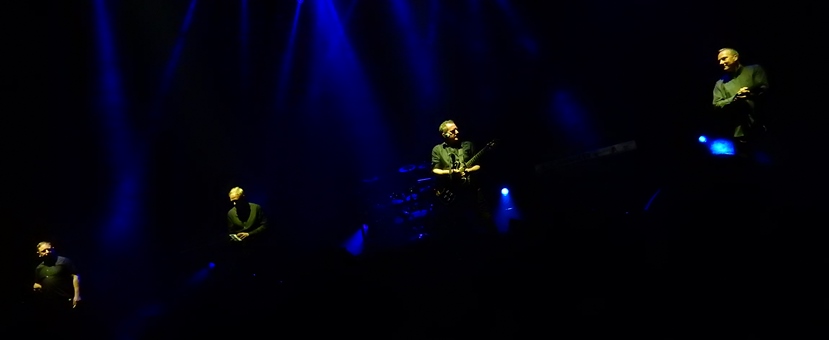 The airing of 'Genetic Engineering' B-side '4 Neu', a duet between Humphreys and McCluskey, was highly felicitous in Frankfurt with Düsseldorf, the home city of NEU! only 150km away. Inspired by the track 'Lebwohl' as a tribute to the music of Michael Rother and Klaus Dinger, the mournful piano motif provided a special connection so near to the city from which it mystically emerged and showed that it was not only KRAFTWERK who were instrumental in OMD's genesis.
With 'Dazzle Ships' clocking in at only 32 minutes, McCluskey introduced a musical intermission with a trio of evergreens from the 'Orchestral Manoeuvres In The Dark'
debut. Martin Cooper left his Roland Fantom X8 to strap on a bass guitar for the lively Latin spike of 'Julia's Song', while 'Almost' and 'Messages' were reminders of how unrequited love and ending a relationship were much trickier situations to deal with in the days before the smart phone.
When 'Architecture & Morality' came out on Dindisc in November 1981, it was initially dismissed by critics as synth MOR, thanks to its three massive Top 5 UK singles. While it contained 'Maid Of Orleans', the biggest selling single of 1982 in West Germany, it has only been in the last ten years that the progressive depth of the title track and 'Sealand' have been truly recognised and appreciated. This respective pairing opened this second half of the evening, with the eerie oceanic overtures of 'Sealand' in particular looming gloomily as the seed to 'Dazzle Ships'. Its strong melodies and emotive sweeps certainly countered the lazy argument that "synthesizers have no soul".
But it all wasn't just pastoral art, as the primitive aggression of 'The New Stone Age' and the moody rhythmics of 'Georgia' showed. After magnificent renditions of 'Souvenir', 'Joan of Arc' and 'Maid Of Orleans' brought the opera house down, the choral beauty of the guitar sprung 'The Beginning & the End' closed the 'Architecture & Morality' segment, with the ever versatile Kershaw stepping forward on six string duties.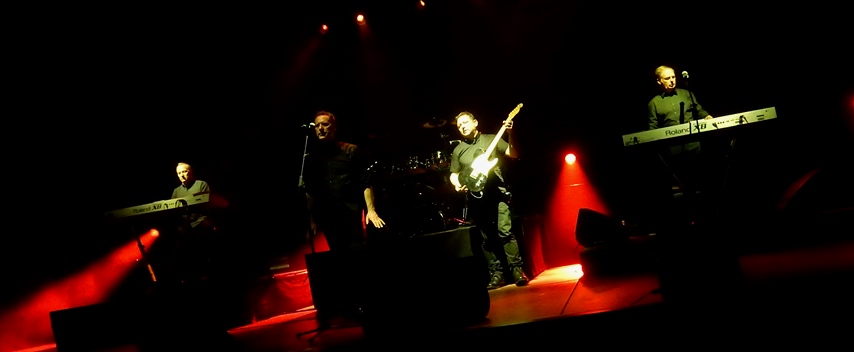 To finish the evening, the band gave enthusiastic renditions of 'Electricity' and 'Enola Gay' to ensure that everyone could party like it was 'Deutschland '83', with the now traditional Teutonic chants of "ZUGABE" in metronomic unison with the latter's iconic CR78 pattern at the close.
As a post-script, OMD returned for an encore and went off-piste with 'Sailing On the Seven Seas' and 'Locomotion'; the latter was dedicated to a new wed couple who had made their way to the front, with McCluskey even posing for a photo with the bride mid-song! But following that moment of amusement, the ethos of the evening was put back on track with the tremendously emotive 'The Romance Of The Telescope', the only track from 'Dazzle Ships' left unplayed in earlier part of the programme.
It was a fine showcase of two of the most important albums in the history of Synth Britannia and for those who were able to tell their tape recorders from their drum machines, it was a perfect night with OMD on supreme form. Paul Humphreys said in the event brochure: "We feel it's important to keep venturing forward as a band, having new ideas and creating new things, but sometimes it gives a unique perspective to return to former works…"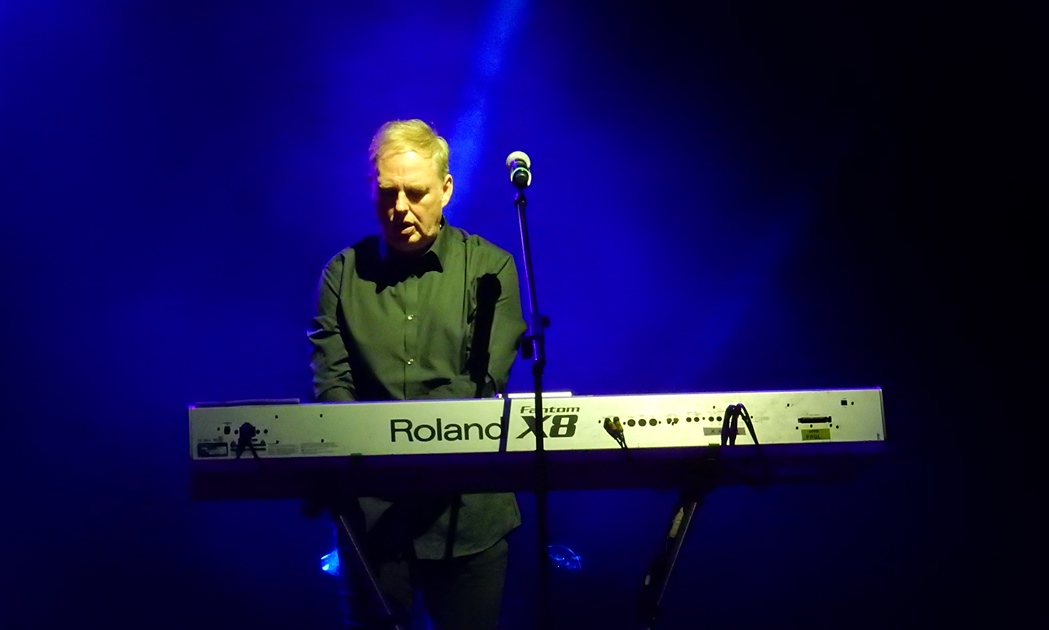 While 'Architecture & Morality'
has more than earned its place in the pantheons of electronic pop, 'Dazzle Ships' has now been vindicated with a rightful place next to it. And with the triumph of 'English Electric' in 2013 too, the artistic circle has now been completed. With some brilliant performances of a collection of work that many hold dear, OMD have nothing more to prove.
But just as 'Dazzle Ships' was followed by less conceptually challenging hit singles such as 'Talking Loud & Clear', 'So In Love' and 'If You Leave', a North American tour supporting BARE NAKED LADIES and a sojourn at Butlins in Bognor Regis are next in OMD's 2016 diary…
It seems funny to think OMD once felt insulted by Factory Records impresario Tony Wilson's assessment that they were the future of pop music. Their Dindisc label boss Carol Wilson said that Andy McCluskey and Paul Humphreys "didn't know whether they wanted to be JOY DIVISION or ABBA!" – of course, they wanted to be both. And that sums up OMD in an awkward, but ultimately rewarding avant pop nutshell.
---
'Architecture & Morality / Dazzle Ships' recorded live at the Royal Albert Hall is available as a 2CD or 3LP set and download
The studio versions of 'Dazzle Ships'
+ 'Architecture & Morality'
are still available in CD and download formats via Virgin Records
https://www.facebook.com/omdofficial/
---
Text and Photos by Chi Ming Lai
16th May 2016