Electronische Musik Aus Düsseldorf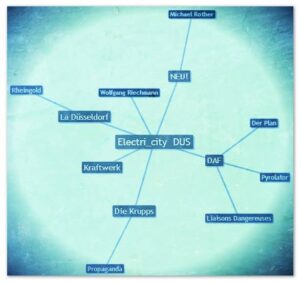 Mention Liverpool and the first thought is Merseybeat; Washington could be considered the Go-Go capital of the world, while Detroit is the home of Motown. And of course Nashville is the centre of Country Music. 
Folk icon Richard Thompson once joked: "In Heaven, the English greet you at the door, the French do the cooking, the Italians provide the entertainment, and the Germans organise everything. In Hell, the French greet you at the door, the English do the cooking, the Italians organize everything, and the Germans provide the entertainment!"
Yet paradoxically, Germany has provided worldwide entertainment by setting the blueprint for modern electronic music. And if you want to name its spiritual birthplace, then look no further than Düsseldorf…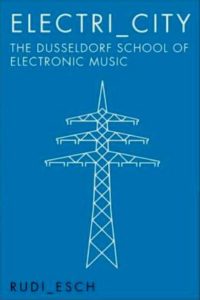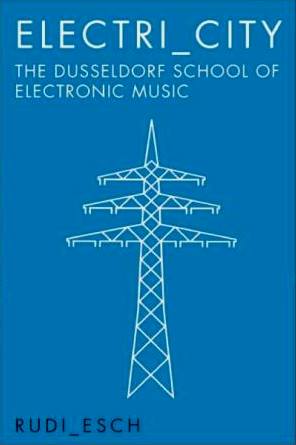 Rudi Esch's German language book 'Electri_City – Elektronische_Musik_Aus_Düsseldorf' documents the city's innovative and inspiring music scene.
"Düsseldorf is the capital of electronic music" says Esch, bassist with industrial trailblazers DIE KRUPPS who also hail from the Rhineland city.
In the book, he gives an account of how the Düsseldorf electronic scene developed from 1970 to 1986 and spawned acts like LA DÜSSELDORF, DER PLAN, LIAISONS DANGEREUSES, RIECHMANN, RHEINGOLD, PROPAGANDA, DAF, NEU! and KRAFTWERK. DAVID BOWIE, IGGY POP and BRIAN ENO were among those listening.
The music became so influential that artists and producers throughout the world rethought their approaches and developed their own variations on the electronic theme. As KRAFTWERK's Ralf Hütter put it later: "From all over the world comes inspiration. We have been very lucky, because the music we envisioned, the ideas we had of The Man Machine and electro music, have become reality and technology has developed in our direction…and electro is everywhere"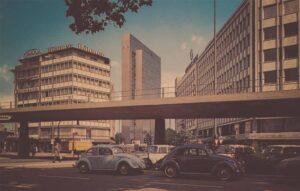 To further celebrate Düsseldorf's contribution to the world, Esch has unveiled the ELECTRI_CITY_Conference to be held from Thursday 29th to Saturday 31st October 2015.
Held in association with Düsseldorf Congress Sport & Event, the event will take place at three locations:  CCD Congress Center, NRW-Forum and Zentrum für Aktion, Kultur und Kommunikation (ZAKK) in Düsseldorf.
The three day programme will feature lectures, discussions, concerts and DJ sets. Those taking part will include academic specialists, musicians and creative artists who were themselves part of Düsseldorf scene. There will also be international guests whose music was influenced by bands from the scene such as Rusty Egan, Peter Hook, Stephen Mallinder, Daniel Miller, Andy McCluskey and Martyn Ware while there will be live performances from HEAVEN 17, MICHAEL ROTHER, WRANGLER, VILE ELECTRODES and METROLAND.
ELECTRICITYCLUB.CO.UK had the pleasure of chatting to Rudi Esch about the ELECTRI_CITY_Conference…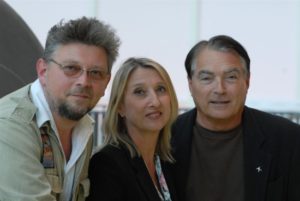 What inspired you to conceive an event dedicated to the Düsseldorf music scene?
It's partly based on the success of my book that got released eight months ago. It got overwhelming reviews and explored a different angle on my hometown. It discussed the art and music scene of the late 60s, 70s to the mid-80s with the people who created it, who built the hype. The book stands as a foundation to this legacy of the city – the ELECTRI_CITY.
The initial kick for me was attending Uwe Schüttes' conference 'Industrielle Volksmusik for the Twenty-First Century' at Aston University in Birmingham. I went with Rusty Egan and we were both excited to find the first ever international academic conference on KRAFTWERK. I thought: "I have to take this to my homeland".
What are the aims of the ELECTRI_CITY_Conference?
The ELECTRI_CITY_Conference will honour the global importance of Düsseldorf's pop-cultural heritage. The three-day event will include lectures, panels, discussions, concerts and DJ sets. We will have a meeting point for international guests to discuss electronic music at its birthplace. We talk about the connections and interactions between experimental electronic music and synthpop, techno or electronica. Our aim will be to have a combination of an old fashioned auditorium with lectures and a mini-fair that will attract everyone from passionate music lovers to artists, to hardware manufacturers. We are just thrilled that the city of Düsseldorf is nowadays ready to host an event like this.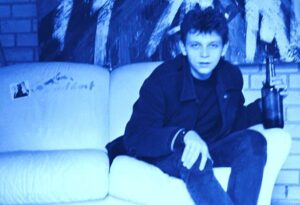 How did you realise as a youngster that Germany, and in particular Düsseldorf, was developing an artistic identity of its own, outside of the American influenced music that was prevalent in the country at the time?
I know today that Düsseldorf was highly influential on me and my upbringing. Without DUS, I probably would never have thought of forming a band. As a youngster, you don't have a feeling for the characteristic features of a city.
Only by travelling to other places do you learn about your hometown. When touring with DIE KRUPPS, I was surprised about the reactions we got in Europe outside of Germany – you don't get this at home.
For a long time we liked travelling to the UK, Scandinavia and Belgium more than playing in Germany. Nobody understood our music at home. America came as a big surprise as they were really into our music and knew about NEU! and KRAFTWERK, as well as everything Krautrock. They were and are aware of Düsseldorf, especially because of the art academy: Beuys, Lüpertz, Richter and Paik are big names – and always KRAFTWERK.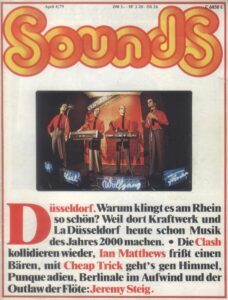 How significant was The Cold War and the presence of NATO armed forces in acting as a political and artistic driving force among the German student population?
The Cold War represented a hard cut in German culture and the post-war generation had been occupied with themselves up until the time of the Wirtschaftswunder. Light music, operettas and musicals were popular amongst the general public.
The Americans brought their leitkultur of blues based rock 'n' roll. People listened to AFN and BFBS, and they huddled around the radio to listen to the British Top Twenty on Radio Luxembourg on a Saturday. The British also created public radio stations following the blueprint of the BBC.
But they also failed to remove some of the brown structures within higher education. This created the clash between the old ideas of the professors and the new ideas of the students, resulting in the student uprisings in the sixties. Without a doubt, students got some of the more liberal ideas from listening to the radio stations of the occupying forces and this in turn led to a cultural revolution later which laid the ground to the experimentation with new sounds in the end. The people involved in the student riots – like in Paris '68 – were all born after WW2. They were in deep protest to their Nazi parents and didn't accept the Allies musical dominance anymore. People like Rother and Hütter were looking for a German sound aside the Rhythm 'n' Blues patterns. They said they were looking for a Volksmusik for the Twenty First Century.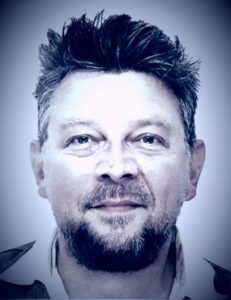 Berlin is also noted for its recent artistic heritage. Can you recall any rivalry with what would have been West Berlin between 1970 to 1986, or was Düsseldorf's much noted antagonism with neighbours Cologne more prominent? 😉
I'm not sure one could call it rivalry. We were so occupied with doing our own thing that we didn't really go out and look what was going on in other cities.
One of the reasons, besides the Art Academy, was the liberal attitude in Düsseldorf that enabled musicians and artists to concentrate on creating these new sounds.
In Düsseldorf, the art scene was integrated into daily life, unlike in other cities like Hamburg for example, and the general attitude towards people was more open. It just wasn't possible to deviate from the norm in Berlin in those days without running the risk of getting a bloody nose! Düsseldorf gave people the freedom to express themselves, and the bourgeois were used to seeing all sorts of colourful birds in the town.
Musically, it was a perfect co-existence of the 'Berliner Schule' and the 'Düsseldorf School'. Bands like TANGERINE DREAM created something with more pathos and classical attempts than the bands from DUS. Here, you always were looking for something minimalistic, modern, reduced and hypnotic.
The city spawned many acts like LA DÜSSELDORF, RIECHMANN, DER PLAN, LIAISONS DANGEREUSES, RHEINGOLD, PROPAGANDA, DAF, NEU! and KRAFTWERK. You are a member of DIE KRUPPS; but who were your own particular favourites and why?
I always loved DAF. They were a great band and had a huge impact in the early eighties. I loved DIE KRUPPS before I joined them 😉
With all the other bands, it is difficult because I know the people and it's not easy to just only concentrate on the music. I had a band with Klaus Dinger before I joined DIE KRUPPS and I remember that I didn't like his bands too much at the time.
Nowadays I know how great NEU! is and I think LA DÜSSELDORF did a lot for this town. I loved LIAISONS DANGEREUSES 'Los Niños Del Parque' and I had a soft spot for RHEINGOLD. I wasn't a fan of KRAFTWERK at all – that changed and only shows how stupid I was as a youngster!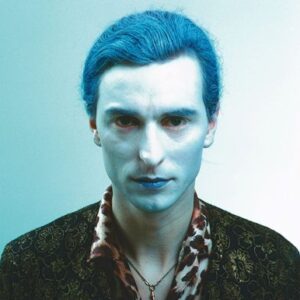 RIECHMANN is the tragic lost figure from the scene. What do you think he might have gone on to achieve?
Wolfgang Riechmann was so talented and was so influential on VISAGE and ULTRAVOX for example, I like to think that he would have come up with more great electronic music. 'Wunderbar' showcases his talent perfectly and I think he would have been a German JOHN FOXX if he hadn't been stabbed in Düsseldorf-Altstadt in 1978.
As influential as the Düsseldorf scene was, it was not necessarily very song based. How significant do you think the British acts, who took that sound to create 'synthpop', have been in allowing the city's cultural contribution to be recognised internationally?
Whooa – I think it helped a lot that OMD, HEAVEN 17, THE HUMAN LEAGUE and all the synthpop bands always referred to KRAFTWERK, or nowadays to NEU! Without the recognition in the outer world, you're nobody at home. We learned this the hard way. Only after DIE KRUPPS had a record shelf with their name on in New York's Tower Records did we start getting free drinks in Altstadt 😉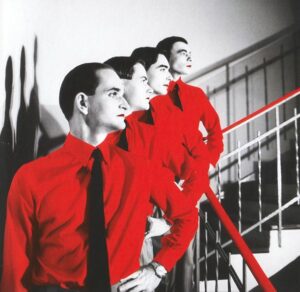 Who do you think have been the most 'German' of all the British acts who owe a debt Düsseldorf?
To me the GARY NUMAN from the late 70s is somehow very close to 'The Man-Machine'. Or is it just me?? I also think the early Vince Clarke DEPECHE MODE are close to KRAFTWERK in presenting themselves.
I know OMD are closely connected to 'Radioactivity' and you can hear this in their sound and way of production. Martyn Ware told me the cover of 'Penthouse & Pavement' is a direct response to the Capitol 'Trans Europe Express' cover.
The Foxx fronted ULTRAVOX! took their name with an exclamation mark at first only because of NEU! and on and on and on … but the most German of the British acts would be ULTRAVOX, because of the three albums they produced at Conny Plank's studio.
The ELECTRI_CITY_Conference has Andy McCluskey, Peter Hook, Rusty Egan, Martyn Ware and Stephen Mallinder as special guests from the UK. What will be their contribution to the event's three day programme?
From 29th to 31st October 2015, our music tradition will be avidly debated with people knowing our history better than we do, and we meet at its place of origin 😉
We have lectures by Stephen Mallinder and Martyn Ware, panel talks with Daniel Miller and Michael Rother, concerts by Rother, HEAVEN 17, METROLAND and WRANGLER plus DJ sets by Rusty Egan and Daniel Miller. We will have Q&As with Peter Hook and Andy McCluskey. You can see: it's always the bass player!!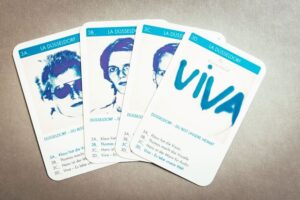 Are there are more plans to be announced?
We are working on some more nice surprises and ELECTRICITYCLUB.CO.UK will be the first to announce these… we got something in the pipeline that would be highly attractive to all subscribers.
As you are co-hosting Rusty Egan's appearance, you can be the one to break the news *laughs*
Your 'Electri_City' book has been very well received in Germany. How is the English translation coming along and when will it be published?
I will start working on the English translation after the ELECTRI_CITY_Conference as Omnibus Press is putting out the book in July or October next year. I am so happy to have a professional publishing house that specialises in music. I can't wait to present the English edition in 2016 – "Es wird immer weiter gehen – Musik als Träger von Ideen"
---
The ELECTRI_CITY_Conference takes place from Thursday 29th to Saturday 31st October 2015 at various locations in Düsseldorf and features live performances from HEAVEN 17, EMOTIKON, MICHAEL ROTHER, WRANGLER, METROLAND, VILE ELECTRODES and LEN SANDER
For more information in English on the ELECTRI_CITY_Conference, programme schedule, locations and tickets, please visit: http://www.electricity-conference.com/en/
https://www.facebook.com/ELECTRICITY.Conference

The English edition of 'Electri_City – Elektronische_Musik_Aus_Düsseldorf' is due for publication in 2016
The 'Electri_City – Elektronische_Musik_Aus_Düsseldorf'
compilation is released by Grönland Records as a CD, vinyl LP and download
https://www.facebook.com/Electri.city.Esch
---
Text and Interview by Chi Ming Lai
3rd September 2015