Brighton's BECKY BECKY are a well-read synth duo who use their volatile relationship to inspire their obscure cabaret electro.
Former lovers, the chemistry of Gemma Williams and Peter Mason has produced a number of feisty, passionate songs as showcased on their 2014 debut album 'Good Morning, Midnight'. Just released as a single is 'House Of The Black Madonna', a ditty based on the novels of Jean Rhys.
It is lucid stuff that tells the story of an ageing woman drinking herself to death to a sleazy soundtrack of disco beats and piercing synths. Further highlights from 'Good Morning, Midnight' include the building cacophony of 'Mask'. Sounding like a distant cousin of 'Fade To Grey' powerfully rebuilt for the electroclash generation, it is perhaps the perfect representation of the pair's tumultuous relationship together and the ultimate slice of modern Blitz pop.
As exemplified by songs like 'Fire & Wings', 'Quite Like Old Times' and 'Sophia', BECKY BECKY conceptually come over like other European cabaret inspired duos such as NOBLESSE OBLIGE or a wayward VILE ELECTRODES.
Intense and raw they may be, but captivating they are also too. Quite whether the tension within BECKY BECKY will allow Williams and Mason to actually record a second album remains to be seen.
---
'Good Morning, Midnight'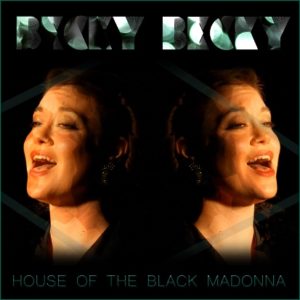 is released by FEINT records and available as a download from Amazon
The download single 'House Of The Black Madonna' featuring an extended live version is released on 7th September 2015
https://www.facebook.com/beckybeckymusic
https://beckybecky.bandcamp.com/
---
Text by Chi Ming Lai
2nd September 2015