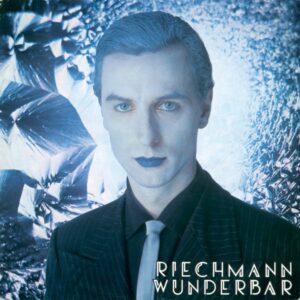 The story of Wolfgang Riechmann is tragic and had his life not been cut short, he certainly had the potential to become a revered and respected cult musical figure like his German contemporaries Michael Rother from NEU! and Manuel Göttsching of ASHRA.
With regards his only solo album 'Wunderbar', the resonant melancholy of its content becomes even more poignant once it is learnt that RIECHMANN was murdered in Düsseldorf just weeks before its release by Sky Records in August 1978. The victim of a random knife attack, he tragically died two days later.
RIECHMANN is the forgotten man in the Düsseldorf axis which spawned NEU! and KRAFTWERK. Indeed, he was even in a band called SPIRITS OF SOUND with Michael Rother and Wolfgang Flür before each separately joined KRAFTWERK at stages of Kling Klang's development.
In 1976, he became a member of Düsseldorf rockers STREETMARK whose first album 'Nordland' was produced by the legendary Conny Plank. Despite recording an album 'Eileen' with them, in Autumn 1977 RIECHMANN headed down to Star-Studios in Hamburg to make his first solo record.
With his multi-instrumental virtuoso ability, he recorded a beautiful collection of instrumentals using an electric violin, guitars and a Röhrophon-studio vibraphone plus various synths; these included an ARP 2600, an ARP Odyssey and a corresponding ARP sequencer. STREETMARK's Hans Schweiß added live drums as required but otherwise, this was a true independent work.
The opening 'Wunderbar'
title track chimes with a Cold War spy drama intro before the melodic, almost oriental piece becomes PINK FLOYD meets CLUSTER over a delicate schaffel beat. Swimmy Jarre-like string machine washes float over 'Abendlicht'
 and in particular, 'Silberland'
. The latter is a lengthy piece not dissimilar to a downtempo ambient rendition of KRAFTWERK's 'Metropolis'. They were coincidentally both conceived around the same time!
The influence of the Berlin axis such as KLAUS SCHULZE and TANGERINE DREAM looms on the trancey pulses of 'Weltweit'
 but clocks in seven at rather than twenty minutes, while 'Himmelblau'
heads back to Düsseldorf, driven by a light Motorik beat. In a nod to the manic NEU! drummer, 'Himmelblau' even reprises the style of ranty vocal gibberish that was the preserve of Klaus Dinger circa LA DÜSSELDORF. The shimmering synth textures and the hypnotic rhythms lift the listener to a blue heaven as suggested in translation.
A mightily sweeping tune, it's up there with La D's epic 'Rheinita', Rother's dreamy 'Flammende Herzen' or even RFWK's 'Ohm Sweet Ohm' in the history of great melodic Kosmische musik.
The six track album ironically closes with a short unsettling mood piece 'Traumzeit'
, a WENDY CARLOS type tribute that chillingly recalls 'A Clockwork Orange' and the film's ultraviolence with which RIECHMANN sadly met his end.
'Wunderbar' is an elegant and ultimately fragile collection with a fine balance of electronic technology and real instrumentation where none of the elements are overdone.
Perhaps ahead of his time, on the cover RIECHMANN sported an iceman look that GARY NUMAN used six years later for 'Berserker'. Who knows what could have happened had he lived and how much more brilliantly brooding music there might have been to come.
---
'Wunderbar'
is available as a download via Bureau B under license from Sky Records GMBH
Vinyl LP available from https://shop.tapeterecords.com/riechmann-wunderbar.html
---
Text by Chi Ming Lai
18th November 2012