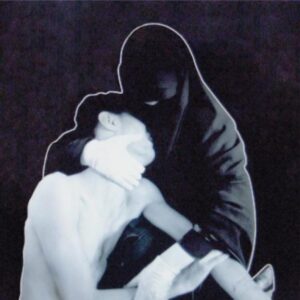 Making aggressive or confrontational music using synthesizers or electronics has never been the norm, although acts from THROBBING GRISTLE through to NINE INCH NAILS have used the technology available to often embrace the darker side of these machines and use distortion rather than melody to get their message across.
At the heart of these acts and others was usually a punk aesthetic which took instruments that were often incredibly difficult to program to make sounds which could shock and disturb… even THE HUMAN LEAGUE Mk1 famously mocked punk guitarists for only learning 3 chords when "we could play a synth with one finger!"
Which brings us to CRYSTAL CASTLES and their new album and the third to be titled eponymously…
If you had never heard this Canadian duo before and checked them out on Wikipedia beforehand, you would be confronted with a quote from Drowned in Sound describing their music as "ferocious, asphyxiating sheets of warped two-dimensional Gameboy glitches and bruising drum bombast that pierces your skull with their sheer shrill force, burrowing deep into the brain like a fever"… which is probably enough to send your average electronic music fan scurrying for his or her nearest MARSHEAUX album… however, if you fall into this category, fear not as this is CRYSTAL CASTLES most accessible album to date.
So what has caused this shift? For a start, with this album, producer and one half of the duo Ethan Kath has ditched the laptops and embraced analogue synthesizers and drum machines, softening their sound by leaving behind the multitude of glitch/warping plug-ins available to easily distort at production level. Having said that, a casual read through the song titles… 'Violent Youth', 'Transgender' and 'Child I Will Hurt You' are clues enough to let you know that this album still isn't going to be an easy ride…
The first thing that hits you is the wall of sound, it's as if Phil Spector was around and producing today and had embraced synthesizers, drum machines and even bigger reverbs rather than the traditional instruments he was known for working with. Most of singer Alice Glass' vocals are buried in long, swimming reverbs, pushing them to the back of the mix, meaning that most of the lyrics are often frustratingly unintelligible.
What also becomes apparent is that the band have ditched much of the distortion to embrace a different sound, also jettisoning along the way their trademark 8 bit/chiptune sonics for textures which could quite comfortably appear on early DEPECHE MODE, FAD GADGET or OMD albums. In a way with this development, there are parallels with LADYTRON whose sound has also become more dense and reverb-drenched on their last album 'Gravity The Seducer'after initially starting with a minimal, monophonic one finger approach.
The only danger with this progression, is that the band is potentially caught in a limbo/middle ground where hardcore fans will miss the sheer onslaught of earlier tracks such as 'Doe Deer' and 'Alice Practice' but newcomers will be put off by the way in which almost electro-pop tracks such as 'Violent Youth' and 'Transgender' are rendered difficult to truly love because of the obtuse vocal mix/production.
What is most surprising is the usage of commercial, gated R'n'B-based synthesizer sounds on the tracks 'Wrath Of God' and 'Affection' which were the sort of thing US producer Timbaland was using with Justin Timberland back in 2006…whether these production elements are being used in an ironic/postmodern way by the band is hard to gauge, but to these ears they give the album a dated feel.
A couple of the tracks even dip their toes into Europop/dance – 'Sad Eyes' which (with a slightly more coherent/conventional mixdown) could quite happily appear on an early PET SHOP BOYS album… all of the elements are present and correct, just hidden beneath the production values…
Probably the nearest thing to the old CRYSTAL CASTLES aggression is 'Insulin' which from start to finish is buried in distortion, making it a difficult listen even on iPod headphones, let alone imagining it being played at a punishing volume through a big PA system during one of their now (infamous) live shows.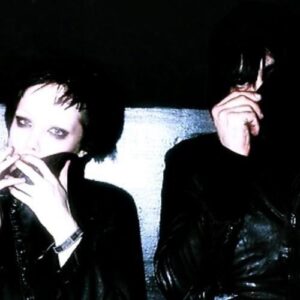 Album highlights are the opening and closing tracks 'Plague' and 'Child I Will Hurt You', where the duo achieve a dark, atmospheric balance between melody and menace, the former opening with a sound which feels like it was sampled from Ridley Scott's 'Alien'… also worth a mention is the primarily instrumental 'Mercenary' which marries a psychedelic backwards synth part with ghostly trails of background vocals before descending into a maelstrom of bass distortion at it's climax.
This album is worth a listen if you are new to CRYSTAL CASTLES, but be warned, it doesn't give up its rewards easily and whether you are a new or an old listener you could feel frustrated with what might have been…
---
CRYSTAL CASTLES (III) is available now on Last Gang/Fiction Records
UK Tour dates include:
Birmingham HMV Institute (22 November), Norwich UEA (23 November), London Brixton O2 Academy (24 November), Glasgow O2 ABC (26 November), Leeds O2 Academy (27 November), Manchester Academy (28 November)
http://www.crystalcastles.com/
---
Text by Paul Boddy
20th November 2012