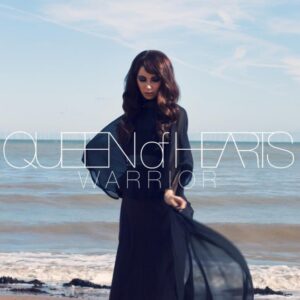 Following her Arrival in 2011, QUEEN OF HEARTS graced the world earlier this year with a brilliantly glitzy slice of electro schaffel entitled 'Neon' that ELECTRICITYCLUB.CO.UK thought managed to "out Goldfrapp GOLDFRAPP".
Continuing her reign, her wonderful new single is the impressively tribal 'Warrior', an epically orchestrated production from the mine of DIAMOND CUT.
Here, she takes the next step in the ice diva stakes by effectively turning into CLAUDIA BRÜCKEN.
Sounding like KYLIE if she had been weaned on PROPAGANDA's 'A Secret Wish', the young royal walks that fine line incorporating pop, art and fashion beautifully. This is reflected in the striking video which has been directed and filmed by the acclaimed fashion photographer Elliot Morgan.
Other tracks on the 'Warrior' bundle include Queenie's paradoxically delicious synthesized cover of BEN HOWARD's growly acoustic number 'Only Love' and the Eurotastic HI-NRG 'Broken Dreams' which appears to reveal a love of MODERN TALKING… incidentally, the duo's Dieter Bohlen is now the Simon Cowell of Germany!
There is also the bonus of an oddly laid back ALUNA GEORGE mix of 'Shoot The Bullet', which was originally produced by Swedish pop duo THE SOUND OF ARROWS.
---
'Warrior' is released as a download EP by Night Moves on 2nd December 2012. It is available via Amazon, iTunes and other digital retailers.
http://www.iamqueenofhearts.com/
https://www.facebook.com/QOHofficial
https://twitter.com/iamqueenofheart
---
Text by Chi Ming Lai
22nd November 2012