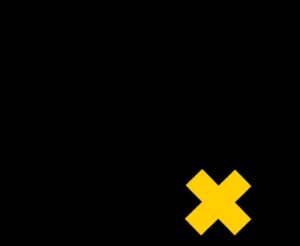 ELECTRICITYCLUB.CO.UK celebrates its tenth birthday and it really has been synthly the best.
At the HEAVEN 17 aftershow party for their triumphant gig at The Magna Science Park on 6th March 2010, following chats with Glenn Gregory, Martyn Ware, Paul Humphreys and Claudia Brücken, interview opportunities opened up. It was obvious there was gap waiting to be filled for a quality web publication that featured the best in new and classic electronic pop without having to lower itself to using the dreaded "80s" label.
ELECTRICITYCLUB.CO.UK was it and became reality on 15th March 2010. Electronic pop music didn't start in that Thatcher decade and certainly didn't end there either. So there was even an editorial diktat which banned ELECTRICITYCLUB.CO.UK's writers from using the lazy"80s" term as a reference. Tellingly, several PR representatives said that one of the site's main appeals was that it avoided the whole nostalgia bent that had been presented by both virtual and physical media.
At the time, kooky female fronted keyboard based pop like LA ROUX, LITTLE BOOTS, LADYHAWKE, LADY GAGA and MARINA & THE DIAMONDS were among those touted as being the future at the time. But it proved to be something of a red herring, as those acts evolved back into what they actually were, conventional pop acts.
ELECTRICITYCLUB.CO.UK preferred the sort of innovative synthpop as outlined in BBC4's Synth Britannia documentary.
Wth the next generation of artists like MARSHEAUX, VILE ELECTRODES, VILLA NAH and MIRRORS more than fitting the bill, that ethos of featuring pop music using synthesizers stuck too.
Meanwhile, ELECTRICITYCLUB.CO.UK's portfolio expanded swiftly with key personalities such as Rusty Egan, Sarah Blackwood, Richard James Burgess, Warren Cann, Chris Payne, Thomas Dolby, John Foxx, Andy McCluskey, Neil Arthur, Alan Wilder, Mark Reeder, Gary Langan, Jori Hulkkonen, Howard Jones, Mira Aroyo, Sarah Nixey and Hannah Peel among those giving interviews to the site during its first two years.
ELECTRICITYCLUB.CO.UK has always prided itself in asking the questions that have never usually been asked, but which fans want to know the answers to. And it was with this reputation for intelligent and well researched interviewing that in March 2011, the site was granted its biggest coup yet.
Speaking to Stephen Morris of the then-on hiatus NEW ORDER, the drummer cryptically hinted during the ensuing chat that Manchester's finest would return by saying "I never say never really".
And that is exactly what happened in Autumn of that year and the band have been there since, as popular as ever and still making great music with the release of 'Music Complete' in 2015.
Monday 21st March 2011 was an interesting day that partied like it was 1981 when it saw the release of albums by DURAN DURAN, THE HUMAN LEAGUE and JOHN FOXX & THE MATHS. Also in 2011, Mute Records celebrated their influential legacy with a weekender also at London's Roundhouse which culminated in ERASURE, YAZOO and THE ASSEMBLY performing in the same set.
Despite the 'Brilliant' return of ULTRAVOX, 2012 paled in comparison after such a fruitful year and several acts who were featured probably would not have gained as much coverage in more competitive periods. With pressure from outsiders as to what was hot and what was not, this was the only time ELECTRICITYCLUB.CO.UK felt it was obliged to support a domestic scene.
But realising acts like HURTS and STRANGERS were actually just jumping on an apparent synth bandwagon and possessing more style than substance, ELECTRICITYCLUB.CO.UK decided to change tact and only featured acts it felt truly passionate about, even if it meant upsetting the wider synth community. The reasoning being that just because a band uses a synthesizer doesn't mean it is good.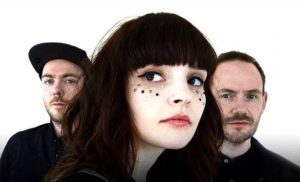 During this time, MIRRORS sadly disbanded while VILLA NAH mutated into SIN COS TAN. But the year did see the launch of CHVRCHES who stood out from the crowd with their opening gambit 'Lies'.
With their Taylor Swift gone electro template, Lauren Mayberry and Co managed to engage an audience who didn't know or care what a Moog Voyager was, to listen to synthpop!
2013 turned out to be one of the best years for electronic pop since its Synth Britannia heyday. What ELECTRICITYCLUB.CO.UK achieved during this year would take up a whole article in itself… there were high profile interviews with Alison Moyet, Gary Numan and Karl Bartos while OMD released the album of the decade in 'English Electric'. PET SHOP BOYS made up for their 'Elysium' misstep with 'Electric' while there was finally a third volume in BEF's 'Music Of Quality & Distinction' covers series.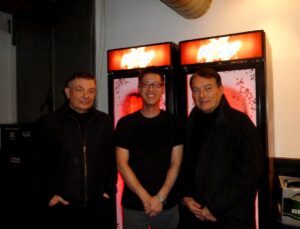 Although 2014 started tremendously with ELECTRICITYCLUB.CO.UK being invited to meet Karl Bartos and Wolfgang Flür in Cologne, the year suffered next to quality of 2013.
The interviews continued, particularly with key figures from the Synth Britannia era including Midge Ure and the often forgotten man of the period Jo Callis who was a key member of THE HUMAN LEAGUE during their imperial phase.
But the year saw grandeurs of delusion at their highest. There was the clueless Alt-Fest debacle which saw the organisers play Fantasy Festival with no cash to underwrite the infrastructure to enable it to actually happen!
Sadly today, there are still egotistic chancers organising events with zero budget and the money from ticket sales being fleeced to fund their holidays. But these artificial factors are rarely considered and so long as there are lower league artists desperate to play for nowt and a misguided enhancement in profile that is often on a platform that provides minimal exposure anyway, then the confidence tricks will continue.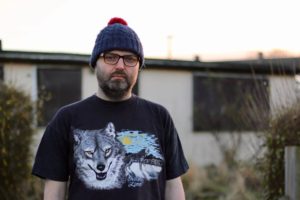 2015 saw the local emergence of Rodney Cromwell and Gwenno, while the majestic Swedish duo KITE proved that they were the best synth act in Europe with the 'VI' EP and their impressive live show.
It was also the year when ERASURE front man Andy Bell gave his first interview to ELECTRICITYCLUB.CO.UK to offer some revealing insights.
Making something of a comeback after a recorded absence of nearly eight years, Jean-Michel Jarre presented his ambitious two volume 'Electronica' project which saw collaborations with a varied pool of musicians including Pete Townsend, Lang Lang, John Carpenter, Vince Clarke, Hans Zimmer, Cyndi Lauper, Sebastien Tellier and Gary Numan.
VILLA NAH returned in 2016, as did YELLO with Fifi Rong as one of their guest vocalists while APOPTYGMA BERZERK went instrumental and entered the 'Exit Popularity Contest'. Riding on the profile generated from their 'A Broken Frame' covers album, MARSHEAUX released their biggest-selling long player to date, a two city concept in 'Ath.Lon'. This was also the year that ELECTRICITYCLUB.CO.UK first became acquainted with the analogue synthesizer heaven of Johan Baeckström, a modern day Vince Clarke if ever there was one.
2017 saw a bumper crop of great albums from the likes of I SPEAK MACHINE, LCD SOUNDSYSTEM, SOULWAX, IAMX, GOLDFRAPP and DAILY PLANET, while veterans such as Alison Moyet and Gary Numan produced their best work of the 21st Century.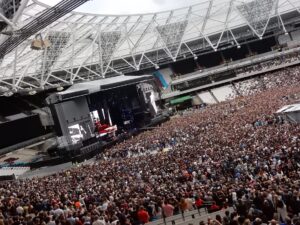 However DEPECHE MODE unleashed their most dire record yet in 'Spirit', a dreary exercise in faux activism bereft of tunes. Salt was rubbed into the wound when they merely plonked an underwhelming arena show into a stadium for their summer London show.
The trend was to continue later in 2019 as DEPECHE MODE just plonked 14 albums into a boxed set, while OMD offered an album of quality unreleased material in their 'Souvenir' package.
And with DEPECHE MODE's sad descent into a third rate pseudo-rock combo during the last 15 years to appease that ghastly mainstream American institution called The Rock and Roll Hall Of Fame with guitars and drums, Dave Gahan in particular with his ungrateful dismissal of the pioneering synth-based material with which he made his fortune with, now has what he has always coveted.
And don't get ELECTRICITYCLUB.CO.UK started on the 2019 Moog Innovation Award being given to Martin Gore, a real insult to true synth pioneers if ever there was one, including Daniel Miller, Vince Clarke and Alan Wilder, the three men who actually did the electronic donkey work on those imperial phase DEPECHE MODE albums! Gore may have been a very good songwriter during that time, but a synth innovator? Oh come on!?!
With regards Synth Britannia veterans, new albums in 2017 from Richard Barbieri and Steve Jansen saw a revived interest in JAPAN, the band with which they made their name.
Despite releasing their final album 'Tin Drum' in 1981, as a later conversation with one-time guitarist Rob Dean proved, cumulatively from related article views, JAPAN became the most popular act on ELECTRICITYCLUB.CO.UK.
The return of SOFT CELL dominated 2018 with a lavish boxed set that was not just comprised of previously released long players, new songs, new books, a BBC documentary and a spectacular farewell show at London's O2 Arena.
Meanwhile, adopting a much lower profile were LADYTRON with their comeback and an eventual eponymous sixth album. A Non Stop Electronic Cabaret saw Canadian veterans RATIONAL YOUTH play their first ever UK gig alongside PAGE and PSYCHE, but coming out of Brooklyn to tour with ERASURE was REED & CAROLINE.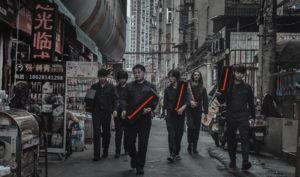 EMIKA was 'Falling In Love With Sadness' and Swedish songstress IONNALEE showcased one of the best value-for-money live presentations in town, with a show that surreal imagined Kate Bush at a rave!
But from China came STOLEN, one of the most exciting bands in years who were then later rewarded for their graft with a European tour opening for NEW ORDER.
2019 was the year when synthwave graduates Dana Jean Phoenix and Ollie Wride were coming into their own as live performers, while electronic disco maestro Giorgio Moroder embarked on a concert tour for the first time with his songs being the true stars of the show.
Gary Daly of CHINA CRISIS gave his first interview to ELECTRICITYCLUB.CO.UK to tie in with his solo album 'Gone From Here', while a pub lunch with Mark White and Stephen Singleton mutated into an extensive chat about their days in ABC. Lloyd Cole adopted a more synthesized template on 'Guessworks' and Britpop went synth as GENEVA's Andrew Montgomery formed US with Leo Josefsson of Swedish trio LOWE.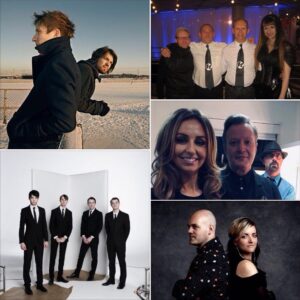 If ELECTRICITYCLUB.CO.UK does have a proudest achievement in its first ten years, then it is giving extensive early coverage to VILLA NAH, MIRRORS, VILE ELECTRODES, METROLAND, TINY MAGNETIC PETS and SOFTWAVE, six acts who were later invited to open on tour for OMD. Partly because of this success, some of those who were less talented felt aggrieved despite feeling an entitlement to be featured. If an act is good enough, the fact that ELECTRICITYCLUB.CO.UK hasn't featured them should not matter, especially as other electronic and synth blogs are available. After taking its eye of the ball once before in 2012, ELECTRICITYCLUB.CO.UK maintained a trust of its own gut instinct.
Meanwhile, its stance has been tested by those shouting loudest who instantly champion what they perceive as the next big thing like sheep, without really looking ahead at a wider picture. However, TRAVIS on VSTs is just not ELECTRICITYCLUB.CO.UK's thing frankly…
ELECTRICITYCLUB.CO.UK's participation in the annual ELECTRI_CITY_CONFERENCE in Düsseldorf for on-stage interviews with Rusty Egan, Chris Payne, Mark Reeder and Zeus B Held was another high profile engagement to be proud of. Then there were six live events and five rounds of hosting 'An Audience with Rusty Egan' in one of the most unenviable but highly entertaining refereeing assignments in music ?
Other highlights over the last ten years have included ELECTRICITYCLUB.CO.UK's 2015 career retrospective on German trio CAMOUFLAGE being edited and used as booklet notes for the Universal Music sanctioned compilation CD 'The Singles'.
As 2020 settles in, highly regarded artists within the electronic community continue to engage with ELECTRICITYCLUB.CO.UK. Neil Arthur recently gave his seventh interview as BLANCMANGE and his tenth interview overall, taking into account his side projects FADER and NEAR FUTURE. Not far behind, Martyn Ware has also been a regular interviewee having spoken to the site on six occasions while Paul Humphreys has been interviewed no less than five times.
ELECTRICITYCLUB.CO.UK is still pushing the envelope, continuing to reflect the interests of people who love the Synth Britannia era and have a desire to hear new music seeded from that ilk.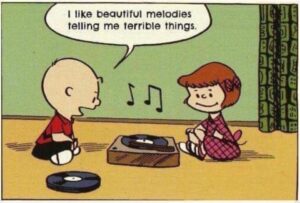 With artists like ANI GLASS, IMI, KNIGHT$, NINA, MECHA MAIKO, GEISTE and PLASMIC among those on the cusp of a wider breakthrough, there is still more excellent music still to be created, discovered and savoured.
ELECTRICITYCLUB.CO.UK gives its sincerest thanks to everyone who has taken the time read any article on the site over the last ten years, it is greatly appreciated.
---
Text by Chi Ming Lai
Image Design by Volker Maass
16th March 2020, updated 29th Janaury 2021