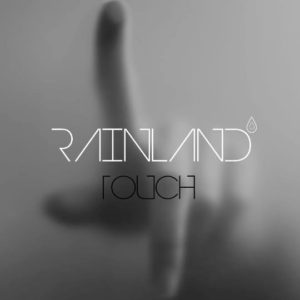 From the ashes of ANALOG ANGEL come forth RAINLAND and their debut EP 'Touch'.
The Weegie duo of Ian Ferguson and Derek MacDonald were the musical lynchpin of their previous band and now free of the industrial shackles that occasionally held them back, their self-titled number 'Rainland' is a stomping synthpop statement, embroiled in a musicality that provides an almost joyous journey through the Grampian Mountains. Ferguson had already proved himself a worthy vocalist on ANALOG ANGEL songs such as 'No Goodbye', 'I Am Me' and 'Another Rainy Day' with a tone not dissimilar to a certain Midge Ure.
This is allowed to rein free on 'Rainland', while the ivories of MacDonald stylistically ape the symphonic overtones of ULTRAVOX's Billy Currie. Synthpop is pop music using synthesizers, not a by-word for fluff. As the cultural commentator Simon Reynolds put it in The Guardian as part of his 'Synth Britannia' assessment on the legacy of synthpop in 2009: "Oddly, what's made this music last are the same things that made The Beatles and Motown immortal: melody and emotion" – 'Rainland' possesses both those qualities and this eponymous calling card shows exactly what RAINLAND are capable of.
Meanwhile the neo-ballad 'Suddenly Winter' conveys a snow-capped atmosphere that does exactly what it says on the tin while the uptempo 'The Light Of The Sun' showcases more of the engaging synthpop songcraft that perhaps hadn't been able to attain its full potential within ANALOG ANGEL.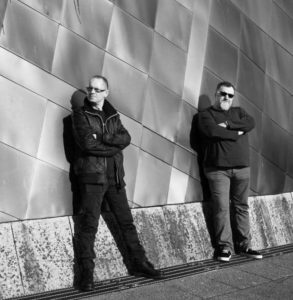 'Touch' with its digital slapped bass and HI-NRG flavour in a nod to BRONSKI BEAT will surprise ANALOG ANGEL fans, while 'Silverlight' featuring lyrics by poet and novelist Ange Chan sonically punches, as sweeps and sequences make their presence felt on this rousing number.
Tom Shear has already recognised RAINLAND's capabilities and invited Messrs Ferguson and MacDonald for ASSEMBLAGE 23 on their 2017 UK tour. What happens next is now up to them, but expect the pair to allow the music to speak for itself. There certainly won't be any misguided sojourns into reality television or remixes by eminently, the worst music act in the world today… 😉
---
The 'Touch' EP is available for download via https://rainland.bandcamp.com/album/touch
RAINLAND play the following 2017 live dates with ASSEMBLAGE 23: Glasgow Ivory Blacks (30th March), Manchester Zoo (31st March), London Electrowerkz (1st April)
https://www.facebook.com/RainlandtheBand/
---
Text by Chi Ming Lai
Photos and artwork by Mark Walker @ MNW Visual Communications
29th March 2017