Tom Shear, working under the alias of ASSEMBLAGE 23 and as the responsible parent of his side project SURVEILLANCE, has been active in the electronica field for over 20 years, being largely inspired by European synth acts, especially those celebrating a more industrial approach.
Although trying to showcase his take on synth pop in the era of the American rock and grunge domination wasn't easy, ASSEMBLAGE 23 grabbed the existing fans of APOPTYGMA BERZERK, COVENANT and HAUJOBB by 'Storm' (pun intended).
Working from Seattle, Tom Shear has established himself as the daddy of harsher electronica and is celebrated in his native land, as well as Europe alike. Having recently released his eighth studio opus, 'Endure', backed by a rather impressive crowdfunding, he's looking forward to coming back to the UK for some live shows.
ELECTRICITYCLUB.CO.UK is chatting to the man himself about past, present and future of ASSEMBLAGE 23.
'Endure' has been described as an unorthodox album for ASSEMBLAGE 23, how would you comment on that?
It's funny, because people seem to fall into two camps. Some people think it sounds exactly like previous stuff and some think it sounds different. I think the truth lies somewhere in between. I try to make Assemblage 23 consistent, but of course it is always evolving, too.
Would you say you prefer the hardware or soft versions of synths?
I prefer a combination of both. For me, hardware is more fun to use, but software offers convenience and portability. I can take hundreds of softsynths with me in my carryon bag on the airplane if I want. Try doing that with hardware. I think the technology is getting to the point where the sound differences between hardware and software are virtually indistinguishable, so really more than anything it is a question of personal preference.
Your love of melody is obvious on all of your releases. How are the tracks put together?
I keep an "ideas" folder on my computer. When I get the idea for a melody, or bassline, or chord progression, I sit down and quickly record it into the sequencer.
After I've accumulated enough of these ideas, I sort through them and pick out the bits I feel are the strongest candidates and begin building the rest of the song around that initial sketch.
Under the veil of sparse optimism, darker tones always seem to emerge, do we really "brick by brick (we) construct our own personal hell"?
To a large extent, I think we do. Obviously, there are external things that can make your life hell – poverty, abuse, disease, etc. But we are the source of a lot of our own problems and hang-ups.
'Compass' was particularly lyrically dark…
I guess I never really noticed one album being darker than another, but the time I was writing that album was a pretty bleak time in my life, so I suppose that would make sense.
Unlike most bands of your genre, A23 songs are fairly long. Consisting of three verses, they seem to go on, as if to exhaust the subject in hand…
I don't know. Most of my songs weigh in around 5 minutes, I think. FRONT LINE ASSEMBLY regularly has 7 and 8 minute tracks! Haha! It varies, but I do find that three verses tends to be just the right amount. Almost like the first, second, and third act in a movie or play.
Having an over two decades' success in synth music, how would you describe the American scene nowadays?
It's a mixed bag. On the one hand, there's more good bands coming out of the US than there has been in a very long time. On the other hand, it can be difficult for new bands to get a foothold, as the scene Is very saturated, so it's harder to get heard. I guess that's probably true worldwide.
Any modern favourites coming out of your neck of the woods?
I really like MR KITTY a lot. Unique sound and a very good performer. THE NEW DIVISION is a great synthpop act out of California. Mari Kattman out of Rhode Island is an amazing female vocalist who I've collaborated with, but whose own music is fantastic.
The now unfortunately defunct ALTER DER RUINE were doing great things. AEON RINGS from the NYC area make some really infectious synthwave.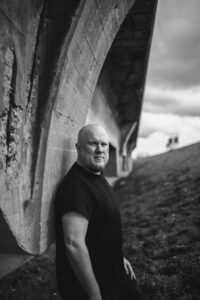 What's your favourite European gig destination and why?
It's hard to choose just one. There's certainly areas where we have bigger shows, but some places I look forward to playing because of the food, or that I get to see friends I don't often get to see. Honestly, I just love playing Europe as a whole.
Is the 'Endure' tour going to be any different from your previous ones?
We're playing a longer set and are playing some songs we've never played live before. We also worked really hard on improving in the past couple of years and the reviews from the US tour were generally that we're sounding the best we've ever sounded, so I am optimistic!
Is SURVEILLANCE going to be an ongoing project for your more EBM work?
Yes. I plan to start work on the next one soon. I've got a number of ideas already sketched out.
You're known for happily interacting with the fans of your work. How important is it for what you do?
Extremely important. I frankly don't understand why more bands don't do it, because it's enormously beneficial. Interacting with your fans and being accessible is probably the best thing you can do to build a loyal fanbase. If it wasn't for my fans, I couldn't do what I love for a living, so I feel like it's the least I can do.
---
ELECTRICITYCLUB.CO.UK gives its grateful thanks to Tom Shear
Special thanks also to Ian Ferguson
'Endure'
is available in CD, deluxe 2CD, vinyl LP and download variants from http://www.assemblage23.com/store
ASSEMBLAGE 23's European tour includes:
Glasgow Ivory Blacks (30th March), Manchester The Zoo (31st March), London Electrowerkz (1st April), Oberhausen Kulttempel (2nd April), Frankfurt Das Bett (4th April), Leipzig Hellraiser (5th April), Kreuzberg Maze (6th April), Moscow Club Theatre (8th April) – please visit http://www.assemblage23.com/ for more information, support on all UK dates will be RAINLAND
https://www.facebook.com/pages/Official-Assemblage-23/138651156153800
https://twitter.com/Assemblage_23
https://soundcloud.com/assemblage-23/sets/endure
---
Text and Interview by Monika Izabela Trigwell
Photos by Bob Libby
19th January 2017