Seattle based musician Tom Shear has carved a justifiably successful career over the past 20 or so years with acclaimed releases such as 'Compass' and 'Storm'.
2012's 'Bruise'
album saw a move towards a more mature sound which was complimented by a remix disc featuring reworks by the likes of ex-COVENANT man Daniel Myer.
In the interim, Shear returned to a harder EBM style with the side project SURVEILLANCE, made possible via a hugely successful crowdfunding campaign.
The same approach has been deployed for the latest ASSEMBLAGE 23 release 'Endure', once again to similar success. This album sees that more sophisticated sound used on 'Bruise' and apply it to startling and in places, quite beautiful effect.
This is an unusual album in the ASSEMBLAGE 23 canon as it goes against not only the accepted genre types, but also in many ways what Shear himself has done before.
This is evident from the start with an actual title track which is also an instrumental. It's obvious the JOHN CARPENTER albums have been on heavy rotation in the Shear household, as this driving piece would not be out of place on the 'Lost Themes' releases
Next up is an apocalyptic tale in the shape of 'Afterglow'. One of A23's main strengths, which stands them apart from many contemporaries, is the use of actual melody.
Shear is openly a fan of many Synth Britannia bands and that is obvious on this, one of the album's standout tracks. It's here we get a first taste of one of those shifts in sound in the production on Shear's vocals which foregoes the usual EBM / Industrial effects to allow a more upfront, dry performance.
This in turn throws Tom's lyrics into sharper relief than before. These lyrics are especially fine on the next track 'Bravery' on which we are reminded that we all have self-doubt, fight personal battles and that "some days just waking up is an act of bravery…" – all this is underpinned by a thumping backing track.
Next up is 'Salt The Earth', a more straightforward EBM track which is not to take away from the strength of the songwriting, but placed on the album between 'Bravery' and the track that follows, it fails to stand out. 'Static' opens with a very un-A23 way with a plaintive piano motif, which is duplicated as the song builds by synth plucks and then strings. Again, the confidence that Shear has in his voice is demonstrated by the dry production he employs. 'Call The Dawn' and 'Butterfly Effect' act as strong album tracks, again enforcing the maturity of the overall delivery of both instrumentation and vocals. This is also true of the later track 'Grid'.
Then comes one of the highlights of 'Endure'
, the excellent 'Barren'; all of the parts that make up the album come together here beautifully to deliver a track that is in turn, a piece that can be listened to thoughtfully but also sounds fantastic through a club PA. This is destined to become a staple of A23 live shows for years to come.
After the aforementioned 'Grid', we come to the album closer 'December'. Again Shear isn't afraid to let his voice do the talking and carry the emotional weight of a song dripping sadness and regret belying the dance driven instrumentation.
So what of the 2016 incarnation of ASSEMBLAGE 23? It's evident that this is an enormously enjoyable release. It stands with 'Bruise' as an example of what can be achieved by a musician working with a clear goal, that also delivers what his audience wants with a few surprises along the way.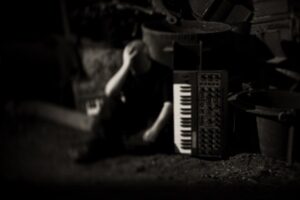 This week, it was announced that once again VNV NATION will headline the 2017 Amphi Festival in Germany, one of the scene's biggest events.
It's a surprise that this slot isn't occupied by ASSEMBLAGE 23 as they have the tunes without the bombast employed by Ronan Harris and his band. 'Endure' is a highly recommended release.
---
'Endure'
is released by Metropolis Records on 9th September 2016 in CD, deluxe 2CD, vinyl and digital variants, available from http://www.assemblage23.com/store
ASSEMBLAGE 23 tour North America throughout September and October 2016, please visit
http://www.assemblage23.com/ for more information
https://www.facebook.com/Official-Assemblage-23-138651156153800/
https://twitter.com/Assemblage_23
https://soundcloud.com/assemblage-23/sets/endure
---
Text by Ian Ferguson
Photos by Bob Libby and Tom Shear
1st September 2016