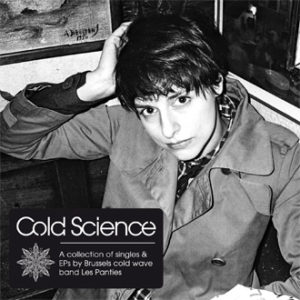 'Cold Science' is a new singles anthology by Brussels cold wave indietronica combo LES PANTIES.
Founded by Hugo Fernandez (drums), Sebastien Decupere (guitars) and Paul Normann (bass), LES PANTIES are fronted by the deep, pronounced voice of Sophie Frison which at times, powerfully recalls Siouxsie Sioux.
While their sound echoes other Belgian acts like THE NAMES, the modern electronic sheen of SOULWAX also makes its presence felt.
Like SAVAGES' Jehnny Beth, Sophie Frison exudes a stylish gothique. Released on the iconic Les Disques du Crépuscule and compiling material released between 2011 to 2015, inevitably the spectre of JOY DIVISION and THE CURE looms over 'Cold Science'
. But with Frison's vocals and the presence of sparkling string synths, the mood is lighter but still laced with tension.
Beginning with the brooding 'Velvet', while a conventional backbone dominates, the use of technology is one of LES PANTIES' distinguishing attributes. The melodic bass and scratchy guitars of 'The Gate' are offset by swirling synths and one could imagine this being covered by MARSHEAUX if the syncopated percussion mantra was replaced by a Motorik drum machine beat.
'Diving' actually sees a drum machine and synthesized melodies taking on a more central role; both remain as constants in the musical core as the lengthy track percussively builds to a sexy, passionate climax. Meanwhile, the retro-futuristic indiepop of 'Factory' unsurprisingly sounds like early NEW ORDER while 'Hazy Days' comes over as if Siouxsie had joined Robert Smith's combo back in the day, as opposed to the other way round!
The moody 'White Tiger' is layered with prominent keyboards to boost the angst ridden atmosphere but as it progresses, the guitars get much heavier. This trend continues with LES PANTIES' more conventional debut single pairing 'Porkshop' and 'Westie', as the tracklisting moves along in reverse chronological order.
However, the best is saved until last with a superb sequencer assisted 'L'Arrivée V2' as a bonus track. Already an excellent disco inflected tune in its original guise, it is considerably enhanced with the use of more electronics and even tighter drum programming, courtesy of producer Ian Caple whose previous credits have included SHRIEKBACK, TINDERSTICKS, A-HA and EMILIE SIMON. It is in here in its second half that the SOULWAX influences really punch their way through.
It's an indicator of how good LES PANTIES could become if they pursue this indie electro hybrid direction. Whatever happens next, 'Cold Science' makes a promising shop window for now.
---
'Cold Science'
is released by Les Disques du Crépuscule in CD and download formats
https://www.facebook.com/LESPANTS/
http://lesdisquesducrepuscule.com/cold_science_twi1227cd.html
---
Text by Chi Ming Lai
3rd September 2016