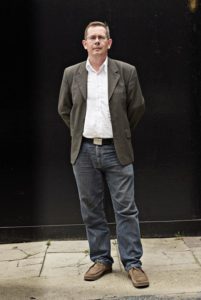 James Nice is a music publisher and writer whose acclaimed 2010 book 'Shadowplayers: The Rise and Fall of Factory Records' provided a detailed and objective account of the legendary label. He also worked for the prestigious Belgian label Les Disques du Crépuscule in Brussels between 1987-91.
More recently, James has resurrected Les Disques du Crépuscule along with its sister Factory Benelux offshoot as platforms to reissue a vast catalogue of experimental and artistically driven music, in addition to releasing newer material from acts such as MARSHEAUX, MARNIE and DEUX FILLES. Back in the day, Les Disques du Crépuscule and Factory Benelux operated as separate entities, although the two labels shared the same premises and staff.
Among Crépuscule's roster were Blaine L Reininger and Winston Tong from TUXEDOMOON, ASSOCIATES instrumentalist Alan Rankine and former JOSEF K leader Paul Haig. The first music release on Crépuscule came in 1980; 'From Brussels With Love'
was a carefully curated cassette compilation which included music from John Foxx, Bill Nelson, Harold Budd and Thomas Dolby as well as spoken recordings by Brian Eno and Richard Jobson.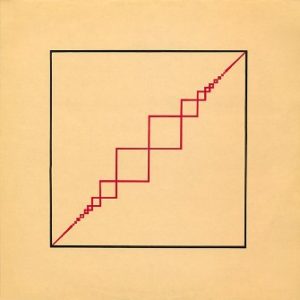 Meanwhile Factory Benelux notably released the 12 inch extended remix of NEW ORDER's 'Everything's Gone Green' in 1981 and spare recordings from Factory affiliated artists such as A CERTAIN RATIO, SECTION 25, THE WAKE and THE DURUTTI COLUMN.
The latter's beautiful instrumental 'For Belgian Friends' was written in honour of the two labels' founders Michel Duval and the late Annik Honoré. James Nice kindly chatted to ELECTRICITYCLUB.CO.UK about his various endeavours, past and present.
You wrote the book 'Shadowplayers' on the history of Factory Records. There have been several books about the label, what do you think your account gave that hadn't been provided before?
Well, reliable facts properly researched! I did 'Shadowplayers' as a DVD first, in 2006, but I didn't do the book until after Tony Wilson passed away the following year.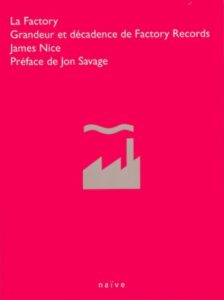 One of the books which influenced the approach I took was an excellent Creation Records history by Dave Cavanagh, which Alan McGee slated as the accountant's version of Creation when it first appeared (though he changed his mind later).
I feared Tony might say the same thing about a Factory history written by me. He was more into myths and legends than truth.
I also wanted to include all the bands and artists, not just JOY DIVISION, NEW ORDER, HAPPY MONDAYS and The Hacienda; THE STOCKHOM MONSTERS have a tale to tell too. The French edition won a prize, actually. They sent me a leather jacket – which was a bit too small.
How do you see the public's continued fascination with Factory Records?
I just glance at it in passing these days, because 'Shadowplayers' came out in 2010 and I've long since moved on. The entire story of Factory was hugely dramatic, genuine tragic in places, and populated by larger than life characters. You can't really say the same of, for example, 4AD or Domino. I'm not sure you'll see it repeated either, because music no longer produces the kind of revenue stream that would allow radical mavericks like Tony Wilson and Rob Gretton to build another Hacienda, and Peter Saville is a complete one-off.
Factory was a classic example of do the right thing, and the money will follow. Unfortunately, they then blew all the money on big recording projects and ill-judged property investments. Let's leave it at that.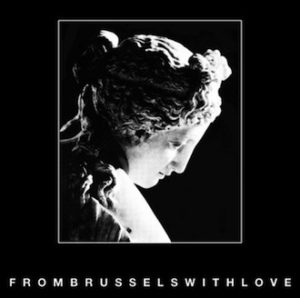 Factory Benelux and Les Disques du Crépuscule have common roots, but were quite different entities in their original ethos?
Both labels started in 1980. Factory Benelux was intended as an outlet for spare Factory recordings, hence a lot of the early releases like 'Shack Up' by ACR, 'The Plateau Phase' by CRISPY AMBULANCE and 'Key of Dreams' by SECTION 25 were exclusive to FBN. As time went on it became more like a normal licensee.
Crépuscule was something else entirely – a cosmopolitan boutique label, with an international roster and aspirations to kick start some kind of art movement in Brussels. In truth Factory were a little suspicious of Crepuscule early on, although later some Crépuscule albums appeared on Factory in the UK eg Anna Domino and Wim Mertens.
You worked for Les Disques du Crépuscule back in the day and lived in Brussels for five years. What are your particular memories of that time?
Way too many to mention. A couple of days after I quit Crépuscule (an argument about a 23 SKIDOO contract, not that anyone will be interested), I took a train to Amsterdam to meet William S. Burroughs.
He was holding court in a hotel with his manager, James Grauerholz. I took along some books to sign, as well as the Burroughs album I'd released on LTM, 'The Doctor Is On the Market'. I don't think WSB had even seen a copy before, but he scribbled "Good Work" on it. There was another guy there who was a Lufthansa pilot by day and wrote experimental cut-up novels in his spare time. I remember thinking at the time, I'd like to be that guy.
What are the aims of Factory Benelux and Les Disques du Crépuscule under your direction now?
Heritage curation, and new recordings where appropriate. Michel Duval is quite interested again, and we collaborated on the 'Ni D'Eve, Ni D'Adam'
compilation at the end of 2015.
I really enjoyed that process, as a matter of fact. The new tracks and artists he brought to the project really added to it, and the artwork by Clou was great too.
I do a lot of boring back office stuff as well as making records, chiefly rights administration. You have to have all your ducks in a row when, for instance, Kanye West decides to sample a SECTION 25 track from 1981.
As well as reissues, Factory Benelux and Les Disques du Crépuscule have released new albums by SECTION 25, MARNIE, DEUX FILLES and others. What attracted you to back these recordings?
In the case of new albums by heritage groups like SECTION 25, THE NAMES and CRISPY AMBULANCE, as long as fresh studio projects are financially viable, and the music is good, then of course we want to be involved. Any label can simply recycle back catalogue, but I like to think we're a little more committed.
The MARNIE album came to Crépuscule because I'm a LADYTRON fan and it was a perfect fit for the label. It worked for her too as she'd successfully funded 'Crystal World'
via Pledge Music, but was less sure about how to actually deliver the CD version.
It's important to back new music, and I'm delighted to be releasing 'Cold Science' by LES PANTIES later in 2016. They're a young band from Brussels – terrible name, but great music!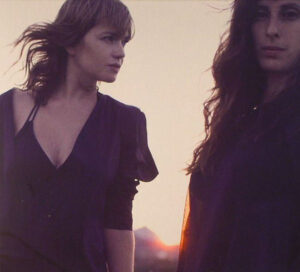 Les Disques du Crépuscule also released 'Odyssey' in 2014, a career spanning compilation of MARSHEAUX. What do you find appealing about their music and which are your favourite songs?
I liked MARSHEAUX anyway, even before we began Crépuscule again back in 2013. Like MARNIE, they seemed like a good fit with the label's heritage, much of which was modern electronic pop music. The focus was on original songs though rather than covers.
The title is a riff on Homer's 'Odyssey'
, and the idea of a chronological story, and of course the old ARP Odyssey analogue synth. I'm quite good at coming up with album titles, if I say so myself. 'Retrofit' by SECTION 25 is probably the best – it popped into my head while I was watching a documentary about the making of 'Blade Runner'. Perfect for a remix / reboot album.
Yes, very clever of you. But what's your favourite MARSHEAUX song?
Well, the 'Ghost/Hammer' mash-up is the one we keep putting on LDDC compilations.
You maintain a close relationship with Paul Haig. Is he one of the unsung heroes of post-punk in your opinion?
I wouldn't say unsung because Paul's always attracted a lot of press and remains well liked by music writers, but I suppose he's 'unsung' in the sense that he never had a proper chart hit. Ironically, his most popular album – on reissue anyway – is 'Rhythm of Life', which was considered far too mainstream at the time.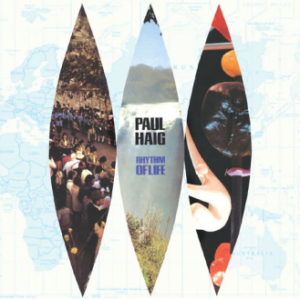 Paul just did things his way and wasn't prepared to jump through all the hoops required of a mainstream pop star. For a start he was – and remains – far too shy.
Since you mention post-punk in the question, I'll take this opportunity to plug a forthcoming Paul project for later in 2016, which is a 1982-based double archive CD including his early pop material ('Justice', 'Running Away'), the Sinatra-styled 'Swing In 82' EP, the experimental electronica cassette 'Drama', and loads of odd singles and sessions.
He'd just left JOSEF K but had not yet signed to Island, and I'm not sure anyone else was quite that diverse and experimental at the time. It'll be called 'Metamorphosis' – another Kafka reference. Told you I was clever with titles. Paul's quite nervous about it, I have to say!
You've also worked closely with Alan Rankine in his post-ASSOCIATES career?
Well, not so much me personally. Back in the 1980s, Alan was married to Belinda Pearse, who was a Crépuscule director at the time, and so for a while he pretty much became the in-house producer at the label, working with Paul Haig, Anna Domino, Winston Tong, Ludus and his own solo material.
My time at LDDC in Brussels did overlap with his, but I didn't work on any of those projects. He did three solo albums under the auspices of Crépuscule, and some of the music is the equal of anything he did with Billy Mackenzie. Unfortunately Alan isn't quite as good a singer, though he is a brilliant writer, arranger, producer, guitarist and keys player. The instrumentals he did for Crépuscule work best, I think. We've spoken a couple of times this year. Once was to return some master tapes to him, and I also suggested him as a producer / collaborator for MARNIE.
Another unsung hero of the era is Mark Reeder and the release of his remix collection 'Collaborator' on Factory Benelux was a fitting acknowledgement of that. What was the process like to select the tracklisting?
Hmm. We tried to avoid replicating too many tracks that were on the earlier 'Five Point One' collection, and having Bernard Sumner singing on quite a few of the tracks should have made it seem more like an artist album than just a compilation.
Not sure the concept really gelled though. Mark isn't easy to label – a lot of people think he's a DJ, which is the one thing he isn't (but probably should be). 'Collaborator'
is a great album and should have sold a lot more than it did. In fact Mark regularly reminds me of that!
As a label manager, how do you decide on the formats that releases will be issued in? When do you know one format will be more viable than another, eg some are CD only, others are vinyl only?
Vinyl tends to be reserved for prestige items, and / or where you can fashion an art object from it, like THE DURUTTI COLUMN album with the die-cut glasspaper sleeve, which I'll talk about later.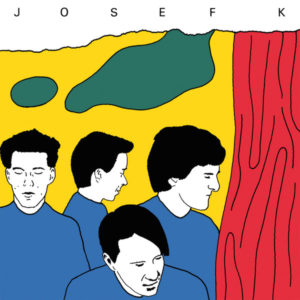 The recent JOSEF K singles collection 'It's Kinda Funny'
was vinyl only because there have been several JOSEF K CD compilations already, and because a 12" matt board sleeve was a great way of exhibiting the original artwork by Jean-François Octave.
I still prefer CDs because the sound is better, you can fit more material on them, plus they are easier to keep in print over a long period of time. In an era of declining physical sales, the increasing fragmentation of formats isn't too helpful, at least as far as labels are concerned.
Vinyl retains cultural clout though. Releasing albums used to be like publishing books, whereas once the market became saturated with releases, it's kind of become degraded and often feels as if you're just publishing magazine articles. But a vinyl album still has the heft of a book.
Factory Benelux and Les Disques du Crépuscule were both known for tasteful artwork and you have maintained this aesthetic. The vinyl reissue of 'The Return Of The Durutti Column' had an interesting genesis?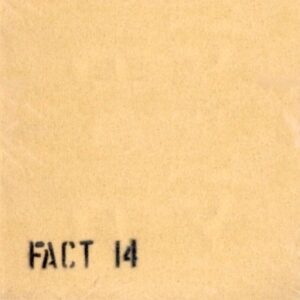 With the Benelux reissue in 2013, the original intention was to replicate Fact 14 from 1980, with coarse sandpaper front and back and a flexi-disc.
Back then Tony Wilson was able to source 12-inch square sheets from a local company called Naylors Abrasives in Bredbury, near Stockport. They still exist, but they don't manufacture sandpaper any more, and when I got in touch in 2012 to explain the project, they clearly thought I was a lunatic.
I'm not sure that glasspaper is even manufactured anywhere in Western Europe now. In the end we had to go to a company in China, whose minimum order was 10,000 sheets. What was a cheap and (relatively) easy package for Factory in 1980 turned out to be pretty much impossible to copy three decades later. It's probably easier to source glasspaper in lurid colours rather than plain old beige, and the biggest rolls were only 11 inches wide. You can still source flexi-discs from one plant in the States, but they end up costing more per unit than a 12-inch vinyl album. Fortunately, however, not being able to do a straight copy served to liberate the project somewhat, so that we began to think in terms of a new edition which referenced the original, but offered something different.
The flexi became a hard vinyl 7", which sounds far better, and we were now able to add an inner sleeve with period images and explanatory text. The 11-inch glasspaper squares took about eight months to arrive from China, and while we were twiddling our thumbs the designer, Carl Glover, came up with the idea of seating the glasspaper sheet on the front in a recessed deboss. A bit like a frame, thereby underlining the 'art' credentials.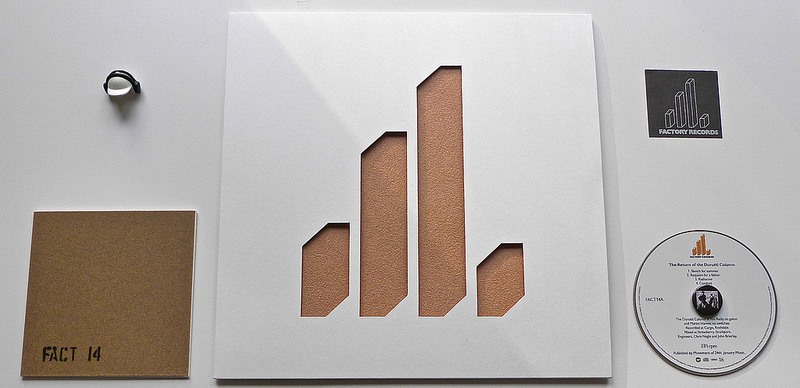 Somewhat to my surprise the pressing plant in Germany agreed to assemble the finished package from start to finish, which was fortunate since I couldn't imagine NEW ORDER agreeing to help out. I didn't much fancy the idea of doing it myself. Like the building trade people we had to go through en route to China, the pressing plant just couldn't understand why we'd want to release a record in a glasspaper sleeve. Someone suggested a photo of some sandpaper might be better…
Then, when the sheets finally arrived, some of the cutting was pretty rough, and the pressing plant insisted on a 3mm tolerance between each side of the sheet and the deboss. That would just look as though we'd fluffed the measurements, besides which even with a deboss, the glasspaper sheets simply stuck on the cover just didn't have that 'wow' factor.
I spent a few days arguing with the plant about tolerances, and agonising generally, then decided that a die-cut would be just as impressive, with the glasspaper underneath, as if you were seeking it through a window. This scheme also overcame the issues about imperfect size and cutting of the glasspaper.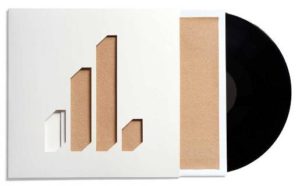 The only obvious, practical shape for the die-cut was Peter Saville's original 'bar chart' logo, which appeared on the labels of most Factory releases between 1979 and 1980, Fact 14 included. It just looks right, and is also suggestive of a graphic equalizer, which I suppose is a bit Hannett. The pressing plant had already printed 2000 copies of the original inner bag though, so we had to throw those away. All the problems and changes also mean that the release date was late. Very Factory, I suppose.
The finished package looked even better than anyone dared to imagine, and housed in the polythene bag it has a fantastic 3D quality, plus the glasspaper catches the light beautifully. I was particularly delighted that Vini Reilly liked it. All the various headaches and reverses improved the design no end, and the addition of the die-cut means that you now have this unique Reid/Saville hybrid. Truly a happy accident.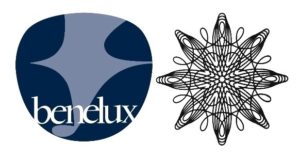 Your CD reissues on Factory Benelux and Les Disques du Crépuscule are known for their comprehensive sleeve notes which are written by you. What is your philosophy and style regarding this?
I tend to focus on facts, and direct quotation from the people involved.
Creative writing I leave to experts like Paul Morley, Simon Reynolds and Kevin Pierce. My notes tend to be honest rather than gushing or pseudo-academic, and that's probably why I rarely get commissioned to write liner notes for other releases! I think the last time was an ELECTRONIC retrospective. Johnny Marr just wanted a hagiography in which everything and everyone was, like, amazing and brilliant, all the time. Buyers aren't stupid and don't really want that. Then again, I probably have been a bit too glass half empty at times.
What are your thoughts on modern music, particularly the synthpop and electronic variety, having worked with a number of the original pioneers?
I really like EDM, it's probably my favourite genre for blasting out loud in the car, annoying my daughter etc; RIHANNA, MISS KITTIN, TODD TERJE, electroclash, Xenomania productions.
A lot of what Crépuscule released during the golden years – the 80s, basically – was either very poppy (Paul Haig, Anna Domino, Isabelle Antena, Kid Montana), or pretty abstract (Wim Mertens, Glenn Branca, Gavin Bryars). That's probably why my taste in music remains similarly schizophrenic.
If you're asking who my current / recent favourites are then its TEGAN & SARA, ROBYN, M83, some NINE INCH NAILS, and the last NEW ORDER album. That was a spectacular return to form. Hats off to them, and to Mute.
Which have been your favourite reissues or products on Les Disques du Crépuscule and Factory Benelux over the years?
I can answer that in a heartbeat. My all-time favourite LDDC album is 'Night Air'
by Blaine L Reininger, which came out in 1984 and was his first proper solo album during the time he was absent from TUXEDOMOON.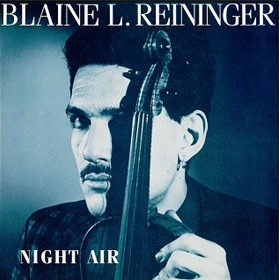 It's a magical album about exile in Brussels and was a key influence on my relocating to the city a couple of years later. Expertly recorded and engineered by Gareth Jones, I might add. I'd love him to tour the whole album – maybe there will be an opportunity after TUXEDOMOON are done touring 'Half Mute' during 2016.
My favourite FBN reissues would be the glasspaper Durutti, or the pochette 2xCD edition of 'Always Now' by SECTION 25. Both presented considerable challenges, and both came off.
Are there any upcoming releases on Factory Benelux or Les Disques du Crépuscule you can tell us about?
I've been talking to a group from Brussels called LES PANTIES for a couple of years. I love their music – poised, sophisticated cold wave, with a hint of shoegaze – they have a great aesthetic sense, and Sophie Frison is an excellent singer. We just couldn't agree about the name though. It might work in a French speaking country, but elsewhere it sounds like a novelty band. Eventually I just gave in and collected all their singles on an album, 'Cold Science', which is coming out on Crépuscule in September. It's a bit of a passion project for me, I suppose. But it's also one in the eye for people who carp we do nothing but reissues.
---
ELECTRICITYCLUB.CO.UK gives its grateful thanks to James Nice
http://lesdisquesducrepuscule.com/
---
Text and Interview by Chi Ming Lai
Portrait photo by Peter Staessens
28th May 2016, updated 5th February 2017