Winston Tong is best known for writing and singing 'In A Manner Of Speaking', a song that was subsequently covered by DEPECHE MODE's Martin Gore on his 1989 'Counterfeit' solo mini-album.
Originally performed by TUXEDOMOON, Tong had joined the experimental art rockers in a flexible arrangement that allowed him to pursue other projects.
He had not featured on TUXEDOMOON's 1979 debut album 'Half Mute', but performed on its 1981 follow-up 'Desire', an album that was to become a favourite of DM's Andy Fletcher.
Born in San Francisco, the son of Chinese parents forced into exile by Chairman Mao's Communist regime, Tong studied at the California Institute of Arts. One of his teachers was Marni Nixon, who was best known in Hollywood for providing the singing voice for Natalie Wood and Audrey Hepburn in the films 'West Side Story' and 'My Fair Lady' respectively. On graduating, he started specialising in leftfield performance and puppet theatre.
His first solo album 'Like The Others' was released in early 1983 by the prestigious Belgian label Les Disques du Crépuscule. Issued on cassette only, it was a collection of abstract monologues backed by members of TUXEDOMOON.
Around this time, TUXEDOMOON's lead singer Blaine L Reininger temporarily left for a solo career. So Tong lent his voice to an interim single 'Soma' in 1984. However, he opted to collaborate with Belgian singer Niki Mono who he had met following the band's relocation to the more sympathetic artistic playground of Europe. The pair recorded a nine song demo which impressed Crépuscule enough to sign them. However, by the time the first single 'Theoretical China' appeared in November 1984, Mono had departed the project and the release was credited to just Tong.
But 'Theoretical China' was a promising calling card, the combination of alternative electronic disco and Tong's Bowie-esque mannerisms recalled 'Charlie Cat' on ROBERT GÖRL's 'Night Full Of Tension' which was produced by Mike Hedges, the man behind the desk for ASSOCIATES 'Sulk'.
But the ASSOCIATES connections didn't end there either, as the track and subsequent album was recorded under the production supervision of Alan Rankine.
Accompanied by an all-star cast of cool, ex-PUBLIC IMAGE LIMITED bassist Jah Wobble added some of the distinctive dub flourishes that had adorned his own 'Snakecharmer', while other renowned guests included NEW ORDER drummer Stephen Morris and MAGAZINE's Dave Formula who also co-produced the track.
The finished electropop opus was released in October 1985 under the title of 'Theoretically Chinese'
. On it, the theme of cultural identity, which had been the lyrical gist of 'Theoretical China', was further explored via compositions like 'Yellow Peril' and an excellent uptempo cover of MARIANNE FAITHFULL's 'Broken English'. The era's inherent Cold War tensions also loomed large on the fine pulsing opener 'Big Brother', its syncopated construction reminiscent of TALKING HEADS.
The bouncy 'Endgame' added saxophone to the synth dominated palette, while the similarly augmented 'No Regrets' was an enjoyably rousing number that wouldn't have gone amiss on Bowie's 'Tonight' album or a RYUICHI SAKAMOTO solo album of the period. The effervescent 'Principles Of Movement' closed proceedings on 'Theoretically Chinese', but it wasn't all frantic, digitally programmed energetics as the elegant sweeping ballad 'Reports From The Heart' and the moodier set piece 'The Quotidian' proved.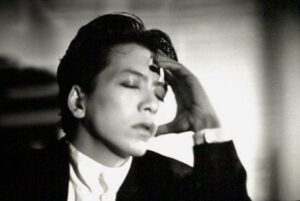 With Alan Rankine's vibrant sequencing and keyboard work alongside his layered guitars, it was not hard to imagine how ASSOCIATES' follow-up to 'Sulk' might have sounded had Alan Rankine and Billy Mackenzie not parted company.
'Theoretically Chinese' sold well for a European independent release, partly thanks to the positive reception for 'In A Manner Of Speaking' and its parent album 'Holy Wars' which came out earlier in 1985.
But true to the spirit that led to Tong's flexible status within TUXEDOMOON, he had already left the band and as his second solo album reached the collections of the cognoscenti, he was off composing for a modern ballet production called 'Miserere'. Thus, any further potential sales of 'Theoretically Chinese' that could have been gained from touring, remained unfulfilled.
Winston Tong's danceable synthpop outing was as much of a departure from TUXEDMOON as ROBERT GÖRL's 'Night Full Of Tension' was from DAF or PAUL HAIG's 'Rhythm Of Life' was from JOSEF K. In all three cases, a lightened spirit previously hidden amongst the angsty overtones of each parent band was allowed to shine through. But Tong opted not to develop this comparatively commercial sound… he was done with his experiment and quickly moved on.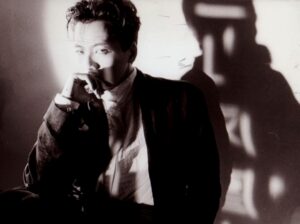 He ventured into jazz and continued his various theatrical pursuits, with the occasional reunion with TUXEDOMOON.
While 'In a Manner of Speaking' has since become a cult favourite, thanks to Mr Gore and numerous media synchronisations, the 'Theoretically Chinese' album deserves rediscovery and reappraisal as a demonstration of how art school and dancefloor can live together in a sophisticated, harmonic union.
---
With thanks to George Geranios at Undo Records
'Theoretically Chinese'
is still available as a download album via LTM Recordings
A Winston Tong compilation 'In A Manner Of Speaking (Best Of)'
featuring five songs from the 'Theoretically Chinese' period and the TUXEDMOON song is available on CD directly from http://www.ltmrecordings.com/in_a_manner_of_speaking_best_of_ltmcd2520.html
---
Text by Chi Ming Lai
11th August 2015