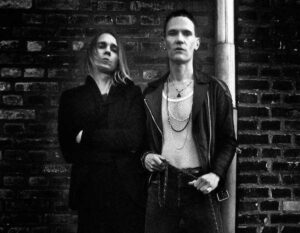 Despite having released six EPs since 2008, Malmö synth duo KITE have tended to be overlooked internationally.
Nicklas Stenemo and Christian Berg's 2013 EP 'V'
 offered layers of exuberant sounds and Stenemo's passionately rugged vocals on mournful but anthemic electropop like 'The Rhythm' and 'Dance Again'.
There were also the sub-Wilder production treatments on 'Wishful Summer Night' and 'I Can't Stand' which brought some enticingly devotional tension into proceedings. Full of brooding sadness but attached to a glimmer of hope, KITE's most recent release 'VI'
 came out in April.
Undoubtedly their best body of work yet, opening it was the magnificent progressive synth epic 'Up For Life'
. A sublime contender for song of the year, the two-part nine minute masterpiece has just been accorded the live video treatment with footage recorded at Stockholm's Debaser Medis. Lasers and flashing lights ahoy…
The parent 'VI' EP is a majestic collection of dark but melodic synthpop. The frantic energy of 'It's Ours' with its killer synth bassline and barrage of Simmons drums is another choice track from the EP and shows how modern electronic pop should be done.
With the cinematic atmospheres of 'True Colours'
, the metallically mighty 'Count The Days' and the spacey Sci-Fi vibes of 'Nocturne' also figuring on 'VI', KITE are further proof as to what's so special about Sweden. At the current rate of trajectory, the 'VII' EP should be out of this world.
---
'Up For Life'
is from the 'VI'
 EP released by Progress Productions. It is available as a CD or download via the usual online outlets
https://www.facebook.com/KiteHQ
http://www.progress-productions.com/artist.php?id=8
---
Text by Chi Ming Lai
12th August 2015