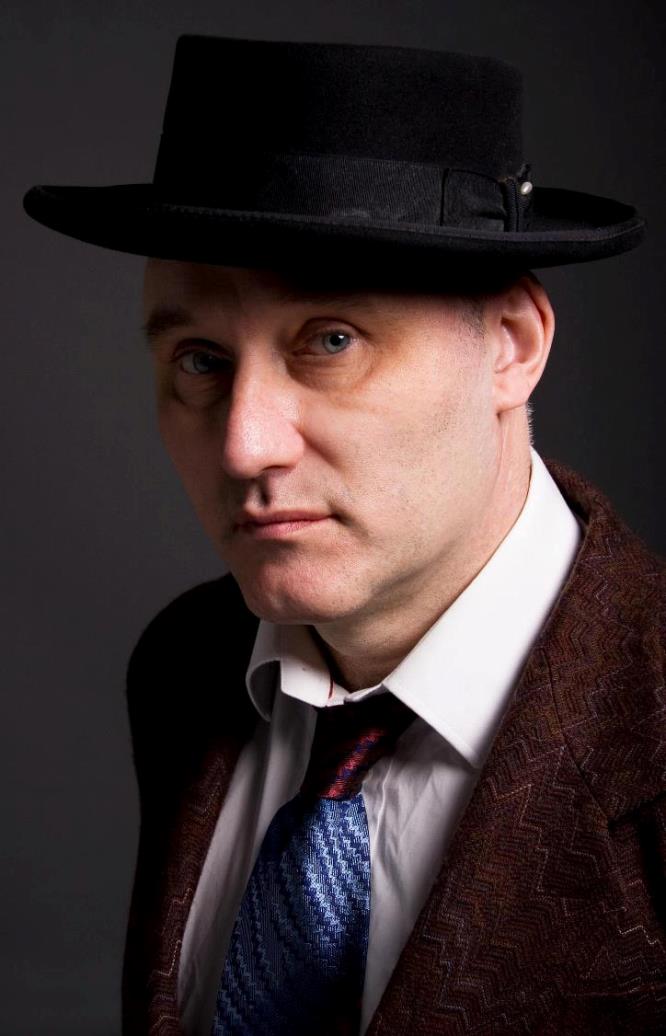 Jah Wobble was just 18 years old when he co-founded PUBLIC IMAGE LIMITED with John Lydon, Keith Levene and Jim Walker. Real name John Wardle, he was given his nickname and first bass guitar by a drunken Sid Vicious. After two albums 'First Issue' and 'Metal Box', he left the band in 1980.
Despite this, his creative mind and distinctive hypnotic bass style was now freed to work with a diverse range of artists and producers over the next four decades.
These included François Kevorkian, The Edge, Brian Eno, Winston Tong, Alan Rankine, Brett Wickens, Bill Sharpe, Baaba Maal, Chaka Demus, Dolores O'Riordan, Sinead O'Connor, Andrew Weatherall and Bill Laswell, as well as groups like ONE DOVE and THE ORB.
Forming THE HUMAN CONDITION who released two live cassettes before disbanding, he headed to Cologne to collaborate with CAN members Holger Czukay and Jaki Liebezeit, the material eventually coming out as the 'Full Circle'
album in late 1982 which included the minor European hit 'How Much Are They?'
. 'The 'Snake Charmer'
EP also featuring the trio followed in 1983.
Using his German experience, he showcased his eclectic tastes on the single 'Invaders Of The Heart', with Wardle reworking his bassline for PUBLIC IMAGE LIMITED's 'Death Disco' into a mutant post-punk dub excursion also featuring electronics and ethnic tape samples.
His album 'Rising Above Bedlam'
was nominated for the 1992 Mercury Music Prize and although he didn't win, he had played on one track from the eventual winner 'Screamadelica' by PRIMAL SCREAM. Outside of music, he obtained a BA in Music and Philosophy, while also acting as a book reviewer for the Independent on Sunday and The Times.
A strong advocate of World Music, he has a brand new album entitled 'Ocean Blue Waves'
out this Spring with THE INVADERS OF THE HEART. Big John chatted about his ethos and his career as one of the UK's most influential and distinctive bass players.
Your new album 'Ocean Blue Waves' has a very cosmic vibe about it, what inspired its concept?
There wasn't really a concept… sometimes with some records, there's a bit of a backstory but in this case, it was "let's go in the studio" and play naturally. The only number that had been pre-written was 'Take My Hand' which is a bit of a rock anthem.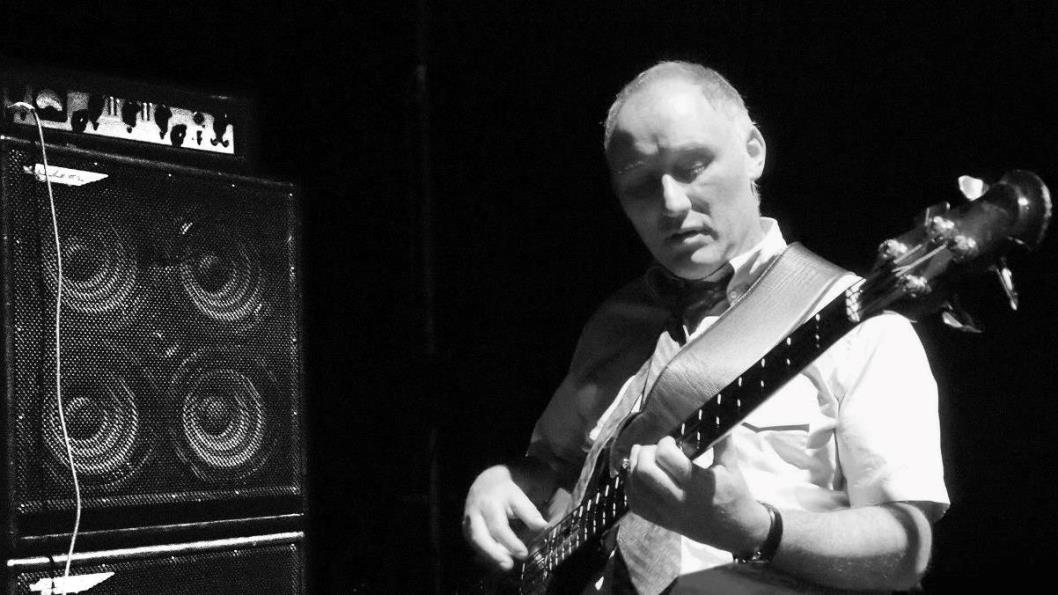 Do you compose by manner of band jamming?
It's our natural style, I would give them say a descending change and suggest a few things, but it would be the band doing their thing. My drummer Marc Layton-Bennet came a decade ago via my old percussionist Neville Murray who's retired now, he was the guy who would always suggest musicians for me.
I met George King, my keyboard player through an engineer I worked with and my guitarist Martin Chung was a good mate of Marc's, although I actually saw him on a video for a singer who he was playing with about six years ago. I tend to stick with the same musicians, like Neville was on the firm with me for like 30 years!
On 'Ocean Blue Waves', there's a mix of instrumentals and songs like 'Take My Hand', 'A fly Away' and 'Minds Float Free', how do you decide when a track needs vocals?
You think "what does this track need?" and sometimes it sounds like a backing track and you can hear a saxophone on it or a topline of a vocal. I remember I had these dubby psychedelic tracks that weren't really songs or an instrumentals, I was like "what is it?" but I then got thinking about William Blake, so it became this spoken word album.
Do lyrics come naturally to you?
Yeah, I've written a lot over the years, maybe a quarter of the live set has me singing and now I have to be careful and look after my voice properly which at 61 is a new one on me! I rented a room at an art studio in Manchester just to write some poetry 'Odds & Sods Of Epilogues' and an autobiography 'Memoirs Of A Geezer'.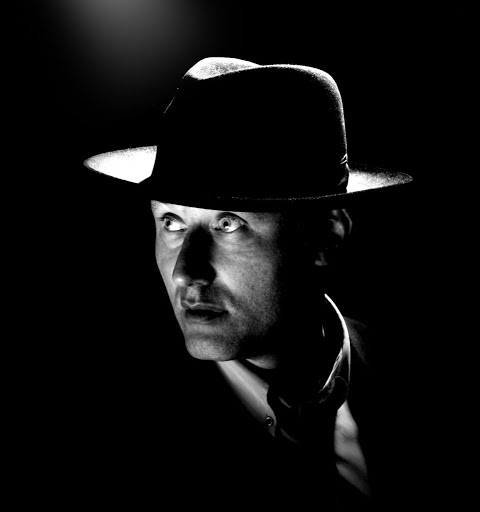 One highlight is the title 'Ocean Blue Waves' track which has a most amazing synth solo…
I came up with this b-line in Tokyo and it was driving me mad, we played it at a gig there and it was quite modal, not really much like the track as you hear it now.
I really wanted to use that b-line for something and the boys come up with something very different. It's better live now and it's very dreamy, we generally start the set with it.
But it's so nice, you don't really want to go into the first change or end the number, because it's so nice and hypnotic!
We're always pushed for time at the end of the night as we do quite a long set, so you have to do the change, you want that synth solo to go on and on and on! It's got a lovely sound, it's a bit softer and less minor key.
It all seems a far cry from PUBLIC IMAGE LIMITED, how do you look back on that time?
I loved it because I was just starting out, that youthful enthusiasm of an amateur, I'd like to think it's something I've still got. I always like to quote a Suzuki line: "In the beginner's mind, there's many possibilities, in the experts there's few…", so I try to keep a naïve approach and play without thinking.
There's certain basslines like PiL's 'Poptones' that are so perfect and circular somehow… actually I went back to playing Fender Precision bass after using Magnum for years after we played in America and did an album with Bill Laswell. Fender Precision makes me play a little bit more chromatically, these chromatic runs somehow sound cleaner. It works well with the old stuff even though it's evolving and the new stuff as well.
What influenced your playing style?
Dub reggae as a big thing, I loved soul, funk and disco. I liked the idea of patterns so very early on. I got my own modal sound going, because I would make patterns based around the dots of the fret. I couldn't count, I took a little while to learn the notes so I went by the dots on the fretboard…. I made shapes and patterns so that naturally led to a certain kind of block unit. A lot of the stuff I do is A minor, B minor, they're quite modal and fixed. When I play with a Fender, you get a flowing quality, it's quite musical in its own way I think.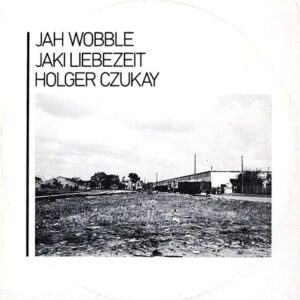 Did you eventually venture down the path of learning more formal musical theory?
No, not at all and it was probably just as well. I didn't get conditioned and you become educated because I worked with some really great musicians over the years like Jaki Liebezeit and Holger Czukay, and I hung on their every word.
I thought very hard about music and how the bass should work and sound like in conjunction with the drums or keyboards. I think I ended up thinking in quite an abstract way. I didn't have any knowledge of Bach or tonality so you had your own kind of approach.
The sonic thing was a big part of it because my generation were in the studio playing electric instruments, so the actual sound was as important as the phrasing or the playing.
After PUBLIC IMAGE LIMITED, you were suddenly off to Germany to record the 'How Much Are They?' EP with Holger Czukay and Jaki Liebezeit, how did that come about?
This was through a mate of mine, Angus MacKinnon who interviewed me in regard to 'Metal Box'. We became friends and he knew I wasn't happy in PiL, so he suggested I play with CAN. Holger happened to be in London with his manager Hildegard and we got introduced. I got on with him and we went to a studio to have a little try out. I wrote the basic parts for 'How Much Are They?'
, the b-line, the drum beat, the simple string parts and the triad chords over the bass so I was developing this style that was quite catchy.
What happened next?
Holger took it back to Cologne to edit it quite radically and it was mixed by Mark Lusardi, a very good engineer. It became the first track of an EP we did called 'How Much Are They?'; it went so well that they flew me over to Germany and we recorded stuff like 'Trench Warfare' and other stuff. That's when I met Jaki for the first time, he's probably the most special person I've ever met… as a musician he's a master player.
Had you been a CAN fan?
Yeah, a bit! I liked the groove stuff, I wasn't mad on everything but it was stuff the stuff where Jaki got his thing going on those earlier albums that I liked.
How did you find playing along to drum machines?
I like drum machines, they're in time and it meant you could play over and over and over. I'd been in squats and when PiL started, it was terrible the way the money was sorted out, but I was able to get a Wasp synthesizer, a little analogue Roland rhythm box, a Godwin String Concert keyboard, a WEM Copicat and then later a TASCAM multi-track cassette portastudio. So I was very idiosyncratic and quite obsessive. so I would sit there for hours with a drum machine going. It was fantastic because that really helps your timing, you become machine-like yourself really.
Holger Czukay was quite unique in that he was a bass player who was not really interested in playing bass anymore, but was becoming more of a sound painter, is that how you saw it?
Yes, I did. He was a producer… there had been clashes in CAN over the direction of the band but Holger was the guy who would be the architect and would get busy with the razor blade, editing after they'd recorded. So that's how it was, he really liked my playing and thought it was fantastic, saying "I couldn't do what you do!" and I was like "REALLY?"
Jaki really liked it too and I was really surprised but delighted. Holger said "It's like Miles Davis, you play one note and everyone knows it's you". It strange, I still don't know why or how or what, but I do have my own sound, I know I have my own sound. Jaki had his own unique sound too…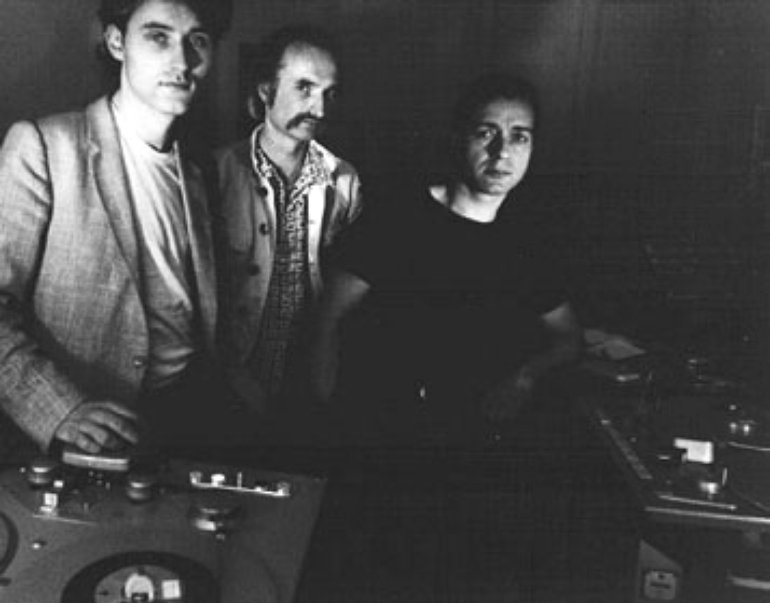 Jaki was quite fascinating in that he could play fast, but it would be quite ambient…
He was so simpatico over the space he was playing in, and he could play fast but there was a totality to the sound. Some of that was down to the fact that they only used a pair of overhead mics, it sounded so good in the studio. They didn't have a dividing wall between the control room and the recording room at Inner Space Studio in Cologne.
It was one space, an old cinema so everything sounded great there. I learnt a lot and developed that over the years, not trying too hard with mics so that you get a total sound with a certain spacious quality within the music, even when it's uptempo.
The 'How Much Are They?' EP was dedicated to Ian Curtis?
That's right, his death was a shocker, he was a special person and it seemed like a nice thing to do, it was such a shame for him to die so young…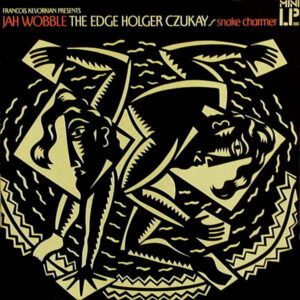 On the 'Snake Charmer' EP, you worked with the-then emerging François Kervorkian who brought a Linn Drum Computer to the studio, that must have been a revelation?
Yeah, but I wasn't mad on the Linn Drum sound with its big toms and rock kick thing. I always preferred those Roland drum machines, but the Linn was still really good, it was a revelation.
François was good to work with because he was from a dance background so he was really into making records dancey and tuned into the dancefloor.
François brought it in and there's the famous story where Jaki became very cross with the Linn Drum and accused it of being slightly out of time! We thought that was impossible as it was a machine, but Jaki insisted it was out of time. So when we timed it back, it was! It was so incredible, like 4 BPM out, losing 3 BPM over the course of a minute but he was correct! He got really angry and played this cross-rhythm, then suddenly, there was this puff of smoke come out the back and the Linn fused! We couldn't get it working again! So Jaki had out-synched this Linn Drum, that was the power of his mind!
'Snake Charmer' also featured The Edge from U2, how was it to work with him?
It was very easy, he was a very nice guy… when he arrived in the studio, I was having this massive row with François, I saw him and quickly said "Hallo, I know who you are, I can't wait to talk to you but I've got to finish this f*cking argument! Nice to meet you!" *laughs*
The Edge was a nice bloke, François knew him because he'd remixed a couple of U2 tracks. He made a lovely sound on 'Hold On To Your Dreams', just beautiful.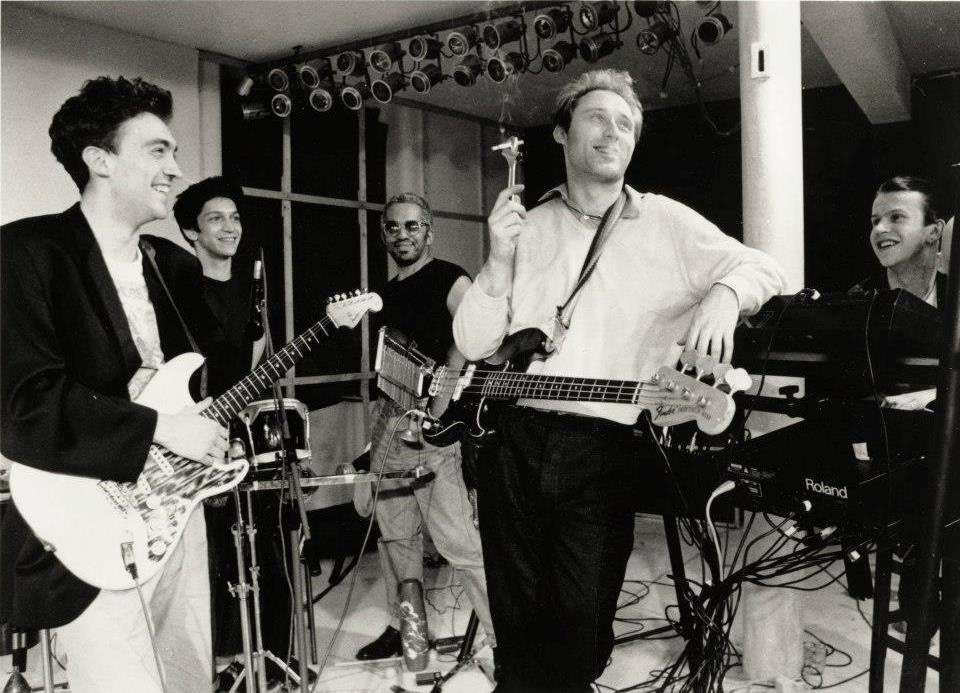 You took a break from music but came back?
Sometimes I got lazy but I stopped drinking in 1986 and I was halfway through an album called 'Psalms', so the final half was done very newly sober. Then I started working as a courier and applied to work for the Post Office and London Underground. By 1987, I started working for the Underground, I chose them over the Post Office. I still miss for the Underground, I loved it.
I was listening to a lot of music, then Neville Murray knocked on my door and asked when we were going back on the road? So we put THE INVADERS OF THE HEART Mk2 together and we started again. We were working with a guy called David Harrow and I started being active in music again. If there was a break, it was only for about two months!
You worked with the late Andrew Weatherall on several occasions including on 'There Goes The Cure' from 'Morning Dove White' by ONE DOVE, what was it like to work with him?
I was living in South London and that rave scene was going when I walked to Embankment. I would see all these clubbers in Villiers Street, queuing to get into this after-hours club and thought "this is interesting", this would have been around the beginnings of acid jazz. I started getting some work in that scene with those kind of DJs, Andy gave me a kick start coming back into the business.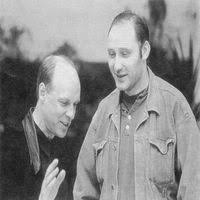 You were working with Brian Eno for 1995's 'Spinner', can you remember what the creative dynamic was like between you?
Brian Eno was a bit half and half… for one track, he said something like "Oh, I want you to treat it like a moreish maiden" and I was like "Stop being funny, stop playing games! DO YOU LIKE IT?" *laughs*
I do like Brian, you might get the impression I don't, but I do! It was a good thing for me to do and he's a kind man.
I'm touring with his brother Roger as part of THE ORB live band. He's into all those minimalist Harold Budd and Debussy piano pieces and I think he's been an influence on Brian. It all came about via Derek Jarman, he approached me and because he'd done 'Jubilee', he knew Brian.
I'd done these little piano pieces like Shostakovich, clusters of notes which we turned into tracks. There wasn't a lot of money so we couldn't use lots of players or have a big studio, we did it in my little home studio in Bethnal Green using our imagination. Some records don't last as well as others but I think 'Spinner'
has lasted really well, it's really got something special about it and stood the test of time.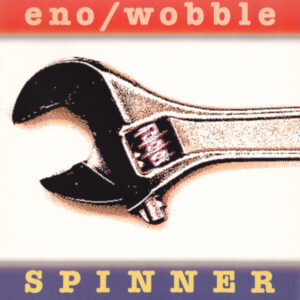 If you listen to 'Spinner'
now, it's like the precursor to some of the dance music productions over the next two years with the effects on the drums and stuff, because up until then, having effects on drums was seen as quite bad taste, it didn't work.
You'd put phasing on guitar but you'd have to be careful about drums. But somehow, it kind of worked with that phasing.
I used to do a lot of walking along the Lea Valley in London, and you'd be walking past old soap factories up the River Lea and see semi-rural marshlands, so it would get very trippy.
So that would influence the music, doing things in 7/4 time with a real haunting vibe. It was like walking music because each time we'd finish a track, we'd use it to walk to. There was something about the whole do-it-yourself concept, the way it was recorded on computer and how we used our expertise to record loops of Jaki and stuff.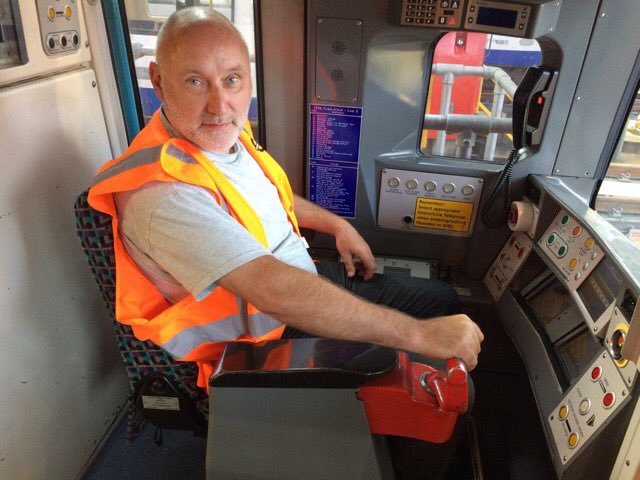 What would you say have been your career highlights?
There's magical moments in my life and not just with music. One of my highlights was walking across the grounds of Birkbeck College, London University on the first day of term when I went there, that was wow! And there was driving the tube train, westbound from Stratford to Mile End for the first time on this really fast section of line… I was just thinking "I AM DRIVING A F*CKING TUBE TRAIN, HOW D'YA LIKE THAT!" *laughs*
It's that sense that you have sometimes of observing yourself, it's quite detached… like a big mind thing looking at you, you get that in life and you get it on stage often. It's like when people talk about an out-of-body experience, but you're in control, you're the observed and the observer at the same time.
I've had so many moments like that, like the first gig in sobriety with Neville in Switzerland, I woke up in a pension hotel overlooking the square with the smell of croissants and coffee wafting up in the morning in spring… I was like "I'm sober and I'm back on the road", it was magical!
---
ELECTRICITYCLUB.CO.UK gives its warmest thanks to Jah Wobble
Special thanks to Sulley Archer at Hush PR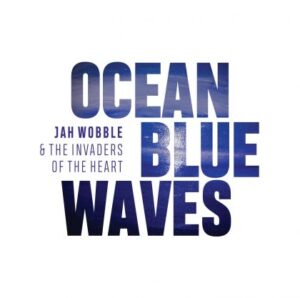 'Ocean Blue Waves'
is released on 27th March 2020, available as a CD or download now direct from https://jahwobble.bandcamp.com/
https://twitter.com/realjahwobble
https://www.facebook.com/Jah.Wobble.Music/
https://www.instagram.com/real_jah_wobble/
https://open.spotify.com/artist/5jhqwsWfRaETrWPWI0Rc7u
---
Text and Interview by Chi Ming Lai
3rd March 2020