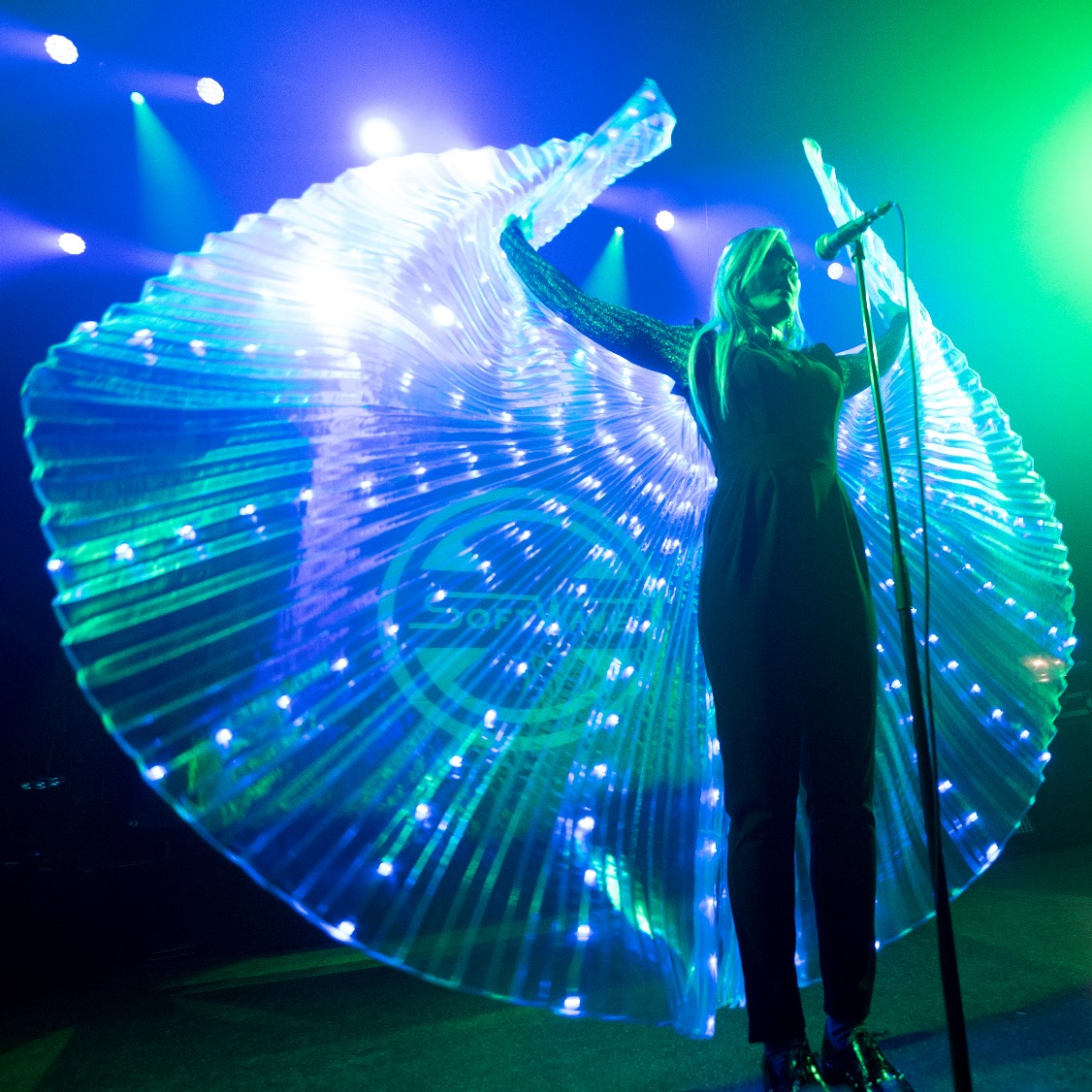 As highly respected veterans with a career of over four decades and still able to fill concert theatres around the world, OMD have used their position and earned a fine reputation for providing opportunities to fledging electronic pop acts to shine in front of a sympathetic audience.
The latest beneficiary has been the Danish synthpop couple SOFTWAVE who were accorded the honour of opening for OMD in Oslo, Stockholm, Malmo and Copenhagen during the Scandinavian leg of their 2020 'Souvenir' greatest hits tour.
A keen OMD fan from Germany, Anja Minnemann went to all four of these gigs and observed: "It was amazing to watch SOFTWAVE's performances. They gave a very strong performance every time I saw them and they grew in confidence so much from the first gig too the last gig! When they performed in their own country Denmark, you would have thought they were the main event!"
Unlike Sweden and Norway, Denmark has not been known for a tradition in electronic pop, but maybe there was never been a group worthy enough in the past to lead and inspire? SOFTWAVE's album 'Game On'
featuring songs included in the live set like 'Galaxy Of Stars' and 'Something Is Missing' has been one of the best debuts to have emerged from the Nordic region in the last few years.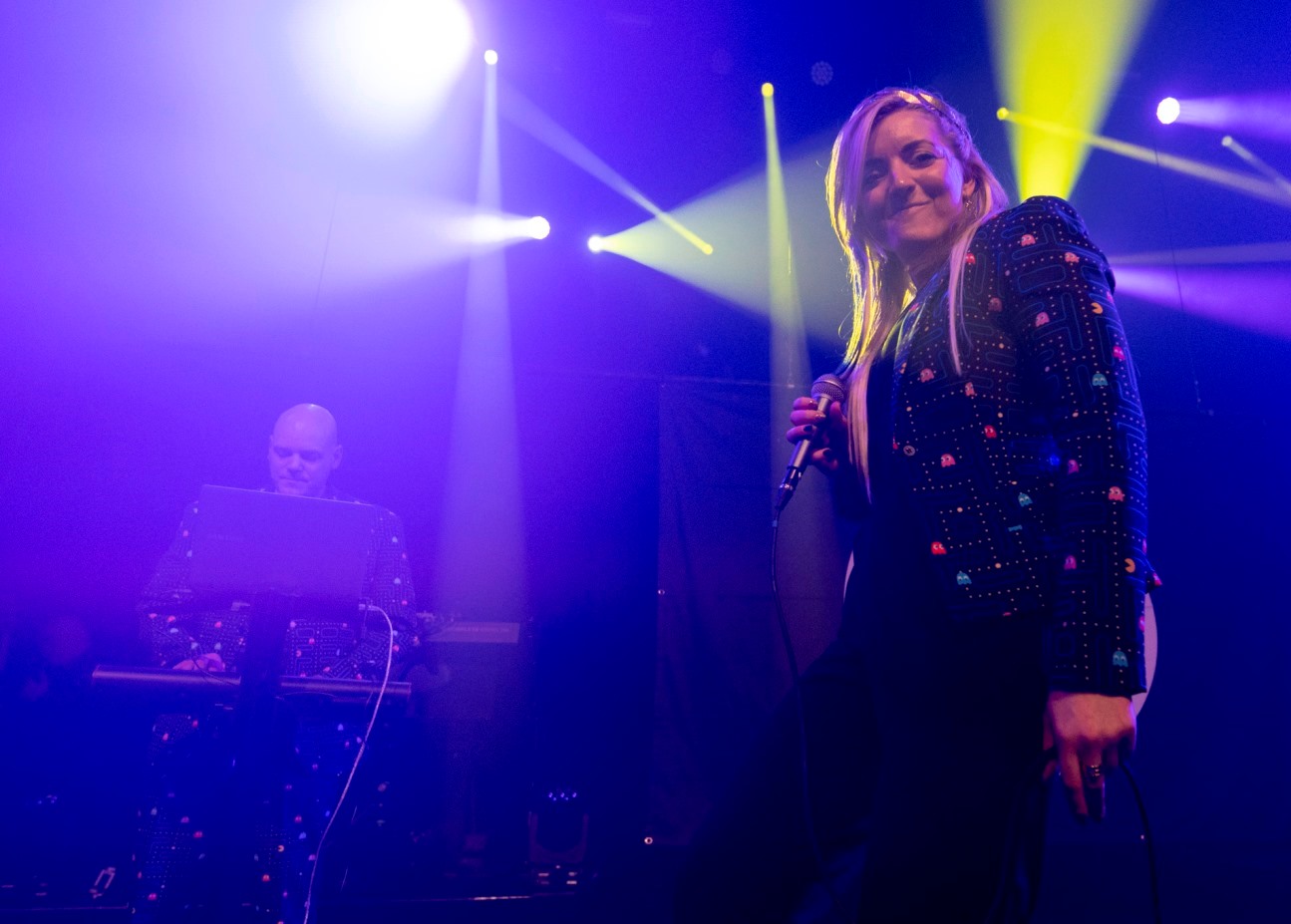 Without doubt, the pair have certainly been the most promising synthpop act from Denmark since TIGER BABY whose last album 'Open Windows Open Hills' came out in 2011. "The Scandinavian people are always a bit cool but Catrine and Jerry warmed them up massively" said Anja, "Her voice was clear and she had so much power in it. It seems she can't stand still, the rhythm was her cardio. Jerry was the quiet guy behind her, dressed up in a PacMan suit ?"
"They captivated the crowd and got them involved with chanting 'OMD'" she added, "both the band and crowd were interacting with each other, which was an amazing feeling for both. One of the things I'll always remember is, when the stage was dark and Catrine come onto it opening her arms and her 'wings' had lights on and she glowed in the dark, she looked like a massive butterfly. The reaction from the crowd was awesome! Songs like 'No Need To Hide' stay in your mind for a very long time".
Enthusiastic UK-based Dutch OMD fan Marilyn Wilson remembered: "I first heard about SOFTWAVE in 2018 when Chi from ELECTRICITYCLUB.CO.UK told me that both Catrine and I were going to be on the same 80s Throwback Floating Festival cruise and that we should meet each other. The ship was rather big and we were never in the same location, so that never happened unfortunately. I did follow Softwave on Facebook after I came back home from the cruise and really liked what I heard."
ELECTRICITYCLUB.CO.UK have often remarked how SOFTWAVE sound like Celine Dion fronting ERASURE and certainly the latter's instrumental palette is a similarity that many have referenced.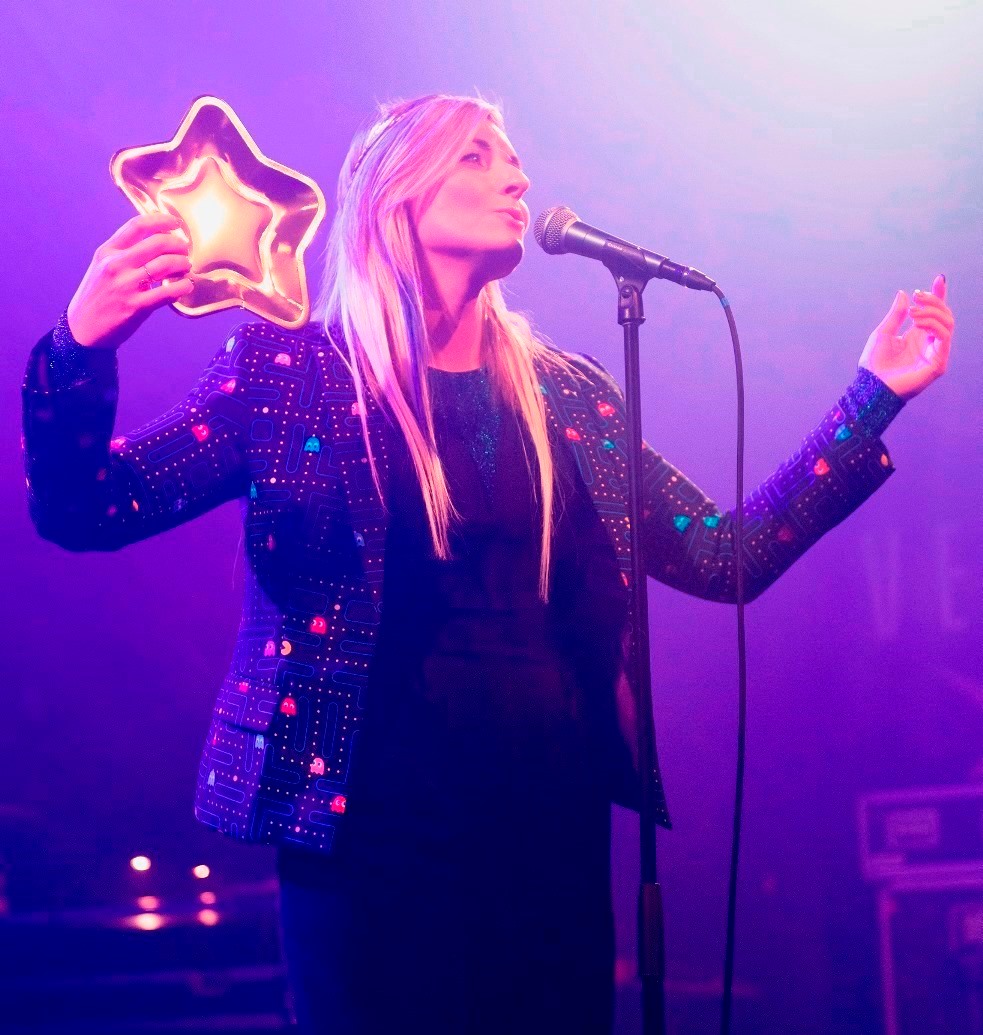 "The sounds and melodies that Jerry uses remind me a bit of Vince Clarke's work, and Vince is one of my musical heroes" Marilyn said, "Catrine's voice is beautiful and powerful and compliments the synths wonderfully! I was so excited when I heard that SOFTWAVE were going to support OMD in Scandinavia, and their four performances certainly didn't disappoint!"
With Catrine as SOFTWAVE's vivacious front woman, she garnered the majority of the attention but she worked hard on her performance to maintain it, as the measure for support acts is not how many people are watching at the start of the set, but how many still remain at the end.
"Catrine is a natural on stage and presented all songs with lots of flair and humour" added Marilyn, "She was energetic, confident, interacted a lot with the crowd and managed to get lots of people, who had never heard the music before, to dance throughout the performance! That's why it didn't surprise me much when people queued up to meet the band after the gig. Both Catrine and Jerry also happen to be the loveliest friendliest people you could ever meet! My favourite song on the setlist was 'Something Is Missing'. It's so catchy I had in my head for days after the gigs."
Seeing SOFTWAVE perform in Oslo and Stockholm, American music journalist and future music enthusiast Mary L Chang could not help but be impressed. "It's a tall order, opening for an established band like OMD who have very devoted fans. From the very first song, the aplomb of Catrine Christensen set the stage for a spellbinding and energetic set. Whether in their Pac-Man-themed jackets or in Christensen's case, lit up with a blue LED cape, SOFTWAVE gave an engaging, unforgettable performance."
After the misstep of choosing the admittedly low maintenance LOVERS ELECTRIC to support on their comeback tour in 2007, OMD played it safe with the dependable CHINA CRISIS in 2008. However, they then took a greater interest in their special guests and a run of excellent up-and-coming synth acts have since been chosen for the coveted opening slot. Among those acts touring with OMD since 2010 have been VILLA NAH, MIRRORS, VILE ELECTRODES, METROLAND and TINY MAGNETIC PETS.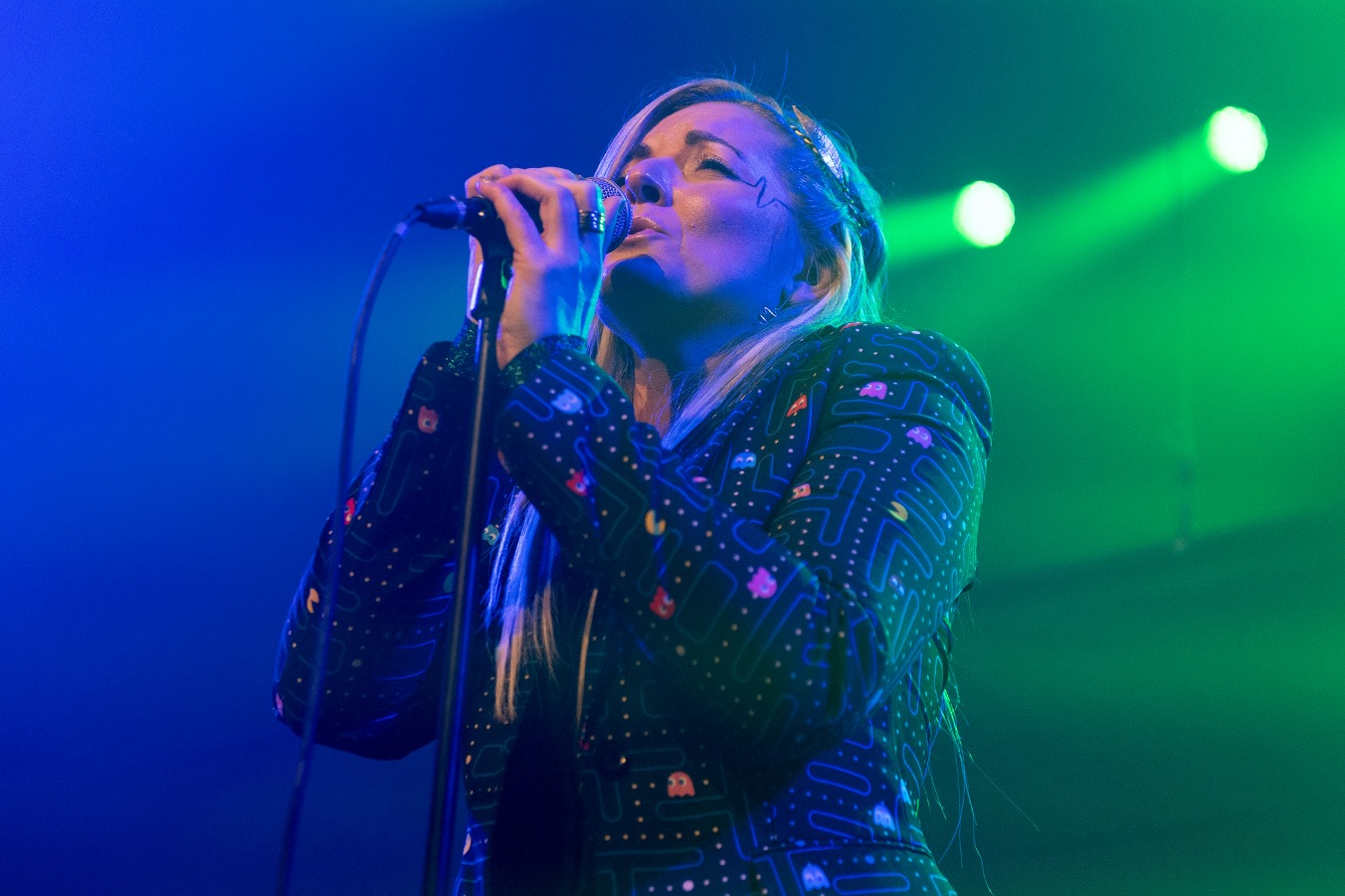 In a strange coincidence of synchronicity, all five of these acts had been featured on ELECTRICITYCLUB.CO.UK previously and now SOFTWAVE were eagerly following in their footsteps as the sixth.
Catrine Christensen and Jerry Olsen spoke to ELECTRICITYCLUB.CO.UK about their tour with OMD and what the future holds for SOFTWAVE following their successful four date Scandinavian run…
How did you receive the news that you would be opening for OMD?
Catrine: By e-mail. It was an ordinary day. I checked my inbox and there it was! We thought they would never answer – an email was received from OMD's manager saying: "The band has agreed".
Later we were told by Andy McCluskey himself in Oslo that we were personally chosen by OMD. It was a great start to begin the tour – we felt SO happy, they were really kind to us during the whole tour. We actually felt like we came closer for each place we played with them. And now I miss them and the touring life. I want more ?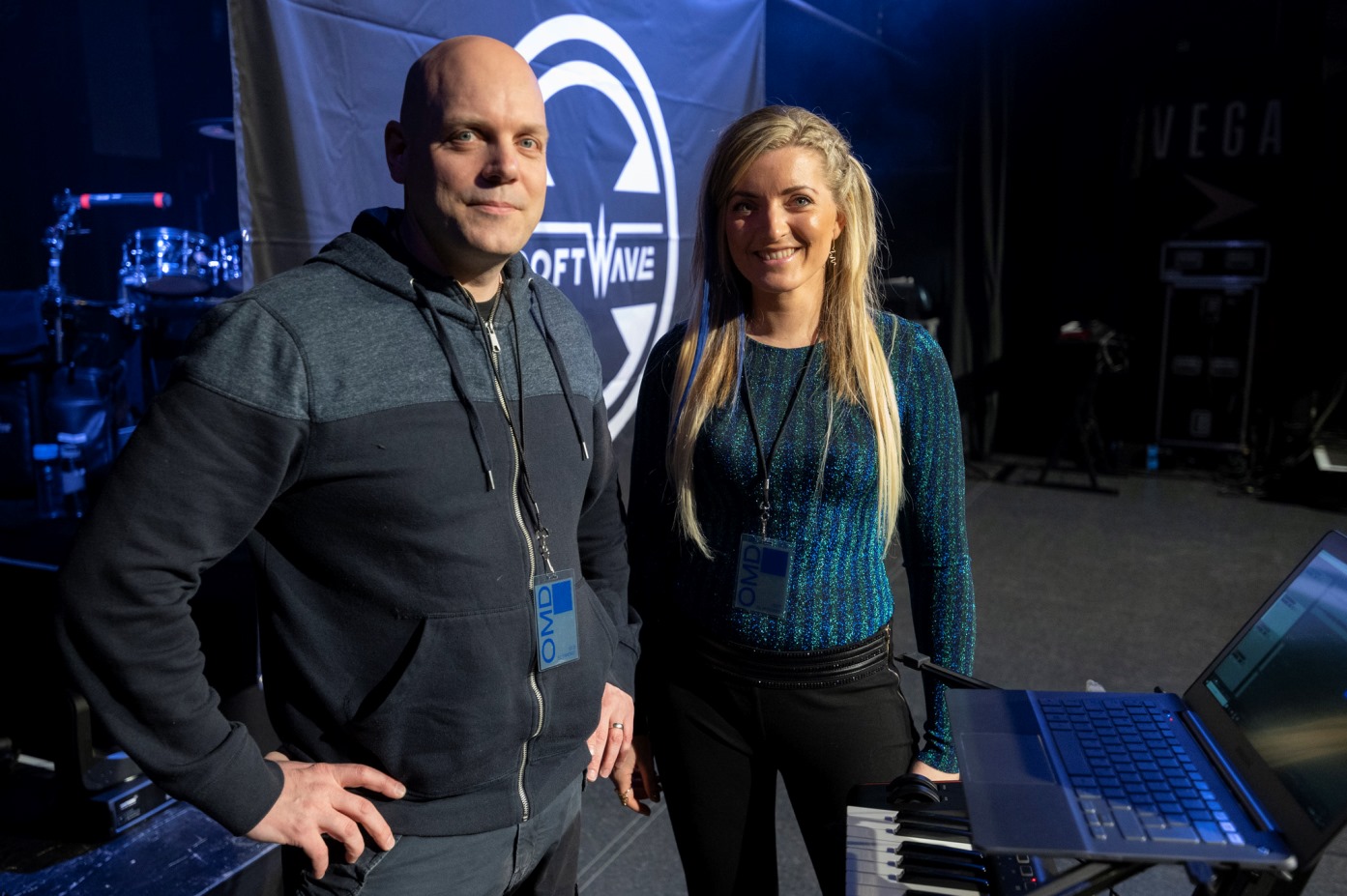 So how was preparing for a four date touring different from a one-off show for you?
Catrine: OMG! Haha! As this was our biggest opportunity ever, I had to prepare more than I'm used to.
To our biggest surprise, preparing our show wasn't the toughest. It's no secret that I'm a perfectionist when it comes to planning things.
Every single detail was double checked several times, for example planning transport, flight, train, cruise, hotels and not to forget all the new contacts we had become from each venue promoters, production managers, bookers etc.
Jerry: It was all so big and new to us. So of course, we were both very frustrated in the beginning, because we knew this was big and it meant so much to us that we wouldn't fail. We wanted to make a great impression on OMD and the audience to show them that this tour wasn't just another show to us – but the biggest four shows we have ever done…
Catrine: …and maybe the door to future success – a dream would finally come true. We couldn't be more happy – and GOD I so much wish for more of this to happen! Even though preparing was tough! But I believe everything new is difficult. We could easily do it again as we now know how it all works.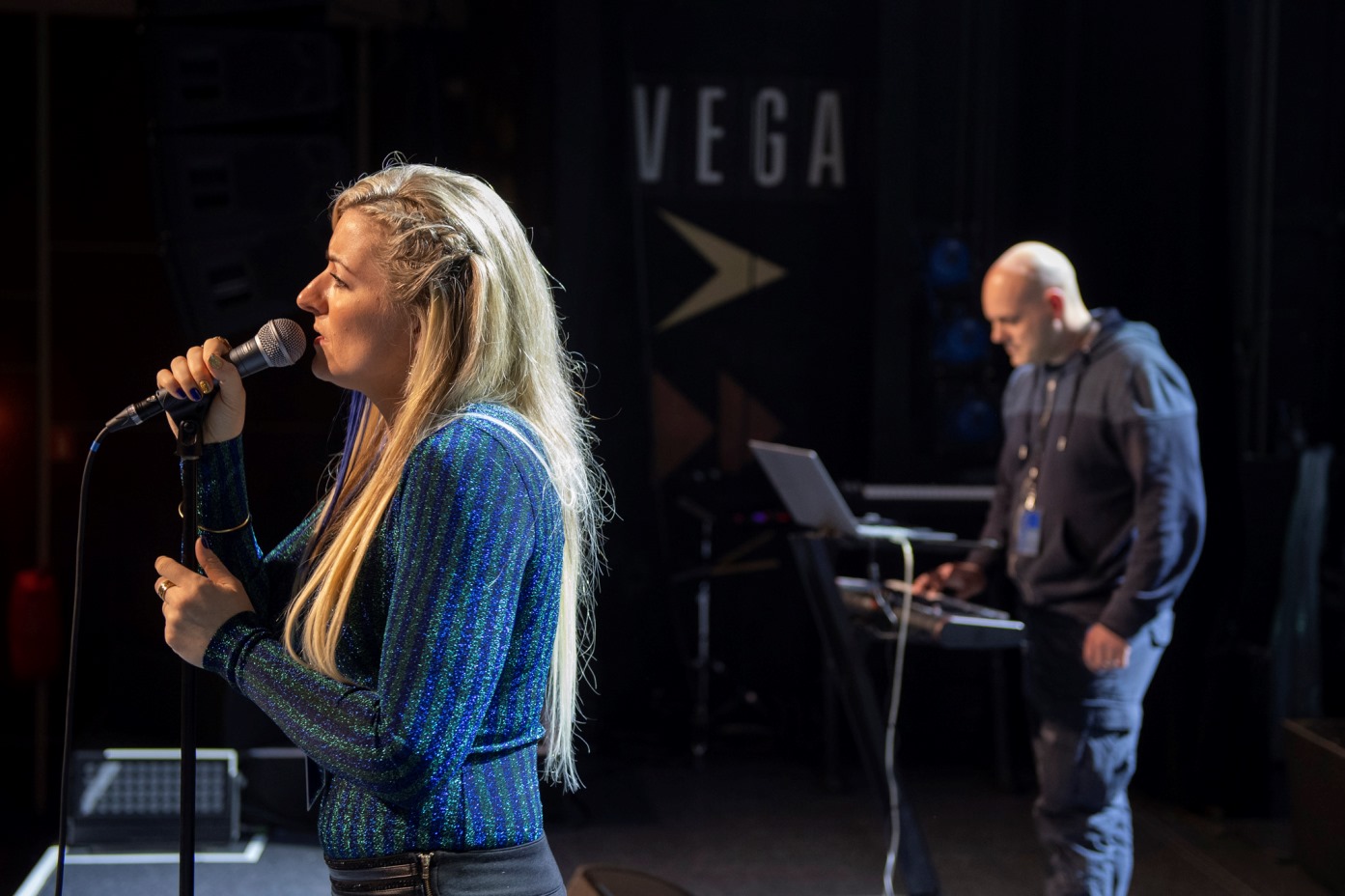 Were there any interesting dilemmas with choosing songs to perform for a 30 minute slot?
Catrine: Yes, sure. 30 minutes isn't a whole album, so we had to remove some songs. What we didn't expect was that we had to add an old song because Vega, the venue in Copenhagen decided to promote us by using the 'On & On & On' music video. So we chose to add that one too, replacing 'Human Beings'.
How were rehearsals going, did you have a particular process? Voice exercises, run throughs etc??
Jerry: We did rehearsals one month before the first show and each day during the tour, even during the cruise to Oslo and at hotels.
Catrine: I did voice exercises each day for one month up to the first show, but that's not more than I'm used to before a show.
I tried to keep my throat warm and healthy, it's like going in a fitness centre, not before one month of training you can feel a difference. I drank tea each day up to and during the tour. I was very afraid of getting sick and not being able to sing. But I didn't ?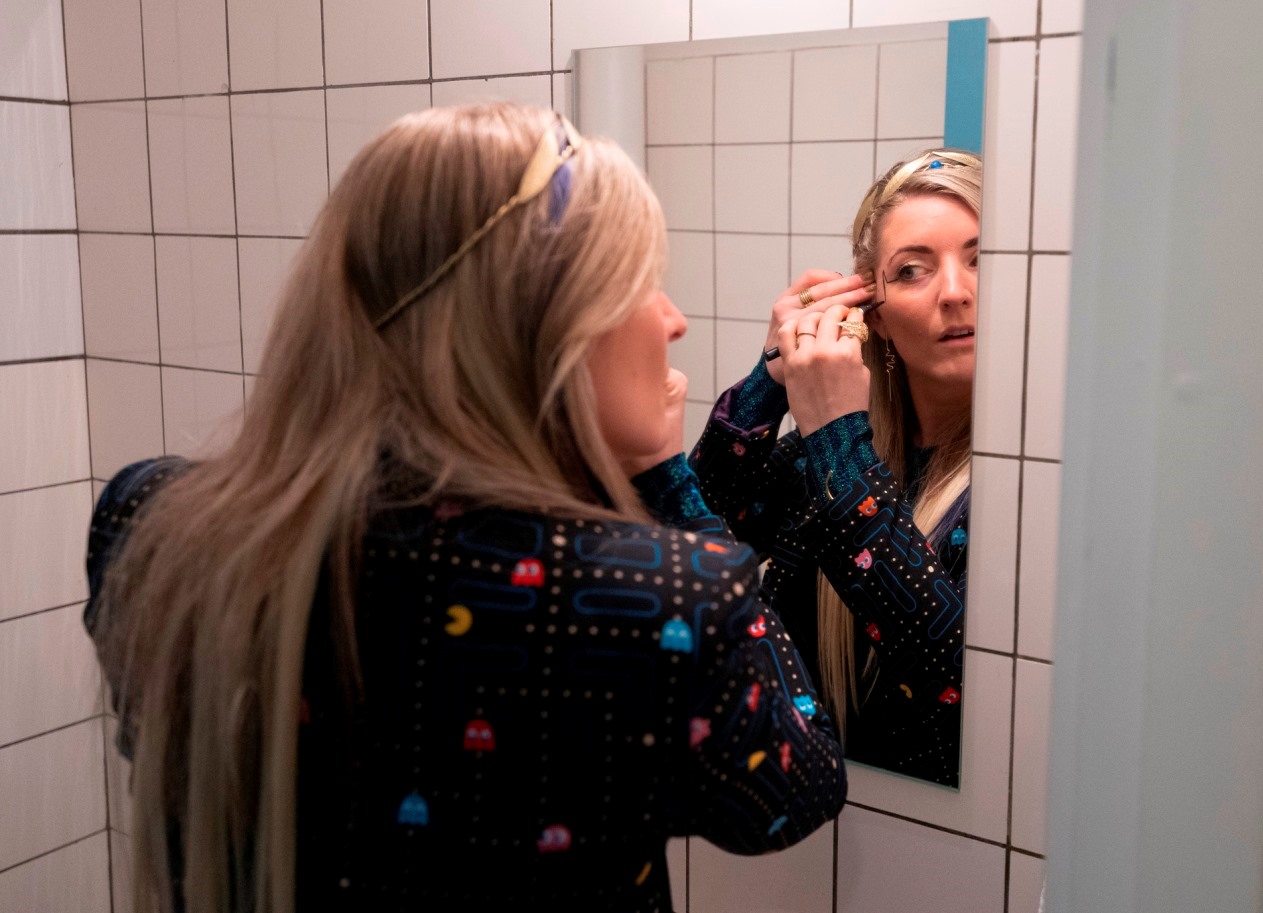 You finally had a CD of 'Game On' available for sale…
Catrine: Yeah. We were not supposed to. But after receiving a lot of requests, we decided to produce some. Luckily we received support from DPA and KODA's Cultural Funds, or else we couldn't afford it. One month before the tour, we decided to release the CD together with the announcement of the 100 new copies of the 'Game On' vinyl, a "tour edition" in lime colour. Surprisingly we received many CD pre-orders, and I had to arrange all these to be shipped safely to the fans, all signed during the preparations for the tour. WOW! That was stressful. But after that, we could finally concentrate on the tour.
Jerry: The CDs sold well and 50% of them are gone already. So we're very glad about our decision. But the vinyl sale went even better!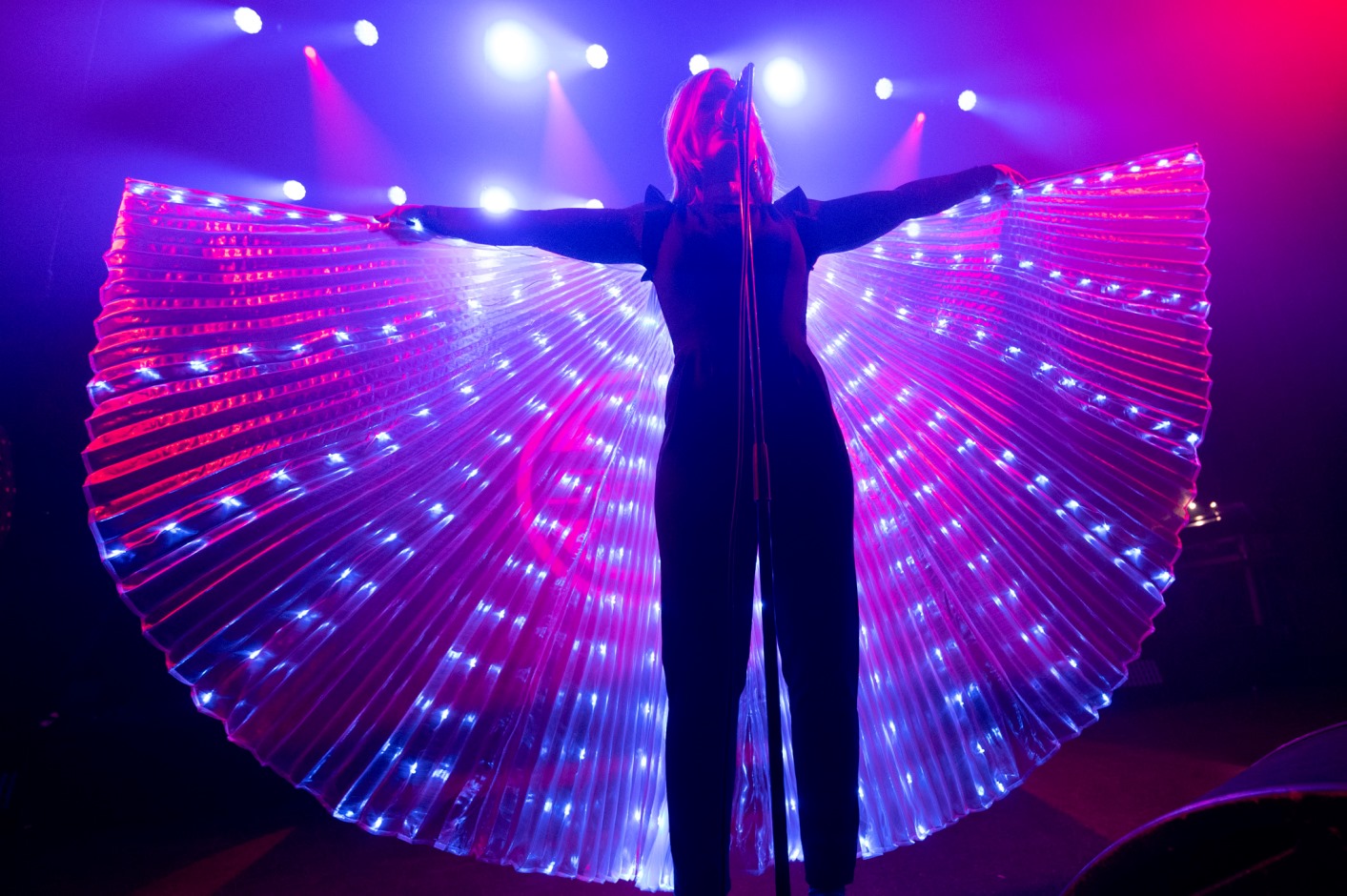 Your choice of stage clothes made a strong visual impact?
Catrine: Yes, it did. Every single detail was carefully chosen. The most popular visual impact was definitely the blue LED-wings I was wearing during 'Guardian Angel'. Visuals and stage clothes are almost as important as the music when performing live. We want the audience to experience the music in another way than when listening at home.
As we don't go on compromise on the quality of the music production, we feel the same live. To show that, we had to "show" it in a visual way.
Jerry: We both wore the PacMan suits as it's related to the 'Game On' album. It's not a permanent look though.
Catrine: Regarding the shows we did during the tour with OMD, it was my idea to spice up the show with a star, LED wings and my clothes which I changed a little at each show, but it still had the same main look. During all our shows, I was always wearing my wave-earring and wave-makeup. As something new, I added a Greek goddess hair-bracelet which I bought together with my Greek family in Athens. After the tour I found out that many people noticed these small details – so that made me very happy. It was all worth it ?
OMD souvenir tour – Behind the scenes

ATTENTION!Watch this video to have a closer look behind-the-scenes and to see how much we enjoyed touring with Orchestral Manoeuvres in the Dark.Interview by ELECTRICITYCLUB.CO.UK "On Tour With SOFTWAVE":https://www.electricityclub.co.uk/on-tour-with-softwave/We are so pleased to have so many lovely people around us to support us during the whole tour experience ❤ THANK YOU ❤Playlist by OMD: https://open.spotify.com/playlist/3Pkycy3mykGmoiT3EVSpvy?si=vVCDmE6yRWmmkyzrNy01SwWatch FULL live show (VEGA): https://youtu.be/sg8FJ37vaSc

Posted by SoftWave on Wednesday, February 26, 2020
How was the first night in Oslo?
Catrine: As you say "the first night". We didn't know what to expect and what people would think of our show. Therefore we were both very excited and nervous at the same time. A strange but also an incredibly good feeling. (Watch behind-the-scenes video ?
We weren't sure how much we could ask or if we were allowed to meet the band and talk with them backstage. So we kind of just followed the flow and suddenly we met Andy McCluskey and had a short chat.
Afterwards we said hi to Paul Humphreys and the other band members. We also had the pleasure of seeing their soundcheck along with the VIPs. They looked very curiously at us, as we were just standing there among the hardcore OMD fans, I had this feeling that they wasn't used to that.
Jerry: After the show, something surprising happened, first of all we sold a lot of merchandise and many came to us to give us feedback. Some gave us high-five and one man told us that what we did was amazing. He said he had never seen an OMD support band like that before. He also added that Norwegians are normally very shy in nature, but we made them clap, jump, shout and smile ?
Even a video from an audience was uploaded to YouTube afterwards – and that's a good sign…
You actually had some German and Dutch OMD fans there to cheer for you?
Catrine: Yes we had, Anja and Marilyn. They were amazingly supportive during the whole tour. We really needed them, so their presence meant a lot to us. At least one person to cheer you up is precious – but we were lucky to have at least two during all four places <3
The tour wouldn't have been the same without them. But we must say that they maybe would not have known about us if it wasn't because of our huge fan Shaun who couldn't be there and told Anja to keep an eye on us.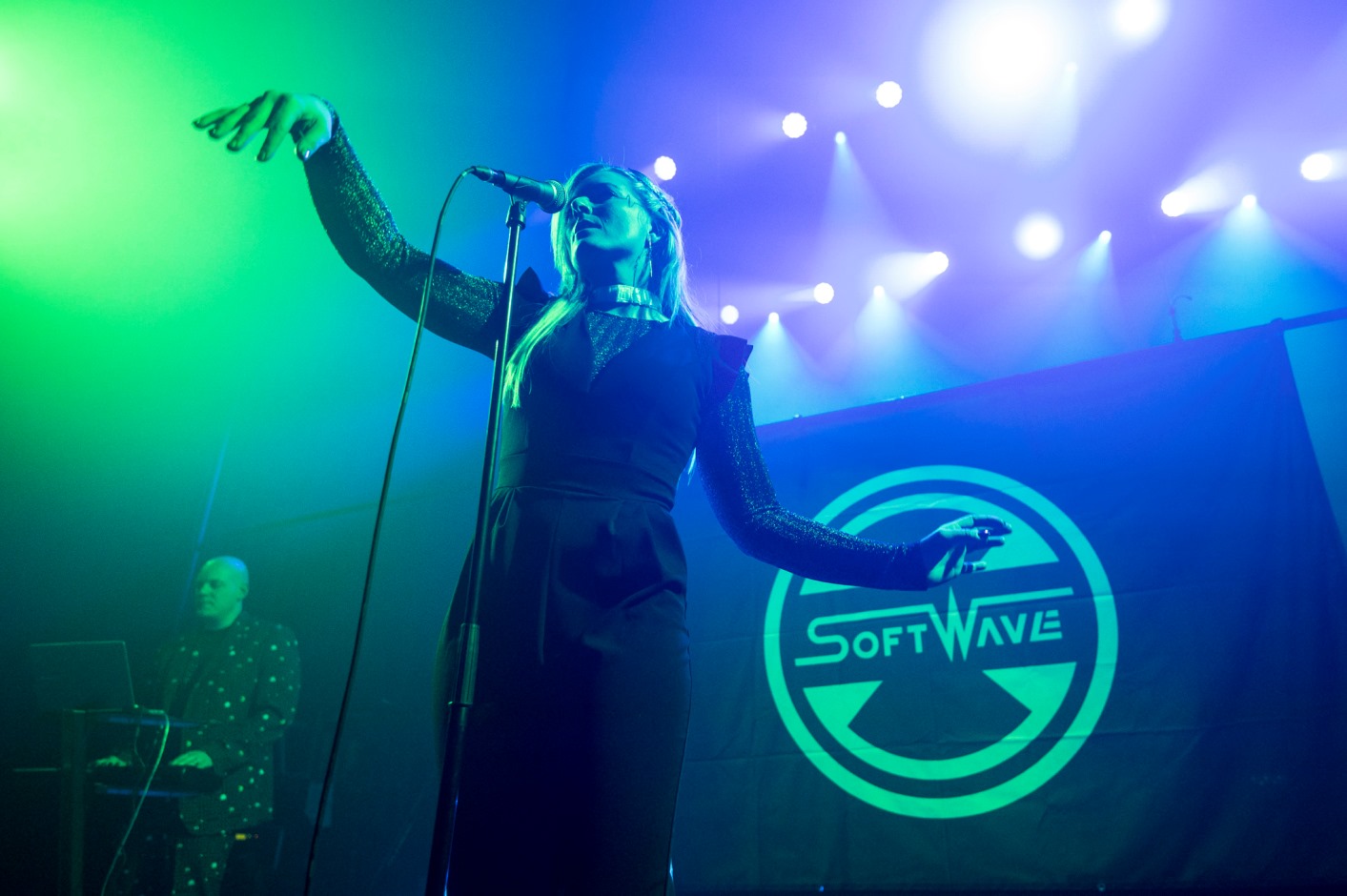 What was the overall reaction in Oslo?
Jerry: It was impressive. They were all very supportive and cheered us up. We had so much great feedback. If this wasn't the case, I'm afraid it would maybe have made me nervous for the other shows.
Catrine: We were told by Andy that they would come and see our show. So we were very excited to hear their feedback afterwards.
Then onto Stockholm, did the audience here differ?
Catrine: There were unbelievably so many photos taken here, it sure was the most beautiful venue we have ever played at. We would love to go there again. Even the backstage area and service was amazing. Sadly there wasn't much videos posted by the audience. But we were lucky to find one:
Softwave – Something is Missing. ??

Posted by Tom Svendsen on Sunday, February 9, 2020
How was your relationship developing with the road crew?
Jerry: Step by step. We ended up having a very good time together, it felt like a small family. We really miss them.
Did you get to chat much to Andy McCluskey and Paul Humphreys during the tour?
Catrine: Yes. But it wasn't easy. We were afraid it would never happen. So we stayed humble and didn't want to demand them to have a chat with us, so we shared our wish with their manager and made it up to them to decide when and if they wanted to chat with us.
That was a good decision as we experienced they opened up more after each show. During the last show in Copenhagen, they came to us many times for a chat and we even had photos with them backstage. We also gave them and the rest of the band a copy of the lime vinyl including a personal message and signed of course ?
They seemed very happy about the gift and they also gave us great feedback on our performance, actually many times. They also said they were honoured to have us with them on tour – and we didn't know what to say because we were the ones to be honoured to be chosen.
Right before we went to the stage in Vega, Andy told me that he was amazed by my way of performing. He said something like this: "…without looking nervous at all you just went on stage like a queen saying here I am…". That really was a huge compliment. I hope to chat more with them, we had such a great time and even better, the same sort of humour.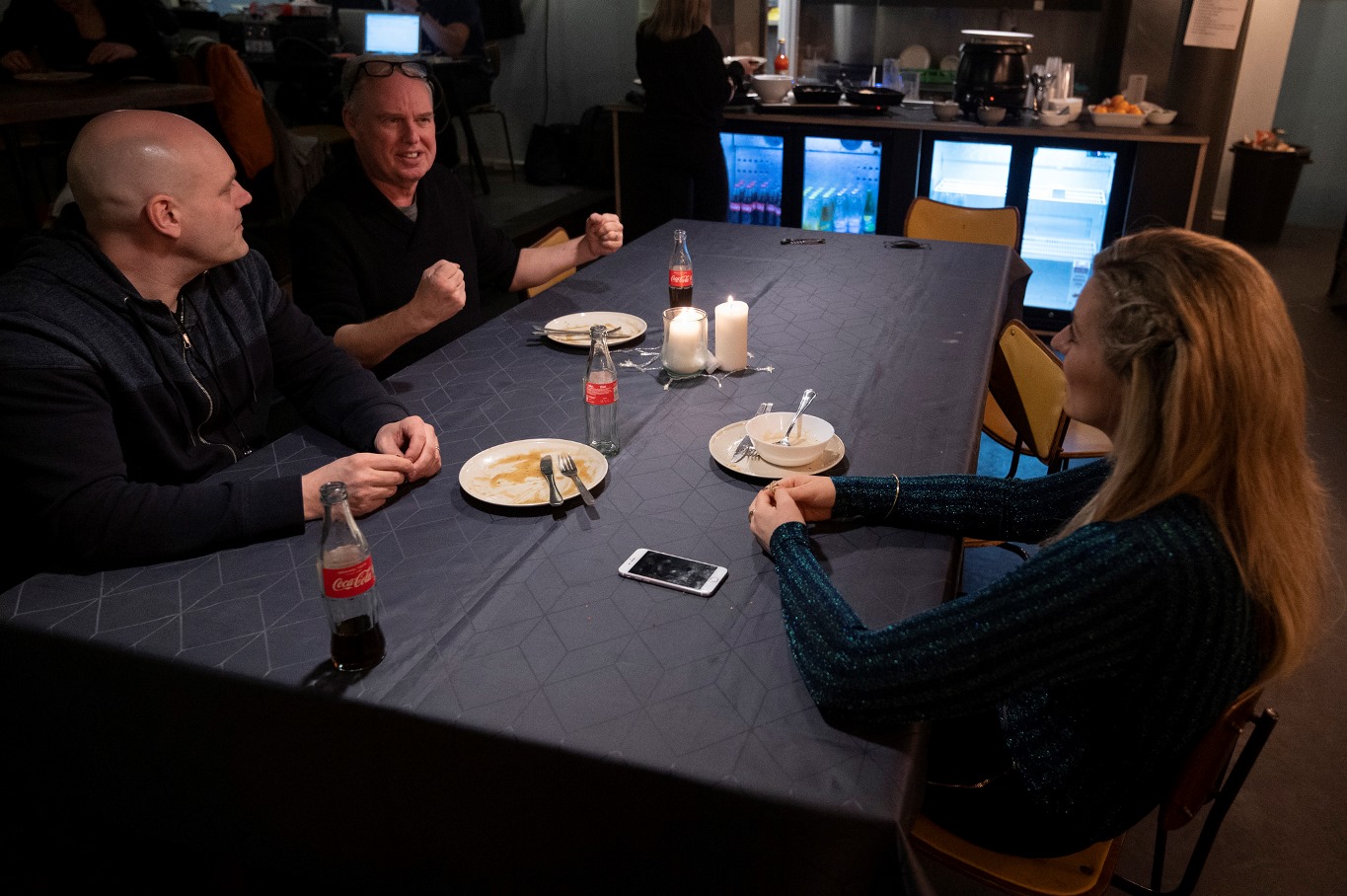 Jerry: I had a nice producer-conversation with Paul before we entered the stage in Copenhagen.
We mentioned that we're working on a cover version of 'Souvenir' which caught his attention right away. He asked me to send him a demo to his private email.
Malmö was heading towards home, were you getting into your stride by now?
Jerry: Yeah… we were definitely getting the hang of the touring life. It was a different place but everything remained the same. Every place, the schedule is exactly the same. That was actually a good thing because it made us relax more.
But you were most nervous for the Copenhagen show?
Jerry: Yes. Danes are not easily satisfied. They are often critical about new bands like us and can be very judging. But surprisingly, we were completely wrong about that.
Catrine: We had a huge queue at the merchandise stand. We were three people to help sell our stuff and it was lovely to have a good friend helping us out during the day. Copenhagen was a great success and a perfect end to the tour!
Over the four shows, which songs appeared to be getting the best reaction?
Jerry: Hard to say. Ask OMD's fans ?
But if I should mention one song – it must be 'No Need To Hide' as it was the last one on the setlist and worked as the perfect transition for OMD to take over the stage after us.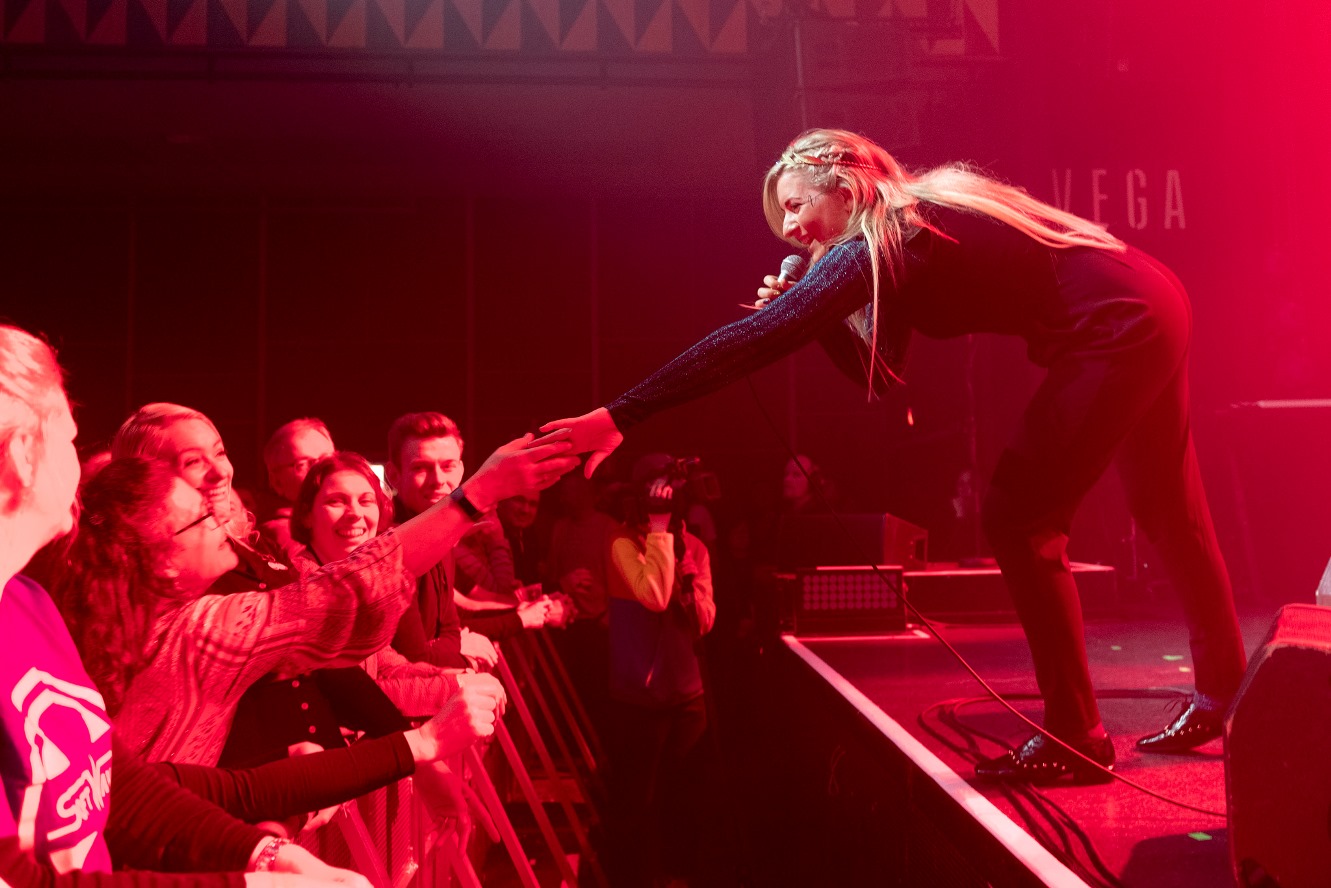 How were merch sales and the online reaction with regards social media and post-show steams?
Catrine: Just amazing. We couldn't have asked for more. We sold way more than expected. Our lovely followers on social media kindly shared our posts and even OMD fans commented and uploaded pictures and videos. It was a great help to me, as I'm responsible for the promotional part. Only at Vega, we had our own film-production crew to film our show and a photographer. So we especially want to thank all people who took pictures and filmed our show in Oslo, Stockholm and Malmo and would like everyone to send us their files to contact@softwavemusic.com
What advice would you give to artists to be able to get into the position you managed to find yourself in?
Catrine: Be prepared, be yourself, produce great music and show you are proud of it. Don't be afraid to move forward – just believe you will succeed and you will.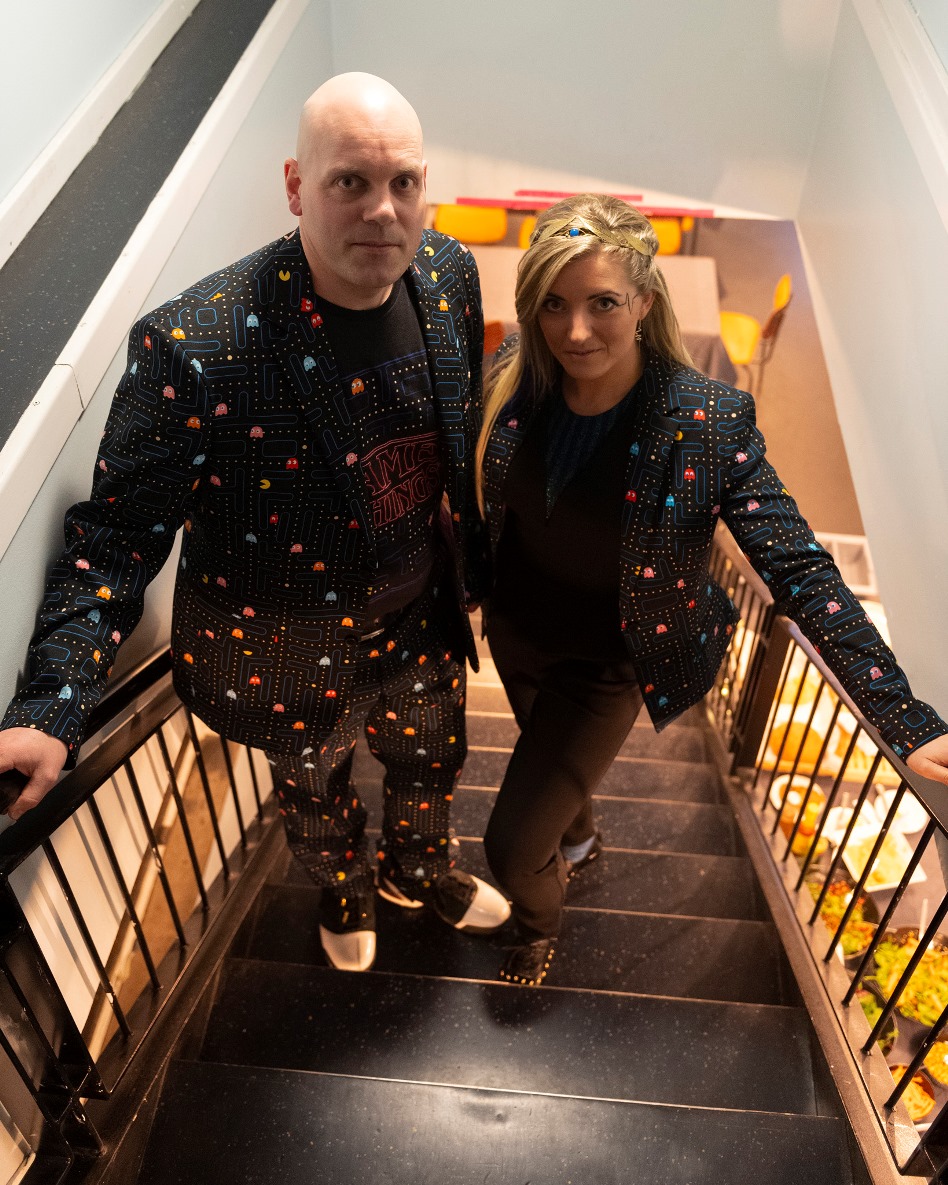 What are SOFTWAVE's future plans, hopes and fears?
Jerry: We want to tour more for sure! It's very sad that the tour with OMD is over already, and we fear a tour like this will never happen to us again. We feel very lucky and honoured to have experienced this. It feels like we have reached the top. So of course it's always frustrating to think of the future after having such a great time in "tour-heaven".
Catrine: It's like having an "after-tour-effect", some artists feel depressed. I have been told it's normal, but I don't feel that yet. I'm still very happy, but I have thought "So what will happen now?"... I believe the worst thing is to have to wait and stay patient.
As we didn't know what would happen after this tour, we are still available for bookings during the whole summer. We hope to play in Germany and bigger venues and festivals in Denmark. But we're not in a hurry as we're planning a new album and another exciting side-project ?
But there will be a full professional live show recording of the Copenhagen Vega show online soon.
---
ELECTRICITYCLUB.CO.UK gives its warmest thanks to SOFTWAVE
Special thanks to Anja Minnemann, Marilyn Wilson and Mary L Chang
'Game On'
is released as a download album, available direct from https://softwave.bandcamp.com/album/game-on
For SOFTWAVE enquiries and bookings, please contact Stig Wintendorff of Town & Towers Group Music Management at booking@townandtowers.dk – http://townandtowers.dk/
https://www.facebook.com/SoftWaveMusic/
https://twitter.com/SoftWaveMusic
https://www.instagram.com/softwave_music/
https://softwave.bandcamp.com/
---
Text and Interview by Chi Ming Lai
Photos by Dag Stinus
5th March 2020