1983's 'Rhythm Of Life' was Edinburgh born singer / songwriter Paul Haig's one and only attempt to crack the pop mainstream.
The former front man of the gloriously hip JOSEF K had tired of suffering for his art and not selling any records. Along with ORANGE JUICE and AZTEC CAMERA, JOSEF K were part of the Postcard Records roster than had been hailed 'The Sound Of Young Scotland'.
When their label mates signed to Polydor and Warners respectively, JOSEF K imploded with just one album 'The Only Fun In Town' to their name.
But wanting to work outside of the restrictive band format, Haig had aspirations to sign to a major label and make a record that could get radio play. Following the lead of acts such as HEAVEN 17 and ABC, Haig pursued a more soulful club friendly direction and recorded a beat box assisted version of SLY & THE FAMILY STONE's 'Running Away' which was released by Belgian label Les Disques Du Crépuscule to great acclaim. One of Haig's champions was NME's Paul Morley who declared him "the enigmatic fourth man" in a New Pop quartet that also included Billy Mackenzie, Jim Kerr and Martin Fry.
The media hype led to the single reaching the top of the Independent Charts and a lucrative licensing deal for Paul Haig and Crépuscule with Island Records. With a large injection of cash, Haig could now make the modern pop record he desired and ultimately squash the cockroach that he felt JOSEF K had become. Venturing over to Sigma Sound in New York, he set to work with the producer of the moment Alex Sadkin to fashion a collection of sophisticated electronic dance tracks with nods to funk and disco.
However, this was every much the Antithesis to the frantic guitar driven angst that the raincoat wearing JOSEF K fans were used to. The resultant album was named 'Rhythm Of Life'
 after the conceptual collective that Haig had initially sought to work under post-JOSEF K but that ultimately mutated into a solo career.
The opening track and lead single was 'Heaven Sent', a superb reimagination of SIMPLE MINDS' 'I Travel' for the New York dancefloor; it had also originally been one of the ever last JOSEF K tracks.
With Haig sounding not unlike a growly Jim Kerr crossed with Lou Reed and Iggy Pop, 'Heaven Sent' reached the lower reaches of the UK chart and fuelled some cautious optimism for the next single 'Never Give Up (Party Party)'. This was a superbly catchy number with a great chorus and glorious middle eight.
Highly percussive and lifted by some sub-ASSOCIATES rhythm guitar and big layered synth riffs, 'Never Give Up (Party Party)' showed great promise. But despite being visually bolstered by Haig's smooth Italian suited look and a lavish pop video, it failed to be the hit Island desired. This soured relations with the label; "They wanted a pop image to sell… and they didn't get one" said Haig later.
Around this time, Alex Sadkin's productions for THOMPSON TWINS and DURAN DURAN were becoming massive hits and Haig's work drew unfair comparisons along with accusations of a sell-out. Sadkin had worked with GRACE JONES and TALKING HEADS so Haig's motives had been artistically driven and whatever, 'Never Give Up (Party Party)' was certainly a more superior song to either 'Love On Your Side' or 'Union Of The Snake'.
However, while Haig wrote the songs, played guitar and programmed the drums, he became very much a puppet on his own album as assorted musicians including PARLIAMENT / FUNKADELIC's Bernie Worrell (fresh from his work with TALKING HEADS on 'Girlfriend Is Better') and THOMPSON TWINS' Tom Bailey were brought in to add the synthesized gloss. A third single 'Justice' was lifted from 'Rhythm Of Life'; while less urgent and dancefloor based than its two predecessors, 'Justice' was full of tense drama and contained a fabulously freeform synth solo. But it failed to ignite further interest in the album.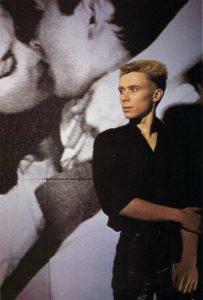 Of the other tracks on 'Rhythm Of Life', the polyrhythmic 'Blue For You' and the oriental flavoured 'Adoration' (another track from the JOSEF K days) maintained the standard of the three singles while 'Stolen Love' pointed towards NEW ORDER's Italo disco interests.
However, as with any debut album, there was filler. But the excellent closer 'Work Together' pushed Sadkin's experiences of working on TALKING HEADS' 'Speaking In Tongues' to the fore with its pumping electro funk and soulful backing singers complimenting the fulsome groove.
The album did not sell well on its UK and European release and ironically for an album that was largely aimed at the American club market, Island Records then opted not to issue 'Rhythm Of Life' in the US.
A 1984 mini-album 'New York Remix' of extended dance versions by Big Apple DJ Bruce Forest was belatedly made available and signified some of the original Trans-Atlantic intent. But in the end, Haig's work got sadly got lost.
Undeterred by his experiences in New York, Haig opted for a harder but still electronic sound augmented by more guitars for his next album 'The Warp Of Pure Fun'. It was headed by his greatest moment 'The Only Truth' which was co-produced by NEW ORDER's Bernard Sumner. But when it came out as a single in 1984 and failed to be a hit, it led to Island severing their links with Haig and Crépuscule. The album was finally released independently in 1985 by Crépuscule.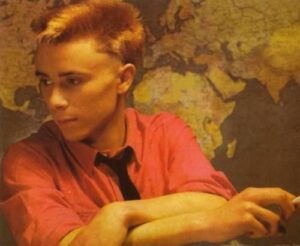 Haig eventually signed to Virgin offshoot Circa and in 1989, he released the album 'Chain' which yielded 'Something Good', a minor hit in Germany. But after that, Haig maintained a lower profile while taking an interest in the dance scene.
He later worked with the late Billy Mackenzie of ASSOCIATES on what was to become the 'Memory Palace' posthumous album as well as presenting his acclaimed 'Cinematique' series of instrumental works. Still active, more recently in 2013, Haig released a new experimental electronic album 'Kube'.
While patchy in places and very much of its time, 'Rhythm Of Life'
is an enjoyable listen that features some extremely high quality songs. A recent review on Amazon sums things up best: "If you're looking to find some synthpop you may have missed back in the day this is a good place to start…"
---
'Rhythm Of Life'
featuring the 'New York Remix' EP as a bonus is re-released as a remastered CD by Les Disques Du Crépuscule on 23rd June 2014
https://www.facebook.com/paulhaigmuzik
http://lesdisquesducrepuscule.com/rhythm_of_life_twi188cd.html
---
Text by Chi Ming Lai
Photos by Sheila Rock
21st June 2014