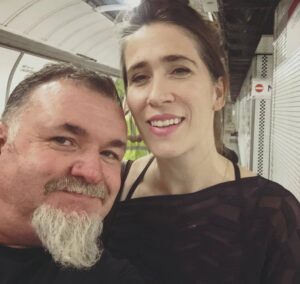 Ian Ferguson, founder member of RAINLAND, one-time member of ANALOG ANGEL and occasional contributor looks back from both sides of the fence at ELECTRICITYCLUB.CO.UK
It's appropriate that a 10th anniversary is celebrated with tin or aluminium given the current state of the UK electronic scene (spoiler, there is no 'scene', just folk making scenes) as when looking for gold, you are more likely to dig up an old mouldy dog food can than a nugget of rare and precious metal.
Like the UK industrial scene before it, this loose of collection of folk making noise is slowly eating itself alive in the pursuit of success that was never going to be attainable in first place.
Seriously, the number of grown adults acting as though they are members of a million selling act rather than one that can't fill a phone box would be hilarious if it wasn't so toxic in the way it manifests itself, but more of that later..
So what of my last decade as a fan of electronic music, a contributor to ELECTRICITYCLUB.CO.UK and someone that has thrown out a few releases of my own in that time? Highlights and lowlights abound and here are a few of them…
'Electronic music, what like 80s stuff…?'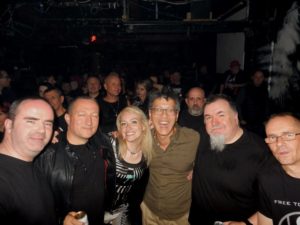 The last decade has been in turns brilliant and infuriating for a fan of synth music. The re-emergence of some of my favourite bands producing music of a similar quality to their releases from the height of their fame has been particularly gratifying. The number of excellent new bands that have come through in this time has also been a joy to behold. This is due primarily to the real advances in technology which has allowed anyone with a laptop and a few plugins to make music.
These tools also mean that bands can now play live easier than ever, not needing to haul a van load of keyboards around to replicate their sound. Still however we see folk 'jazz hands-ing' live, thinking dressing up in age-inappropriate clothing and dancing around like you are holding in a wee is a live performance… news just in, it's not…
This of course means you have to wade through tonnes of chaff to find the wheat and ELECTRICITYCLUB.CO.UK has been invaluable in doing a lot of the 'leg work' in this task.
The best releases of the last decade would fill a number of Op Ed pieces but standouts include the 'English Electric' and 'The Punishment of Luxury' albums by OMD, which show that if you stick with what you know the quality will shine through, the ULTRAVOX album 'Brilliant' and numerous KITE EPs.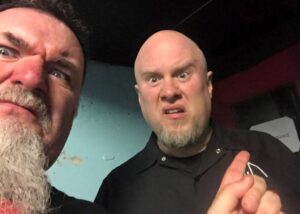 The aforementioned 'scene' featured a number of standout releases from the likes of VILE ELECTRODES, ASSEMBLAGE 23 and MESH who let the music do the talking and reaped suitable rewards. These bands and a number of others all show how to conduct yourself in a professional way without fermenting what basically amounts to a hate campaign against those that don't subscribe to your narrow view of how things are done.
The childishness of certain corners that house a handful of bands and hangers on from the UK has been one aspect of the last 10 years that I personally could do without. These self-proclaimed 'scene' gatekeepers have actually done themselves more damage than good.
It's funny that they think they are all in a self-supporting community when any one of them would throw the others under the bus (a tour one, you can come on-board if you sell 30 tickets to each show, then you can pretend you are an in-demand support) given the chance of a gig with a named act or coverage on this site. This petulance has escalated more recently to thinly veiled racism and this needs to be stomped out, preferably by a big pair of New Rock boots. They need to grow up and concentrate on producing decent music and not poorly thought through opinions.
'I prefer rogues to imbeciles, because sometimes they take a rest…' Alexandre Dumas
I have been writing for ELECTRICITYCLUB.CO.UK for around half of its existence and I have had the chance to meet some of my heroes thanks to this association. Highlights include bumping into Imogen Heap who on hearing I had written the ELECTRICITYCLUB.CO.UK review of her 'Sparks' album, thanked me for my kind words and asked for a selfie (a proper fan boy moment), recommending soft synths to Martyn Ware and Green Gartside, chatting with John Foxx and seeing quotes from my reviews being used in NO-MAN promotional ads.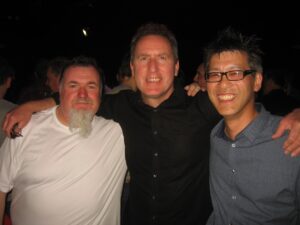 You only need to look at the people that give up time to speak to ELECTRICITYCLUB.CO.UK and the PR people that approach ELECTRICITYCLUB.CO.UK for coverage to understand how highly the site, and by extension site founder Chi Ming Lai, is held by the people in the know in the industry. From NEW ORDER to OMD, BLANCMANGE to Midge Ure, various members of JAPAN to HEAVEN 17 all have spoken openly at length about their careers giving insight to the people behind the music we all love.
And what other site can discuss an obscure electronic release by a leading light of the UK Prog movement one minute and chat with Synthesizer Patel the next without missing a beat or it appearing to jar?
'You're still in a band… Aren't you a bit old for that behaviour…?'
I have come back to music this last decade after a considerable time out from writing and performing. I am sure there are a number of folk that wish I had stayed 'retired' and I accept that though I will be setting up a website soon called The Electrikery Club to let them all know why they are wrong, I am right and to give some much needed exposure to my mate Colin's magnum opus recorded on a VL-Tone on his mum's old Bush tape recorder…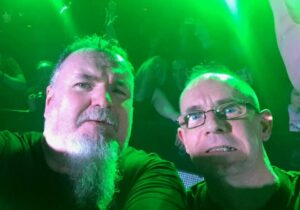 Since returning to the fray, I have toured with some well-known names, played some big festivals both in the UK and further afield (actual festivals, not vanity gigs with 38 bands on the bill in a pub in Peckham), seen folk do questionable things with chicken nuggets and on more than one occasion, almost killed a well-known electronic percussionist and filthy hippy (who may or may not be my son…)
I have spent way way too long listening to subtle mixes of the same song, locked in windowless rooms with my musical compatriot Derek MacDonald and eaten considerably more motorway service station sarnies than is healthy. And you know what, I wouldn't change one bloody minute of it.
I would even do Glastonbury again with Keith Trigwell and that included watching him dancing and let's be honest, nobody wants that…
When a week is a long time in politics, a decade publishing music related guff on the web is an eternity… ELECTRICITYCLUB.CO.UK has been around for 10 years and I get the feeling this is really just the start of the journey. Stay on-board, it's been and will continue to be one hell of a ride
---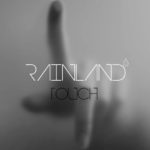 RAINLAND's 'Touch' EP is available as a free download from https://rainland.bandcamp.com/releases
https://www.facebook.com/RainlandtheBand/
https://www.electricityclub.co.uk/rainland-interview/
---
Text by Ian Ferguson
14th March 2020