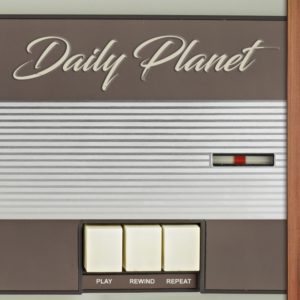 DAILY PLANET came into being when two Swedes, Jarmo Ollila and Johan Baeckström decided to form a synthpop band in 1994.
Having released two noteworthy singles and a long player two years later, the band stopped with few promises of albums never quite materialising.
Surprisingly eighteen years on in 2014, the duo brought out an excellent comeback with 'Two'
, released by Progress Productions, home of the highly acclaimed KITE.
Neither of the two gents rested on their laurels however, with Baeckström bringing out his debut solo outing 'Like Before'
 shortly after. With the very obvious connotations to ERASURE and their sweetly synthesised gems, 'Like Before' sounded grown up and optimistic, proving that he could hold the notes as well as Ollila, sounding like Andy Bell himself in places.
But now DAILY PLANET are back with another surprising opus, which will turn heads and make folk reach for their dancing shoes. 'Play Rewind Repeat'
hits straight up with 'Goodbye Late Nights', which doesn't shy from using Clarke / Bell sound signatures, but as James Nice of the prestigious Belgian record label Les Disques du Crépuscule once put it: "I have no problem at all with something new being imitative, as long as it's good".
More thought provoking is 'Grains Of Sand' with its immaculate tempo changes and 'Fire In Me', which is reminiscent of the early works of DEPECHE MODE.
The title 'Set Me Free' to any self-respecting DEPECHE MODE fan will bring back memories of the B-Side to 'Master And Servant', but here it is faster and happier. And no, it's not a cover. The mindful 'Drown' calms things down with elaborate synth masterdom and almost filigree textures in the production.
Cult British New Romantic act WHITE DOOR make an appearance on 'Heaven', with Mac Austin lending his vocal. The singer himself expressed his gratitude for the opportunity, saying that he was "so honoured to sing for my talented friends on this wonderful track". Musically, this is an eclectic mix of the best of what the synth era has achieved; uncomplicated but very poignant, very DURAN DURAN.
'Why' is a bit A-HA, and with that, rather superb. No need for the time machine to go back thirty years. It's ERASURE meets early DM, with an amazing amalgamation of analogue. The sweetest 'Over Water' exhibits elements of CAMOUFLAGE and the shine of 'Silver Moon' expands itself with wonderfully warm vocals and lovely musicality.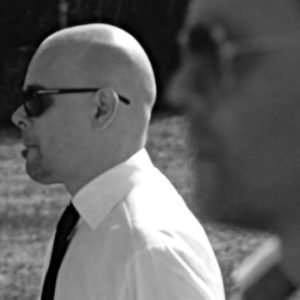 While 'Tranquility' isn't tranquil at all, 'Vicious Circle' alludes to "going backwards in time", which is a very fitting statement for the entire album.
The long player is closed with the dreamy 'Weeping', which sits supremely between PET SHOP BOYS and DM, and it wraps up the "time machine experience" beautifully. Time to rewind…
'Play Rewind Repeat' is simply what it says in the tin; you'll play, you'll rewind and you'll certainly repeat, with the moods lifted and your feet sore.
So what if it reminds you of certain ERASURE, DM or YAZOO tracks? Johan Baeckström certainly doesn't mind the comparisons.
Chatting to ELECTRICITYCLUB.CO.UK last year, he said that "In my book, the two YAZOO albums are the pinnacle of electronic pop. It can't get any more perfect than that", adding "I can still remember exactly where I was when I first heard 'Nobody's Diary', which was the song that opened a whole new world of synthpop for me. I think it's only natural that this reflects in my own music and it is, by far, the most common comparison people make, which of course is flattering".
The good memories are continuing, with new ones being built upon this capable production.
DAILY PLANET, we are loving having you back!
---
'Play Rewind Repeat'
is released by Progress Productions in CD and download formats, available from http://progress-productions.com/
https://www.facebook.com/dailyplanetband/
---
Text by Monika Izabela Trigwell
26th May 2017