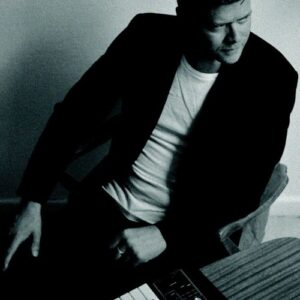 Synthesist JOHAN BAECKSTRÖM first came to prominence with DAILY PLANET.
A synthpop duo formed with vocalist Jarmo Ollila, their debut album 'The Tide'
came out on the legendary Swedish electronic music label Energy Rekords in 1996.
Despite positive reviews of 'The Tide', DAILY PLANET went on hiatus for 18 years before they unexpectedly returned in 2014.
Appropriately titled 'Two'
, their comeback long player was released on Progress Productions, home of the acclaimed duo KITE.
However, during that long break, Baeckström had been preparing a solo record. Riding on the momentum accorded by the warm welcome back for DAILY PLANET, Baeckström completed his solo adventure, now titled 'Like Before'
.
Released in summer 2015, it was a classic synthpop jewel that recalled the tuneful prowess of a certain Vince Clarke at his finest. But the biggest surprise was Baeckström's capability in the vocal department. Possessing timbre similarities to Andy Bell, there was certainly no danger of him coming over like Clarke did on YAZOO's 'Happy People'!
Now do the similarities to ERASURE on 'Like Before' matter? ELECTRICITYCLUB.CO.UK says "no" and as James Nice of prestigious Belgian record label Les Disques du Crépuscule once put it: "I have no problem at all with something new being imitative, as long as it's good".
In a break from his more-than-well equipped studio in Örebro, JOHAN BAECKSTRÖM kindly took time out to chat to ELECTRICITYCLUB.CO.UK about why the 'Synth Is Not Dead'
…
You are best known in independent Swedish music circles as a member of DAILY PLANET, what prompted you to undertake a solo project?
As you may know, DAILY PLANET was pretty much inactive after the first album 'The Tide' was released. In early 2013, however, I started re-building a studio and writing music again, but this time doing everything myself, including the vocals.
A bit later that same year, Jarmo and I decided to make another DAILY PLANET album, and I shifted my focus to that project instead. A few of the solo-ideas appeared on 'Two', but the idea of a solo album felt more and more appealing to me, so I finished it and had it released, after we did 'Two'.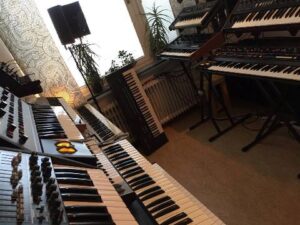 The single 'Come With Me' will please any fan of 'The Innocents' and appears to be about escape?
Correct, it's about the everyday boredom, and the wish to just leave it all behind and go to some other place; I think we all feel from time to time.
One of the B-sides was a track called 'Synth Is Not Dead'. ELECTRICITYCLUB.CO.UK does its best to keep classic synthpop alive, as opposed to EDM, so what inspired this wonderful tune?
The synthpop genre is having difficulties these days – you have to actively look it up all by yourself, since no radio stations will play anything other than artists from the major labels. I guess I just wanted to reflect on the fact that there still IS a synthpop scene with some really great bands, both old and new. In another way, the song is sort of my "thank you" to some of the artists that inspired me for several decades – some of them are mentioned in the lyrics, but far from all of course.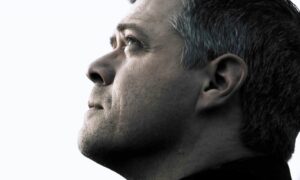 'Synth Is Not Dead' is much less angry than the equally brilliant 'Synthpop's Alive' by MAISON VAGUE? But there is a melancholic optimism in what you do, despite the expressions of self-doubt?
It's good to see there's more of us out there, singing the gospels of synthpop. I think you pretty much nail it with "melancholic optimism" by the way. I am a sucker for melancholy in music.
What is particularly striking about your album 'Like Before' is not so much that it is reminiscent of ERASURE, but the quality of the songwriting, particularly with the title track, 'Great Unknown' and 'Running Away From Myself'. How would describe your writing process?
Thanks! The process actually varies quite a lot. 'Running Away From Myself' for example started off after programming a great bass sound on the Pro-One, that I just HAD to write a song for.
On 'Talking In Your Sleep', I started in a completely different way, sitting at the piano in my girlfriend's house writing the intro/lead melody. Usually I start with the music, programming a simple draft arrangement. Mostly I have an idea about the vocal melodies already at that stage, but as the process moves forward, I tend to change it quite a lot from the original idea.
You own a fine collection of synthesizers of various vintages. What do you have and what are your favourites to use in your music?
Synthesizers are addictive, to say the least! The rig for the moment looks like this:
Roland Juno-106
Roland Jupiter 6
Roland SH-09
Korg Mono/Poly
Korg MS-20 mini
MicroKorg
Korg Volca Bass
ARP (Korg) Odyssey
Sequential Circuits Pro-One
Dave Smith Instruments Prophet 08
Crumar Bit One
Arturia Minibrute
Akai AX-73
Waldorf Streichfett
Yamaha DX7
Moog Little Phatty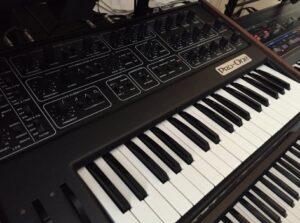 It's very hard to pick favourites, since they're all great in their own way. The ones I tend to use the most are probably the Pro-One, Jupiter 6, SH-09, Mono/Poly, Odyssey and MS-20. The DX7 and the MicroKorg – not so much. The Bit One needs to see a doctor, so it's not used at all for the moment.
I have to bring up Vince Clarke…
Sure, I don't mind the comparison at all.
How do you make this all sound so authentically VC?
In my book, the two YAZOO albums are the pinnacle of electronic pop. It can't get any more perfect than that.
I can still remember exactly where I was when I first heard 'Nobody's Diary', which was the song that opened a whole new world of synthpop for me. I think it's only natural that this reflects in my own music and it is, by far, the most common comparison people make, which of course is flattering.
Has there ever been a synth that you purchased that you were disappointed with, that didn't meet expectations?
Not really. I think I know pretty well on beforehand what instruments I buy, and why. The disappointments are more like when you find a vintage synth in good condition, and the damn thing breaks down after 2-3 weeks and you'll have to spend even more money on it to get it fixed… part of the vintage charm, I keep telling myself.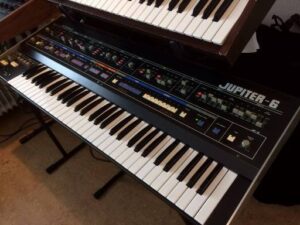 Many artists which ELECTRICITYCLUB.CO.UK has spoken to who still use analogue synths, rarely use drum machines now. What's your thoughts about how to get the best from the percussive elements of your music?
For kicks, snares and hi-hats, I most often use drum machine samples triggered from Groove Agent in Cubase. I also create a lot of my drums and percussion sounds on different synthesizers.
I don't have any hardware drum machines actually, but I'm considering getting one. I think it could be a great starter for new songs – to be able to quickly build a beat and start jamming along, basically. I used drum machines a lot in the 80s and 90s, and I sort of miss them from time to time.
As shown by the artwork on the 'Like Before' album, you obviously know your tape recorders from your drum machines. But how do you find integrating the analogue and digital worlds? Is it as simple as analogue for sounds, but digital for control and recording?
It's indeed that simple. I use Cubase for MIDI-sequencing synthesizers, recording, FX and mixing. In a way, I would really like to go all the way and record on analogue tape too, but it wouldn't work out for me, since I come back to each song multiple times, over several months. Without the convenience of total recall in the DAW environment, that would be impossible. For now, I just have to settle with a tape simulation plugin instead.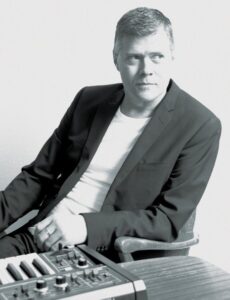 You recorded a cover of RATIONAL YOUTH's 'Saturdays In Silesia'. Why do you think this Canadian band was popular in Sweden, but seemingly nowhere else?
I'm not sure really why that is, but I remember from back in the 80s that a lot of people I knew were very actively searching for new music that no-one had heard, through magazines and mail orders from abroad.
Living in a country that only had 2 TV channels and 3-4 radio channels at the time, which all were uncommercial public service channels, I guess that having to find the music yourself, rather than having it served to you through commercial channels, may have resulted in people sometimes finding these "hidden gems".
How is electronic pop being viewed in Sweden at the moment? Although there has been a vibrant domestic scene in the last few years, ELECTRICITYCLUB.CO.UK is sensing a bit of a backlash, even among people who are part of it. What do you think?
To be honest, I don't have a very good overview of the scene. I think you're right though – it's certainly not a growing scene, but the fans that's still out there are extremely devoted!
Unfortunately there's not very much re-growth, though. However – last time we played in Gothenburg with DAILY PLANET, I got to sign our CDs for two girls who were in the same age as my kids, which means they were like 2 years old when 'The Tide' was released! So maybe there's SOME hope for the scene, after all? 😉
What have been the highlights of your career so far in your opinion, as part of DAILY PLANET, a solo artist and a remixer?
The highlight of it all is, without a doubt, all the love I get from people from all over the world! That's the second biggest reason for me to keep doing this. The biggest reason is of course the pleasure I get from it myself, being creative with sounds and melodies.
You've been in the studio a lot recently, what's next for you?
Yes, I've been working a lot here lately on a couple of different projects. I can't really say much more at the moment, but there will be some news coming within not too long. Watch this space!
Finally I would like to thank you guys for the great job you do for the genre! Keep it up.
---
ELECTRICITYCLUB.CO.UK gives its warmest thanks to JOHAN BAECKSTRÖM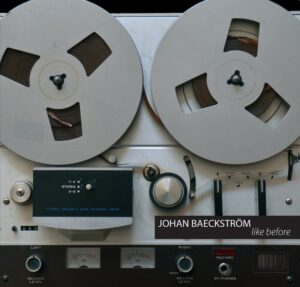 Both JOHAN BAECKSTRÖM 'Like Before'
and DAILY PLANET 'Two'
are available in CD and download formats via Progress Productions or direct from https://johanbaeckstrom.bandcamp.com
https://www.facebook.com/bstrommusic/
https://twitter.com/bstrommusic
https://www.instagram.com/johanbaeckstrom/
https://www.facebook.com/dailyplanetband/
https://open.spotify.com/artist/0WEshg2xV9AYJrXlLQ685r
---
Text and Interview by Chi Ming Lai
9th August 2016, updated 4th April 2018