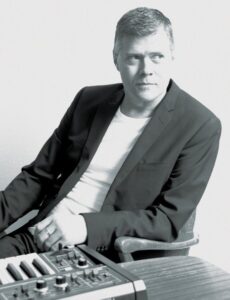 JOHAN BAECKSTRÖM has been an active writer and producer of electronic music for several decades.
It was 1994 when he started his project DAILY PLANET with vocalist Jarmo Ollila. Hailed as the top voice of electronica, Ollila's distinctive tones featured on two albums that the band released, even though there had been an 18 year break between them. In 2015 Baeckström outed his solo project 'Like Before'
; an analogue gem, which brought upon him comparisons to Vince Clarke himself.
ERASURE inspired indeed, the original mix of 'Like Before' brings back the likes of sweetly synthesised tracks from 'I Say, I Say, I Say'; with a competent vocal from the man himself, proving that he, too, can hold his own as the main singer.
Songs like 'Come With Me', 'Great Unknown' and 'Running Away From Myself' maintained the standard on a very promising debut that also included a blippy cover of RATIONAL YOUTH's 'Saturdays In Silesia'. A label mate of KITE, March 2016 marks the return of the Swedish wizard with the 'Like Before' EP, featuring four versions of the title track, as well as a cover of WHITE DOOR's 'Jerusalem'.
'Jerusalem' gently envelops the proficient vocal with an adequate number of synth sounds, before three further remixes of 'Like Before' produced by DELAYKLINIKEN, WAVE IN HEAD and QUANTUM SYMPHONICS respectively, show off an efficient concoction of electrifying elements.
This short and sweet production will certainly appeal to the fans of DAILY PLANET, but should hopefully introduce new listeners to Baeckström's endeavours, and deservedly so.
Has Sweden done it again?! Yes! Yes, they have 🙂
---
The 'Like Before'
album and EP
are both released by Progress Productions
https://www.facebook.com/bstrommusic/
https://twitter.com/bstrommusic
http://www.progress-productions.com/
---
Text by Monika Izabela Goss
17th March 2016