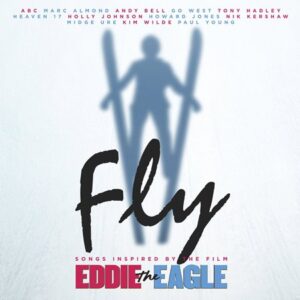 'Eddie The Eagle' is a biopic by 'X-Men: First Class' director Matthew Vaughn about Eddie Edwards, who represented Team GB in ski-jumping at the 1988 Winter Olympics in Calgary.
It was the same Olympics which inspired the Disney film 'Cool Runnings' about Jamaica's first bobsleigh team entry!
Based on true events, the film stars Taron Egerton as Eddie Edwards and Hugh Jackman as Edwards' fictional trainer.
Whereas 'Cool Runnings' had artists performing cover versions for the soundtrack, 'Fly – Songs Inspired by the film Eddie The Eagle'
differs in having a collection of original songs curated by Gary Barlow, each recorded by British artists who are now usually seen frequenting retrospective events such as Rewind, Here & Now and Let's Rock.
So, a concept album based around the legend of a bespectacled plasterer, featuring contributions from members of FRANKIE GOES TO HOLLYWOOD, SOFT CELL, SPANDAU BALLET, ULTRAVOX, ERASURE and OMD, in collaboration with a member of TAKE THAT? On paper, this is a terrible idea!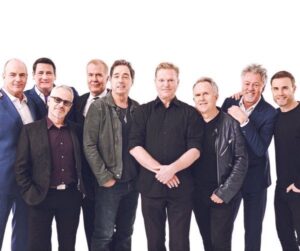 But Gary Barlow has long been an admirer of ULTRAVOX in particular; his 2010 interpolation of 'Vienna' for the track 'Eight Letters' on TAKE THAT's Stuart Price produced album 'Progress' resulted in the rather unusual writing credit of Barlow / Donald / Orange / Owen / Williams / Ure / Cross / Cann / Currie. The TAKE THAT track 'Love Love' for the film 'X-Men: First Class' also indicated Barlow's interest in electro forms.
The era in which 'Eddie The Eagle' reigned has been symbolised by both aspiration and fighting against the odds, and that comes across in the song titles.
As a side note, it is interesting how with the political climate that existed during this time, this project has gathered musicians whose politics cover the whole colour spectrum, from the Jeremy Corbyn supporting Martyn Ware to the self-confessed Tory boy Tony Hadley. While some say politics should be kept separate from music, many would argue music is an artistic reflection of the incumbent environment. So what of the music?
Holly Johnson's 'Ascension' is typically epic, recalling a steadily building uptempo reboot of 'The Power Of Love', while 'Out Of The Sky' sees Marc Almond tackling his most overtly electro number for many years. Having previously shared a stage with Gary Barlow and earned some extra royalties too, Midge Ure's 'Touching Hearts & Skies' stands quite ably within the concept as a tune reminiscent of ULTRAVOX's classic synth rock.
Having found success outside of OMD with the first incarnation of ATOMIC KITTEN including a No1 in 'Whole Again', Andy McCluskey has a proven pedigree in mainstream pop spheres. He does a good job in co-writing with Barlow on 'Thrill Me', which is sung by the film's two stars.
Taron Egerton won 'The Stephen Sondheim Society Student Performer of the Year' while at RADA and Hugh Jackman of course appeared in the musical epic 'Les Misérables'; so their combined capabilities in the vocal department stop the song from becoming an ironic novelty. According to McCluskey, Egerton and Jackman's vocals were recorded without his knowledge! Unsurprisingly 'Thrill Me' does sound like 'Sugar Tax' era OMD, crossed with imperial 'Everything Changes' phase TAKE THAT. Who'd have thunk it eh?
Nik Kershaw is another with a songwriting career outside of his own, penning 'The One & Only' for Chesney Hawkes back in 1991; 'The Sky's The Limit' is an archetypical MTV friendly ballad that could have been made back then, with hints of A-HA and SAVAGE GARDEN.
One of the songs not part of the original 'Fly' concept is HEAVEN 17's 'Pray'; previously released by Messrs Ware and Gregory in 2014, it's a terrific hybrid of the early avant phase of THE HUMAN LEAGUE and 'Young Americans' era Bowie. This slice of prime electronic soul is a stand-out on the collection and proof that the Sheffield masters still have it.
But members of the HEAVEN 17 crew do contribute to the energetically synthy engine room of Kim Wilde's 'Without Your Love'. It's an enjoyable homage to her earlier sound, co-written by Glenn Gregory and live H17 keyboardist Berenice Scott in collaboration with Barlow.
Tony Hadley does his overblown Foghorn party piece on 'Moment' and Spandau fans will be more than happy with the end result, others perhaps not so.
The often under rated Howard Jones delivers the enjoyable modern schaffel stomp of 'Eagle Will Fly Again', while the blue-eyed soul offerings from ABC and GO WEST will satisfy their existing fans. However, Paul Young appears to have lost his voice on the vintage widescreen AOR of 'People Like You'. Meanwhile on the autotuned 'Fly', Andy Bell actually starts to sound more like Tony Hadley than Alison Moyet!
Like with the music from back in the day, some of it is brilliant, some of it is likeable and some of it you'd rather not hear again.
But that in an essence, is why music derived from this period still resonates today… it was about songs and melodies, not tuneless dance excursions or ultra-fast talking supposedly passing for vocals. 'Fly – Songs Inspired By The Film Eddie The Eagle' is an interesting curio as a "Where Are They Now?" snapshot. Whatever your tastes, there is a good reason why all of the artists featured on this album still have a career performing.
---
'Fly – Songs Inspired by the film Eddie The Eagle'
is released as a CD and download by Universal Music Enterprises
http://www.foxmovies.com/movies/eddie-the-eagle
https://www.facebook.com/EddieTheEagleMovie/
---
Text by Chi Ming Lai
18th March 2016