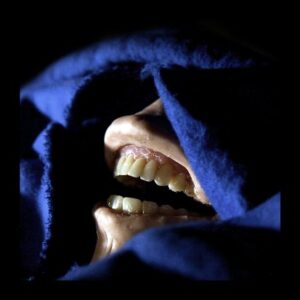 When the supreme GAZELLE TWIN aka Elizabeth Bernholz meets an animator and film maker Carla McKinnon, the most suiting expectation of the collaboration would be a piece of work of extraordinary texture and intensity.
The Brighton artist, whose classical vocal training has shone brightly since her first outing with 'The Entire City', likes to keep herself under wraps, as far as her image is concerned.
The material she produces can be at times challenging to its recipients, but Bernholz is "not one to explain or justify my work to anyone, least of all try persuade someone to persevere with it if they don't already have the desire to do so". Having worked with JOHN FOXX and GARY NUMAN amongst others, the avid fan of anything between BJORK, COCTEAU TWINS and PRINCE, the artistic vision of GAZELLE TWIN spans wider than your average field of electronica.
'Out Of Body' was originally commissioned by the London Short Film Festival in 2015, and is a continuation of her previous album 'Unflesh'.
'Unflesh' being an unprecedented mixture of hardly melodic, semi-autobiographical metaphysical unease, dealing with matters of body and mind, it heralded a swift change of mood from its predecessor, 'The Entire City', which had been wilfully cinematic and uncomplicated.
If what you want to see is "disturbing but beautiful visual world of stop-frame animated organs, orthodontics and televisual anxiety dreams", all canvassed within ambient, industrial or tortured narration by Bernholz, then you're in for a treat.
'Blood Gushes I' opens the soundtrack with ominous heartbeat sound developing into narrow and sparse source of factory-like approach to how the human body works. Synonymous with 'Warm Leatherette' by THE NORMAL in its minimal sound, it is innovative, as much as nearly tribal in texture.
'Puberty' describes that awkward time in teenage life, where the body changes and the hormones rule it all. Musically, it is presented in a typewriter kind of fashion, listing the ominous shifts heralding the necessary development process, while 'Teeth' deal with the orthodontics subject.
The second part of 'Blood Gushes' audibly resembles the voice of the dead Laura Palmer from David Lynch's cult series 'Twin Peaks', but it's far more textured and layered from its previous volume.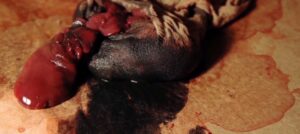 The previously released 'Phobia' could easily pass as a splendid track by GOLDFRAPP; a superb vocal and ethereal melody, all blended out into the following track 'Cutting Into Flesh'. Are we performing an operation? The cutting sounds; blood, pushing, shoving, grinding, saving life?
The last track in the song cycle is 'Anti Body'. The metallic, rigid, stomping melody handles the voices in a vivacious manner, effortlessly blending into a heavy beat of synthy dance, before it drifts away closing the soundtrack.
Is it easy listening? No, it's not.
Is it arty? Immensely!
Best experienced as a unity of music and film, this album fortifies GAZELLE TWIN's position as the gem brightly shining in the sea of mediocrity, rising well beyond anything non-metaphysical and ordinary.
It is heavy, but so are its subjects. Only a few are prepared and enough equipped to elaborate, and Elizabeth Bernholz is certainly one of them.
---
With thanks to Steve Malins at Random Music Management
'Out of Body'
is released by Anti-Ghost Moon Ray as a digital download on 18th March 2016, available from https://gazelletwin.bandcamp.com/album/out-of-body-soundtrack
https://www.facebook.com/gazelletwin
http://www.mackinnonworks.com/
http://www.antighostmoonray.com
---
Text by Monika Izabela Goss
16th March 2016