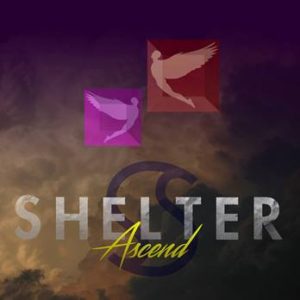 So SHELTER "ascend" on the listener for the second time in their career.
Even before they "emerged" in 2014, the electropop duo did well with writing, producing and releasing the ANDY BELL solo album 'iPop'
, amongst their other collaborations.
With the flamboyant Mark R Bebb on vocals and Rob Bradley in charge of programming and musical direction, ERASURE chose the guys as support for 'The Violet Flame' tour. SHELTER have since gigged extensively, backed by enthusiasts of catchy synthpop tunes.
'Ascend'
promises to be more grown up and fuller, with a rounder sound and a plentitude of cheerful numbers to please synth loving girls and boys to oblivion. The opening 'Breathless' pleasantly builds up to flourish into a gentle-sounding electronic sparkle. The Love Parade laced synth line bumps up the melody, which is difficult not to be compared to the Bell / Clarke enterprise.
'In The Dark' is a pumped up, Hi-NRG number, well suited for a club environment. The enhanced vocals, while feeling forced, work adequately within the musical canvass, while 'Do You Remember', featuring PEOPLE THEATRE, spells a more atmospheric approach to synthpopia.
'Lost In The 80s' is fast, dancey and energetic enough to drag one into the dance floor. Meanwhile DURAN DURAN's 'Save The Prayer' loop ominously opens 'Home'; a slower paced track that is pleasant to the ear, it's a perfect chill-out piece. But the voice seems to get lost in the melody at times; it works well nevertheless as a dreamy ERASURE-esque piece.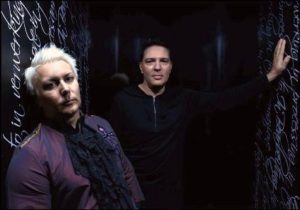 'Figaro' follows the ballad pattern, with added guitar a la 'La Isla Bonita', while the title track returns to the synth pattern of a gentler paced love song. 'Ascend' is the song to listen on this production. It's varied, textured and mature.
The vocal, although not strong, fits within the mix, floating seamlessly onto 'Icon'; this time SHELTER collaborate with BREATHE OF MY LEAVES and it's a throbbing track for Europop advocates.
'Wot U Said' features JIPSTA, an ultra-club track which follows the recipe from the previous number, while the closing 'This Must Be Love' could be a Eurovision entry in a can. This first single from 'Ascend' is larger than life and grandiose in its execution, including ABBA-esque piano and catchy hooks.
SHELTER have stayed true to themselves, even if the songs on 'Ascend' are more grown up in their feel and execution than their previous work. Bebb's vocal remains on the weak side, prompting the question as to whether production is what the band do most aptly? Perhaps this album is best served in a live environment, where the candied pop tunes can be enjoyed as prescribed.
While ERASURE type synthpop is probably done better by JOHAN BAECKSTRÖM and retro-styled tunes sound more desirable when produced by KID KASIO, SHELTER definitely have a valid response to the needs of hungry synthpop fanatics who like a bit of fun.
---
'Ascend'
is released by Ministry Of Pop in CD and download formats
SHELTER open for ANDY BELL at Cambridge Corn Exchange on Saturday 3rd September 2016 as part of the Pink Festival
http://www.shelterofficial.com/
https://www.facebook.com/Shelterofficialmusic/
---
Text by Monika Izabela Goss
8th August 2016