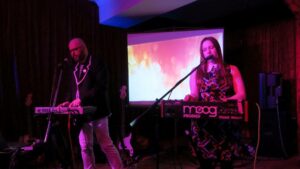 Happy Robots Records presented the reunion of ARTHUR & MARTHA to celebrate the 10th anniversary of 'Navigation', their only album to date.
The last time ARTHUR & MARTHA played live, it was opening for Jyoti Mishra's WHITE TOWN. Back in 2010, the pair had actually been the third new act featured on ELECTRICITYCLUB.CO.UK
However, they appeared to disappear soon after. So it was fabulous to see Adam Cresswell and Alice Hubley performing together in this guise after so many years.
Among the luminaries present for the occasion were David Bowie's visual director Jonathan Barnbrook, YELLO collaborator Fifi Rong and SHELTER front man Mark Bebb with his FORM side project accomplice Keith Trigwell.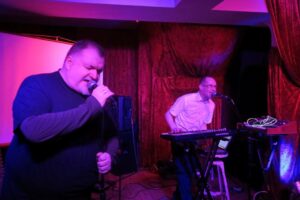 But opening the evening's entertainment at The Islington in London were the Glaswegian duo RAINLAND, comprising of Ian Ferguson and Del MacDonald.
Experienced hands having supported ASSEMBLAGE 23, they began their performance with the symphonic neo-ULTRAVOX stomp of their self-titled signature tune 'Rainland' and the engaging synthpop of 'The Light Of The Sun'.
With his self-deprecating Weegie humour, Ferguson was part cheerleader / part court jester while MacDonald remained largely stoic, save a passionate on-mic discussion with his bandmate on the merits of BRONSKI BEAT in relation to their digital bass driven ditty 'Touch'.
There was the poetic 'Silverlight' while the lively set reminded those present to 'Don't Forget To Love' and finished with the evergreen industrial pop of 'Drive'.
The evening threw a curveball with the appearance of the feisty Californian PLASMIC, self-described as "your abused Barbie doll from childhood".
Pretty in pink, Lauren Lusardi began with a spiky energetic cover of DIVINE's 'Female Trouble'. With a subversive DEVO edge, PLASMIC detonated lo-fi synth bombs via her Yamaha Reface with the catchy feminist anthem 'Baby Machine' and the social media commentary of 'Validation Nation', both from her most recent EP release.
Delightfully housing her work station and devices in a pink dressing case, she celebrated her recent support slot for Marc Almond in LA by treating all present with a punchy rendition of the seedy SOFT CELL classic 'Sex Dwarf' before finishing with the cathartic rallying cry of 'Revenge'. Lusardi's delightfully dervish antics won her many new friends.
And as she embraced the occasion and the crowd to celebrate her 23rd birthday, those bemoaning the lack of new young synth artists now only have to look in the direction of Orange County. 😉
Armed with a MicroKorg and a Moog Prodigy, ARTHUR & MARTHA's headline set began with the glorious tweetronica of 'Follow The Path', the kind of neo-instrumental that used to accompany the sort of wiggly Czechoslovakian animations shown as intermissions on BBC2. 'Ultra Alliance' from the Happy Robots 'Botpop Volume One' also got an airing before the endearing 'Navigation' highlight 'Music For Hairproducts', an ironically titled tune given Cresswell's alopecia.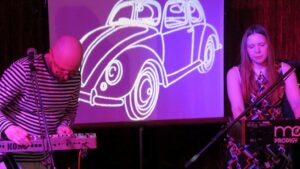 'Kasparov', inspired by the Russian chess grandmaster and political activist, saw Cresswell take to the mic for a mournful guitar-centred interlude before Hubley returned with her charming off-key voice for the rhythmic organ-fest of 'Vallorian'. An unexpected surprise came with the B-side 'Japanese Kiss', before the frantic motorik vocoder wig-out of the brilliantly named 'Squarewave To Heaven'.
This fittingly set the scene for the glorious driving kosmische of 'Autovia', the ARTHUR & MARTHA song which has successfully endured the past decade to be now, as Cresswell pointed out, sitting next to Katy Perry on a compilation album!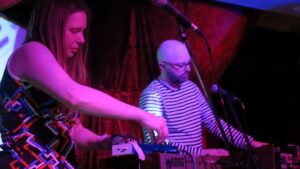 Encoring with the mournful 'Navigation'
album closer 'Turn to Dust', an affectionate homage to NEW ORDER's 'Leave Me Alone', it was an appropriate way to end the ARTHUR & MARTHA story. Today in 2019, Cresswell continues making music as RODNEY CROMWELL and running Happy Robots Records, while Hubley will soon release her first solo record as ALICE HUBBLE.
With something for almost everyone and covering an eclectic selection of synth based music while maintaining a central curated theme, this was a fine gathering of good music and good people that exuded warmth and quality.
---
The organisers give their warmest thanks to all the acts who performed and Simon Helm of Cold War Night Life who provided a fine DJ set throughout the evening.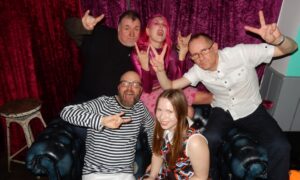 https://www.happyrobots.co.uk/
https://www.facebook.com/happyrobotsrecords/
https://twitter.com/Happyrobotsrecs
https://www.instagram.com/happyrobotsrecords/
https://www.facebook.com/arthurandmarthaband/
http://www.plasmic.rocks
https://www.facebook.com/plasmicpower/
https://www.instagram.com/plasm1c/
https://www.facebook.com/RainlandtheBand/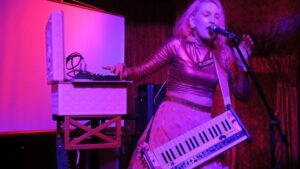 https://rainland.bandcamp.com/
http://www.coldwarnightlife.com/
https://www.facebook.com/coldwarnightlife/
https://twitter.com/coldwar_nl
https://www.instagram.com/coldwarnightlife/
---
Text by Chi Ming Lai
Photos by Richard Price and Chi Ming Lai
10th March 2019